Once again, we're delving into Universal Orlando Resort to get a first look at the state of theme parks and resorts in the "post-COVID" world. (Or rather, as close to it as we are at this time.) We're covering a full stay at Universal's Endless Summer Resort – Surfside Inn and suites to show you what social distancing looks like inside the vast hotel and its amenities, from the lobby to many of its eateries. Of course, we'll be giving you a room tour as well as some food reviews in the coming days, so stay tuned! And now, we approach one of Universal's newest resort complexes: Endless Summer Resort.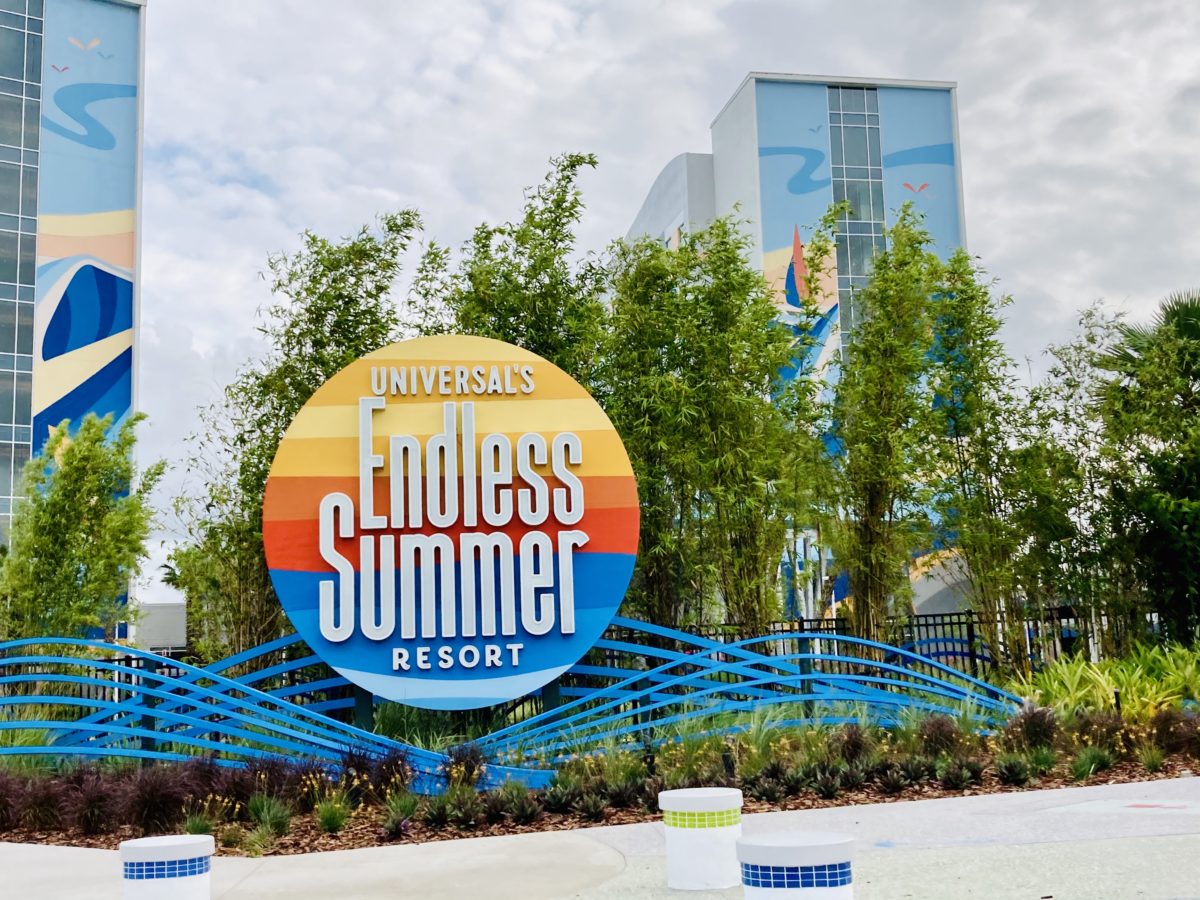 Built on the 64-acre plot of land formely known as Wet 'n Wild, Surfside Inn and Suites is one of two complexes. The other, named Dockside Inn and Suites, is set to open later this year after delays due to the COVID-19 shutdown.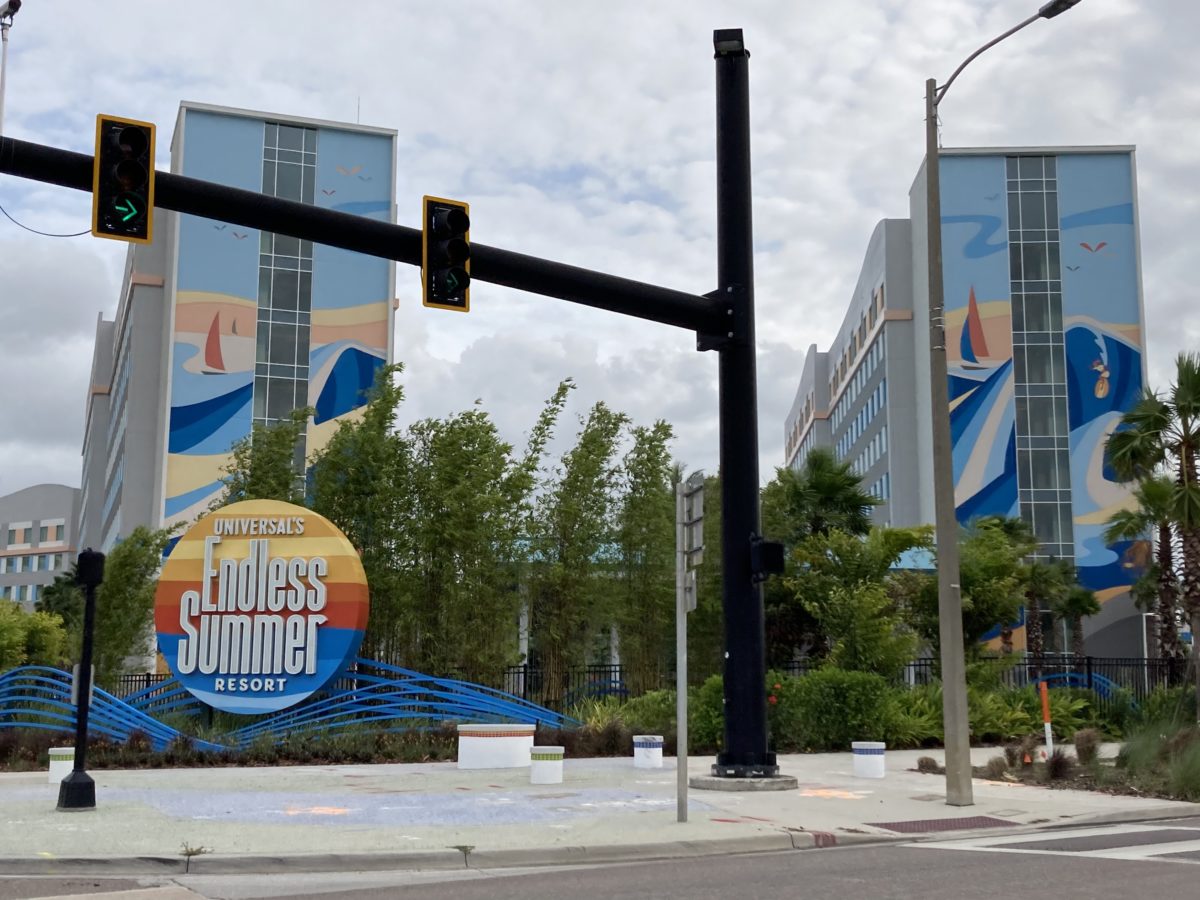 The resorts are considered "Value" resorts, and they offer two-bedroom suites that can sleep up to six for as low as $120 a night, which, if you're familiar with Disney Resort pricing, is actually less than the going rate for most standard All-Star value resort rooms. Writing this from a Surfside room right now, these do feel decidedly "value", with flimsy decor and some areas, like the kitchenette, looking like it's straight out of an IKEA Pinterest board… and not in the best way. You'll get to hear more of our thoughts on the room in the full review to come, but ultimately there's still something to be said for getting three beds and additional amenities for that price.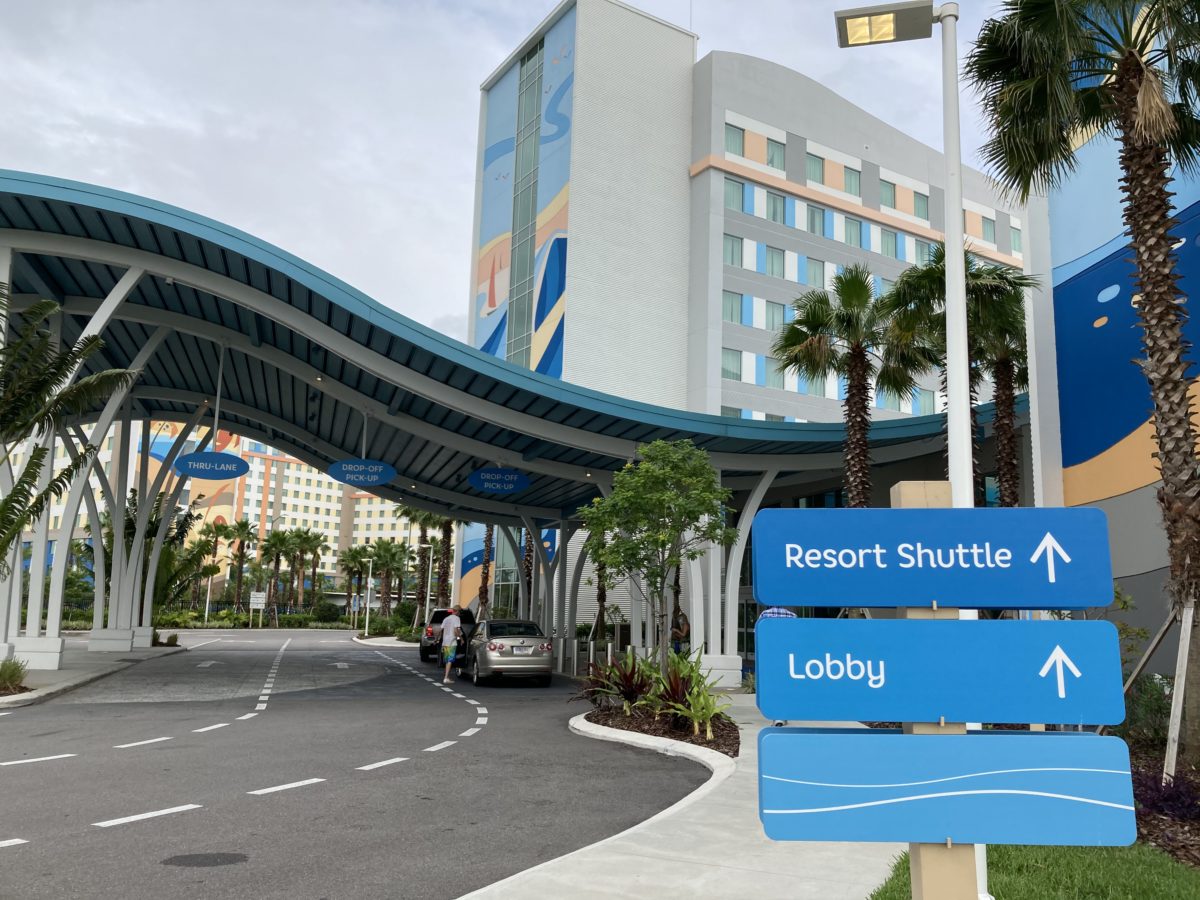 Anyways, back to our brief first look. The first thing we noticed right off the bat is that after parking to check-in, all entrances are locked off with the exception of the main lobby entrance. This is to maintain control of the guests entering the space and ensure that everyone has gone through proper screening.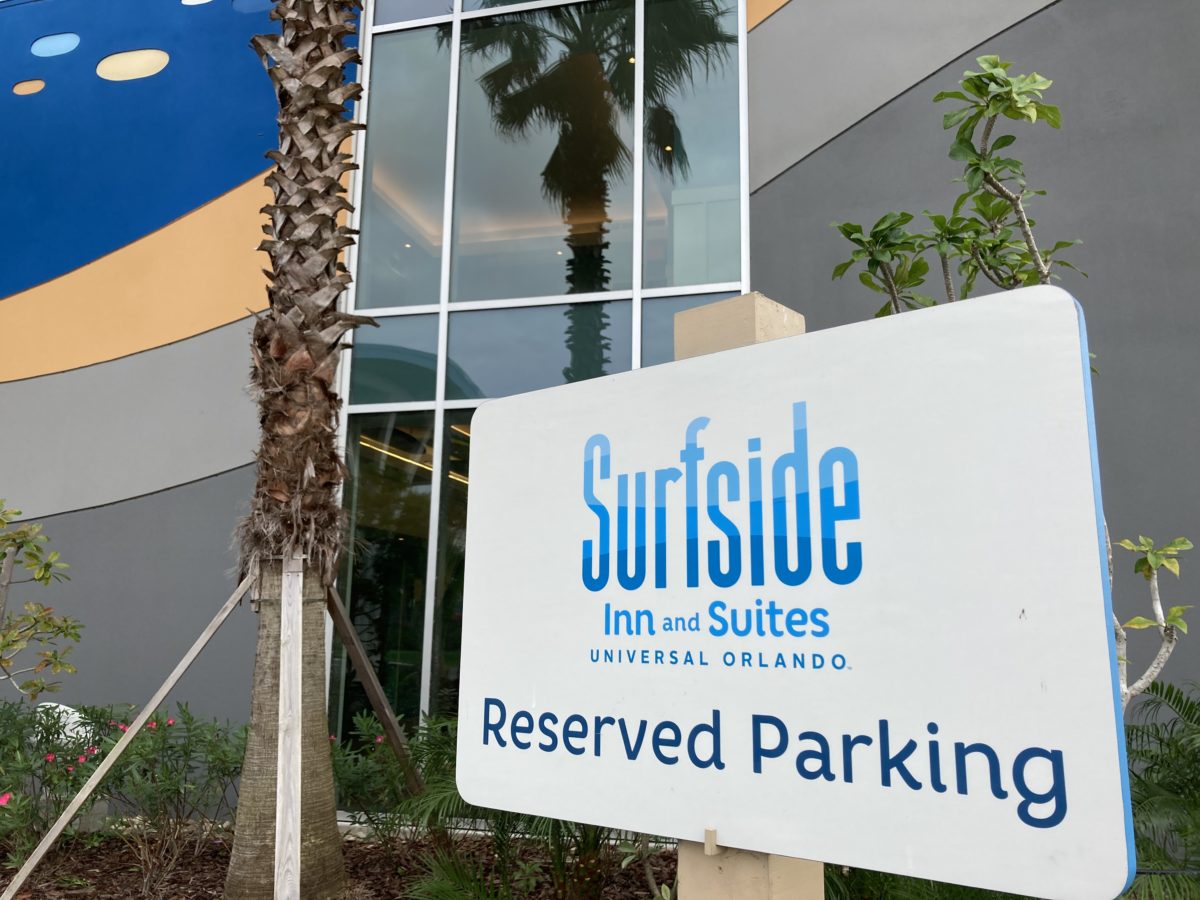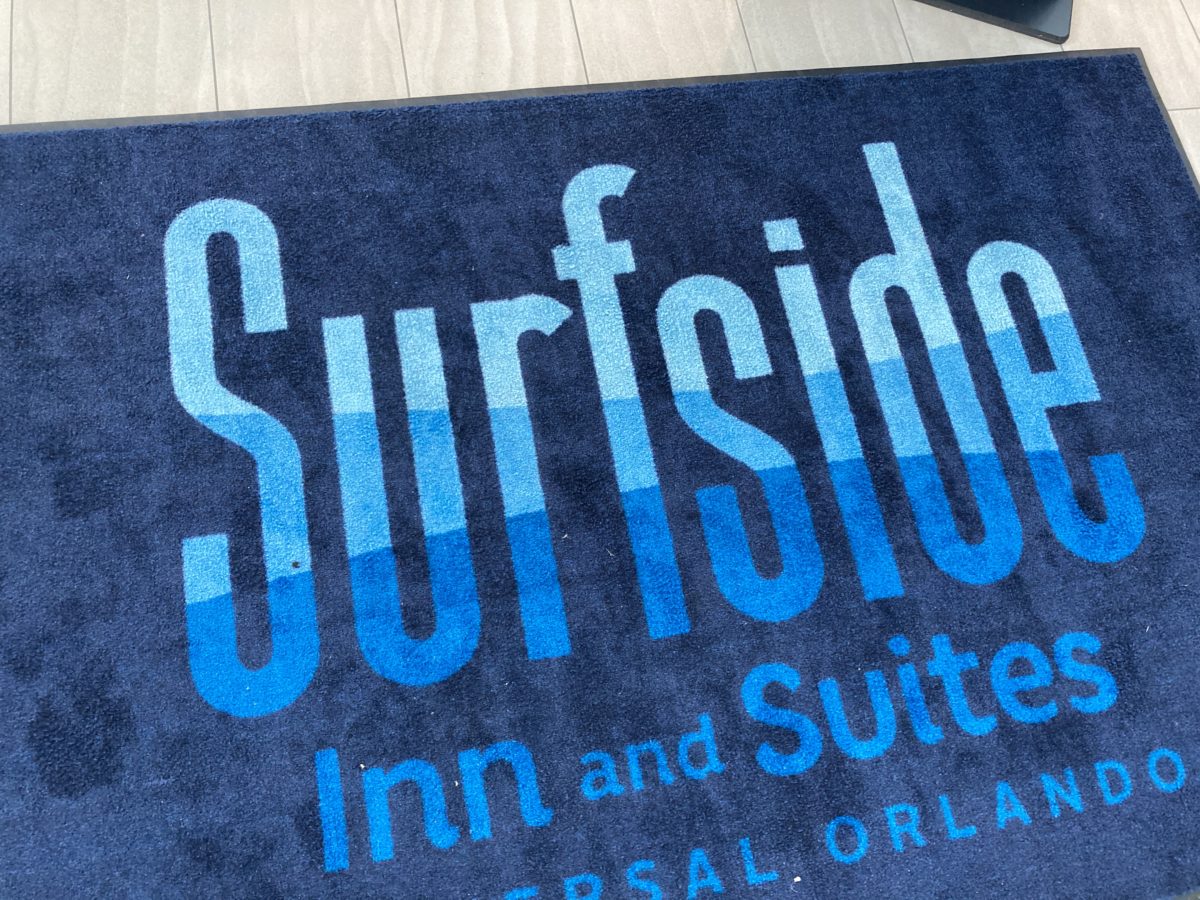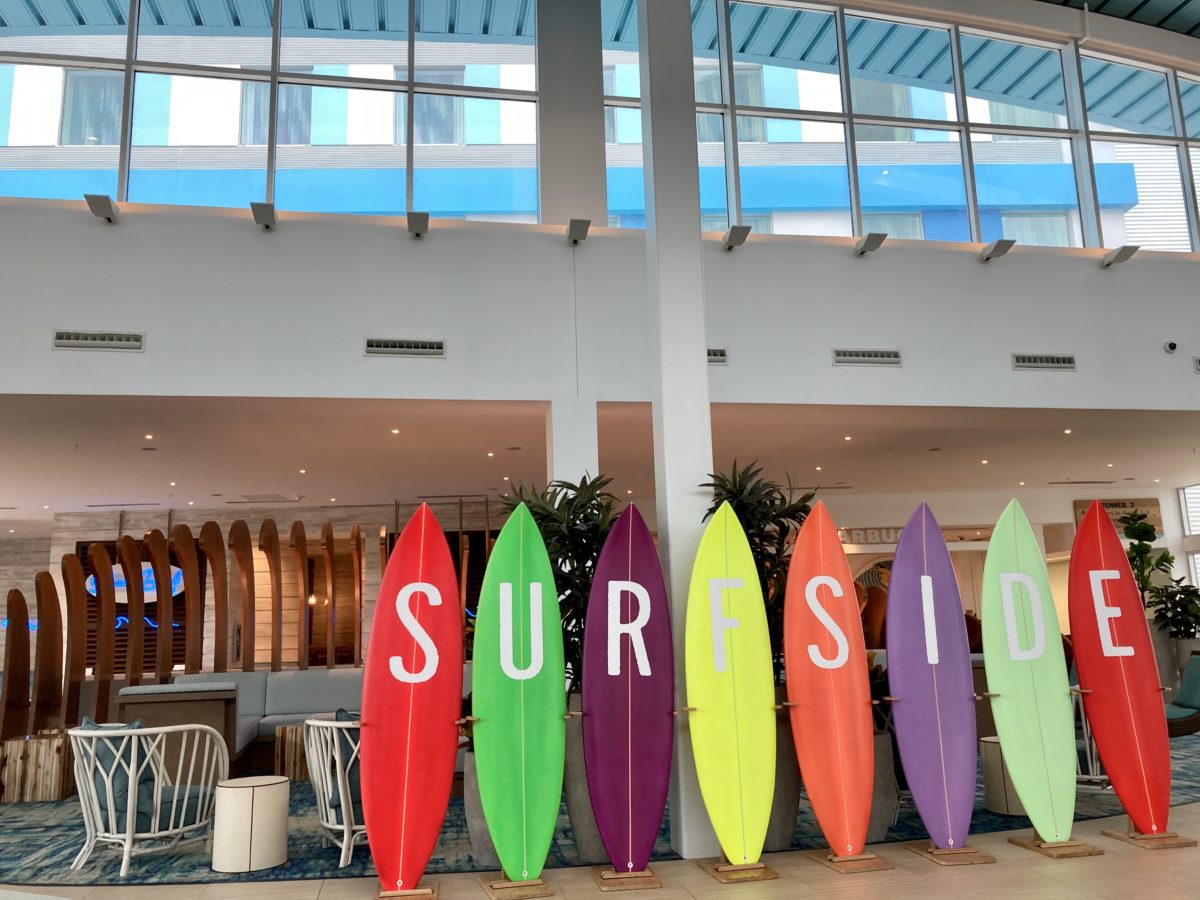 Needless to say, we've been faced with lots of doom and gloom across the country over the past few months, so the bright colorful hues of the breezy lobby were a very welcome sight to behold. Despite all the pops of color, it keeps from being too busy through clean wooden accents and of pops of mellow blue across furnishings and seating.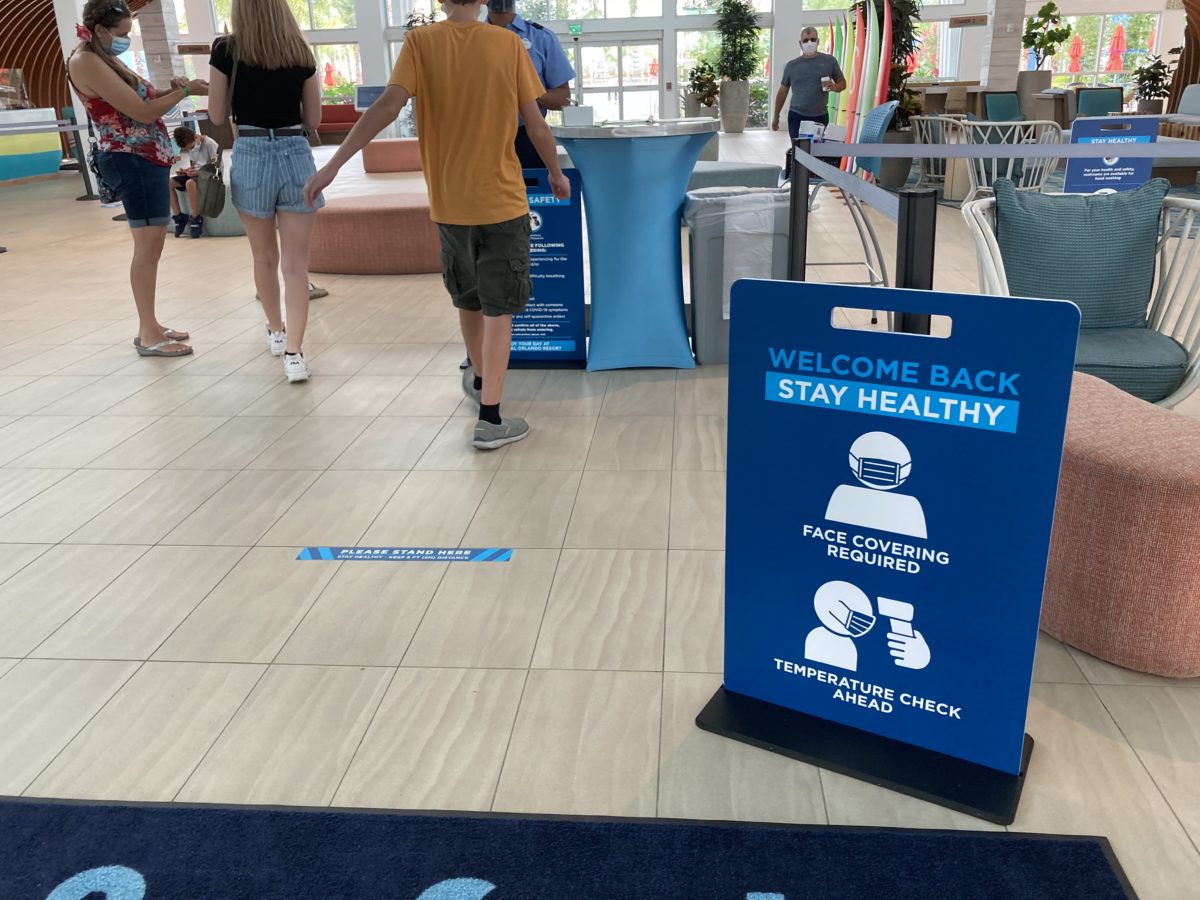 New for the reopening, temperature checks are required for all guests entering the lobby. You line up staring at the welcome mat and follow the taped markings on the ground until you reach the Security host. We were asked to turn our heads slightly so the reader could scan the temperature from our temples.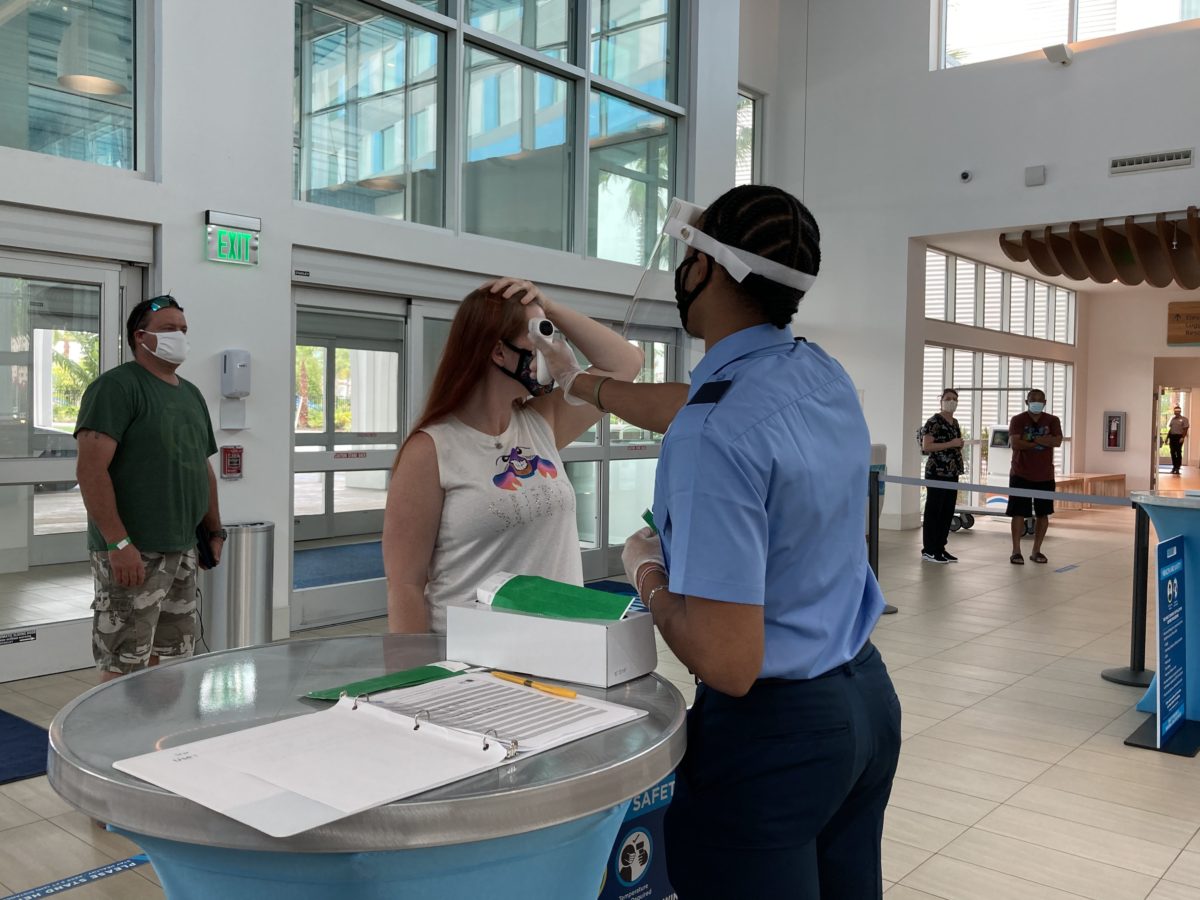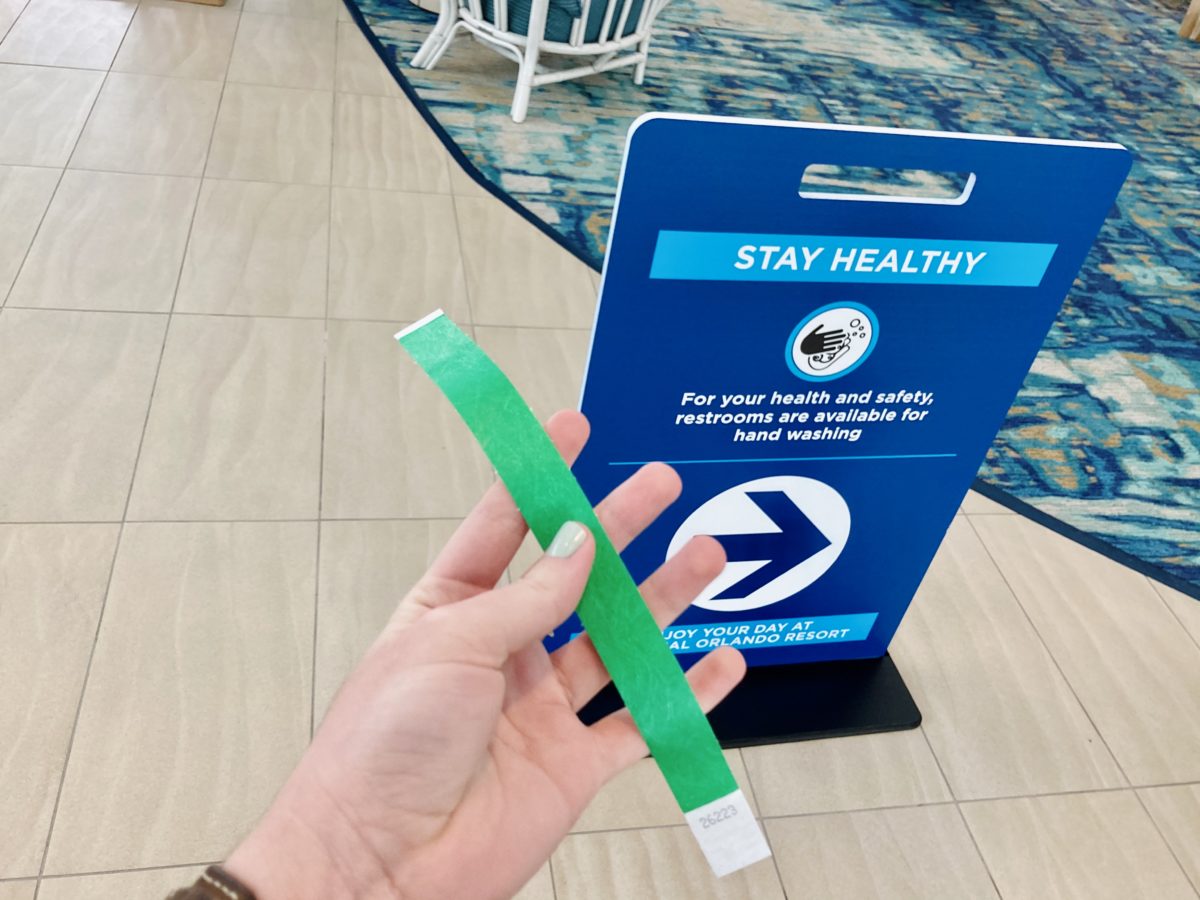 Once "passing inspection", you're handed a green wristband to enter the lobby. Team Members monitor guests based off who has a wristband or not, and allows for expedited entry into CityWalk since you've already been screened.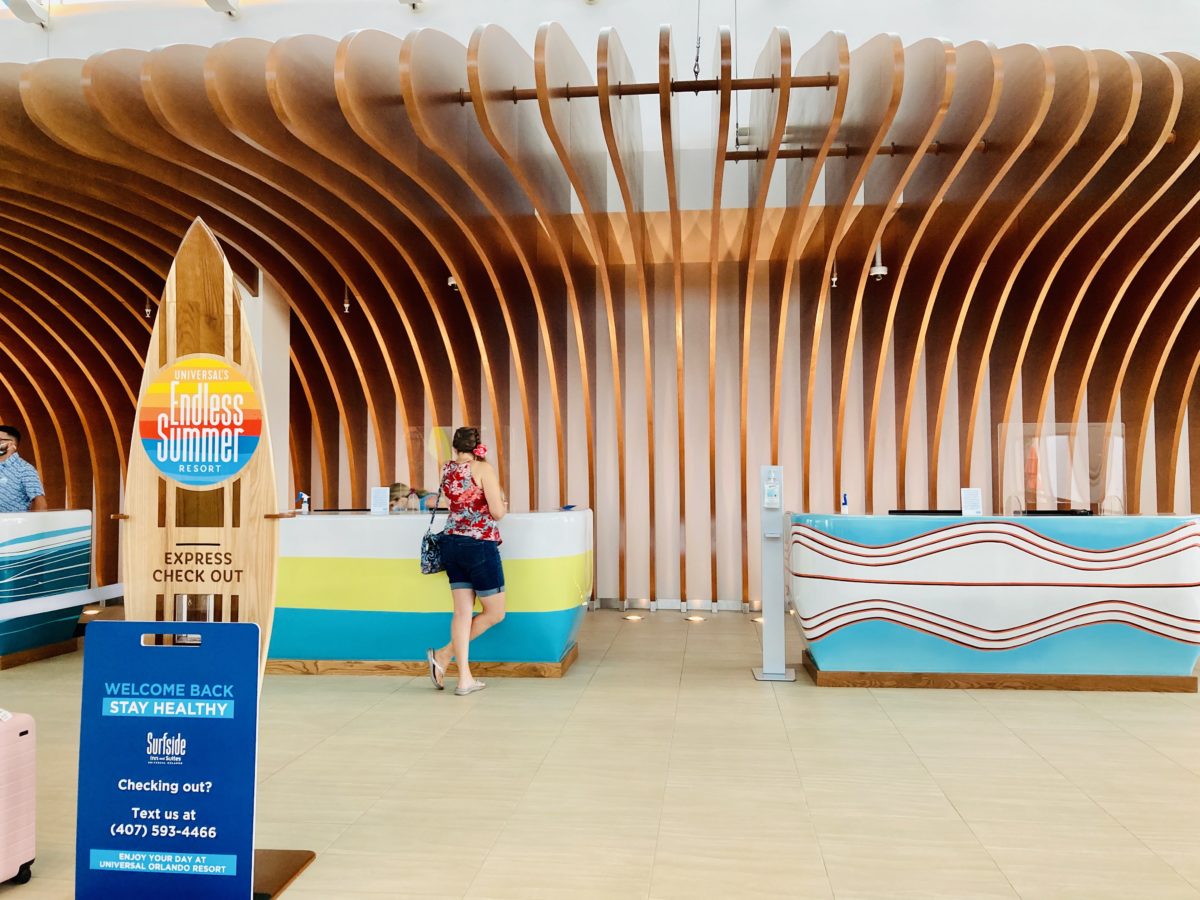 Check-in tables were outfitted with plexiglass barriers for Team Members to welcome and check in guests, as well as walk them through any of the new guidelines and safety measures.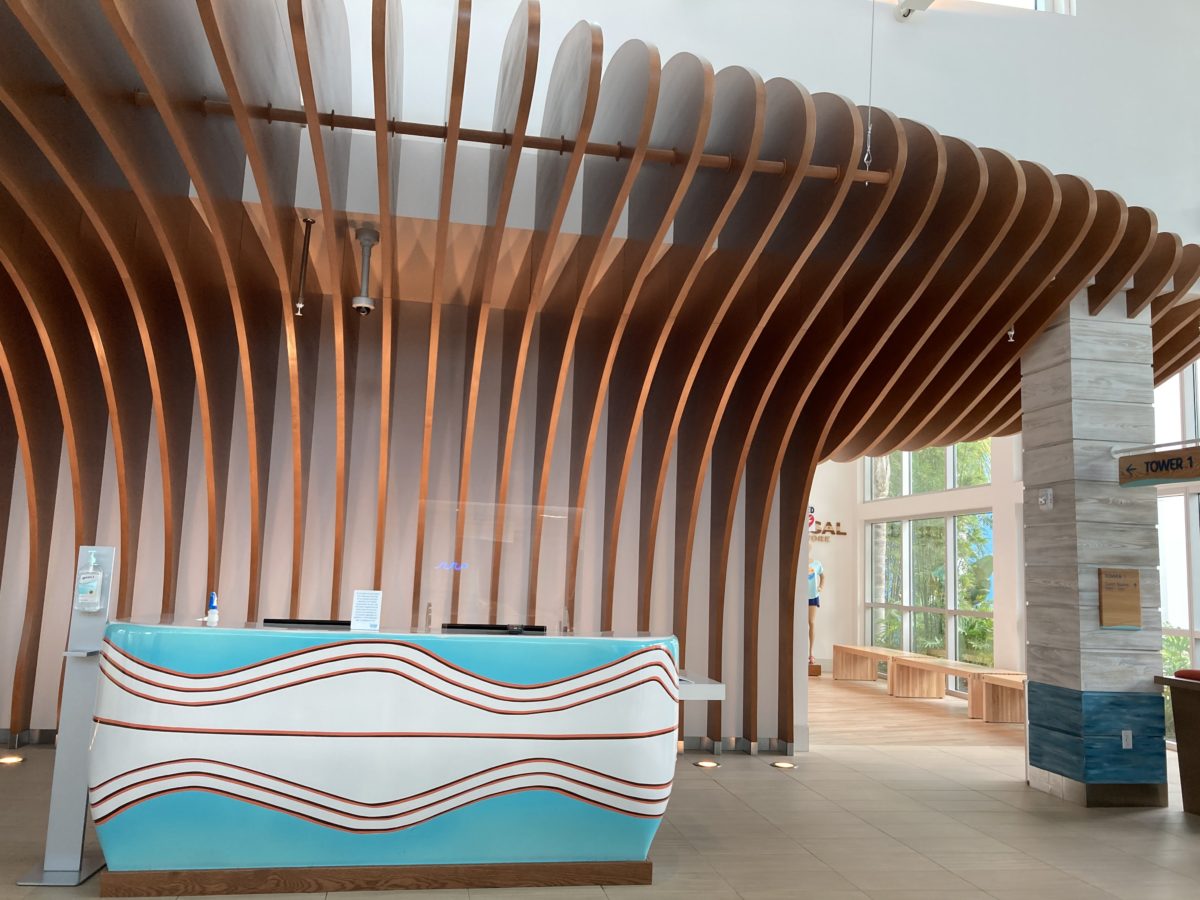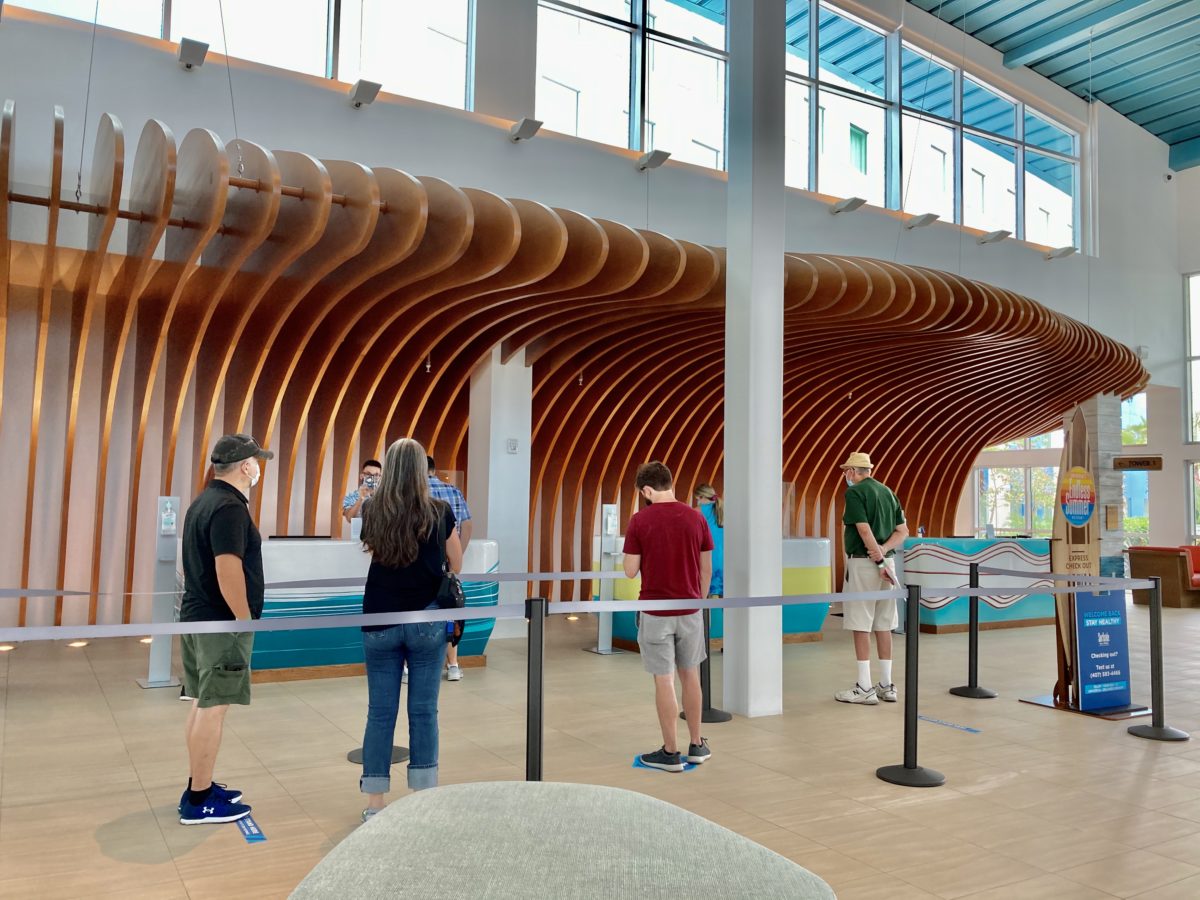 For being the first day back in operation, the resort saw a steady stream of guests checking in, with lines often backed up to the entrance of the lobby due to the 6-foot social distancing markers.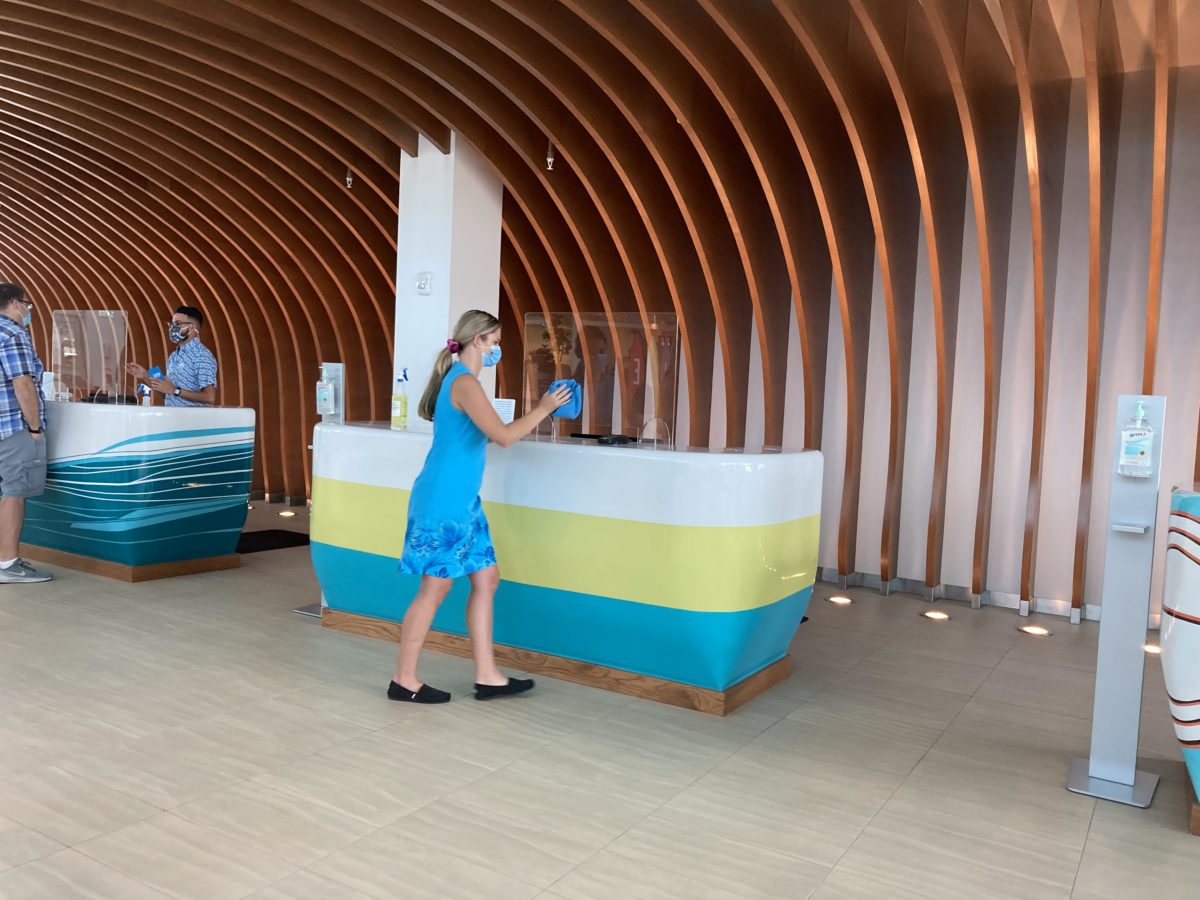 All of the Team Members we encountered were incredibly helpful and nice despite the odd new circumstances we're all existing in. Complimenting someone's face mask design is just part of the new normal. Our Team Member was wearing a New York Yankees mask, as it seems they have a bit more leeway in what designs they can wear, which is a nice touch.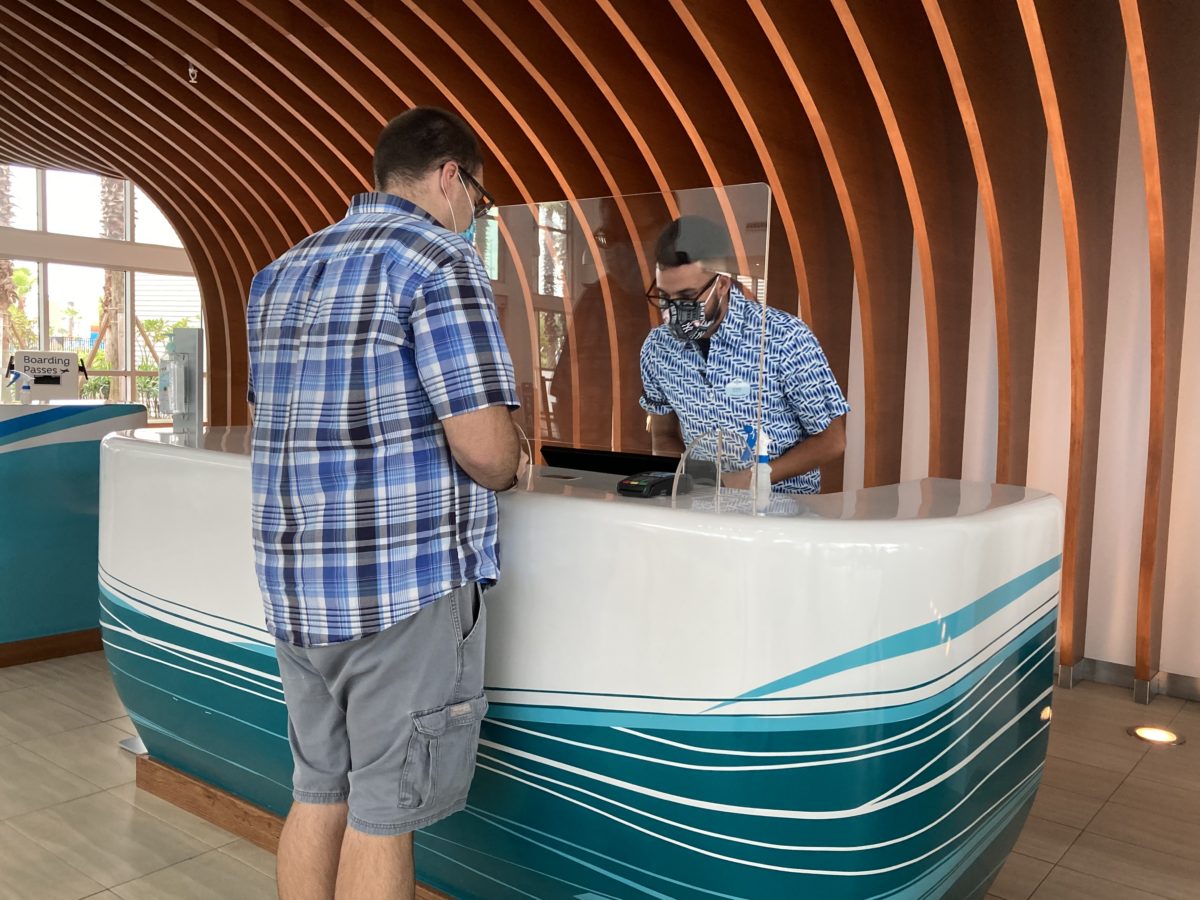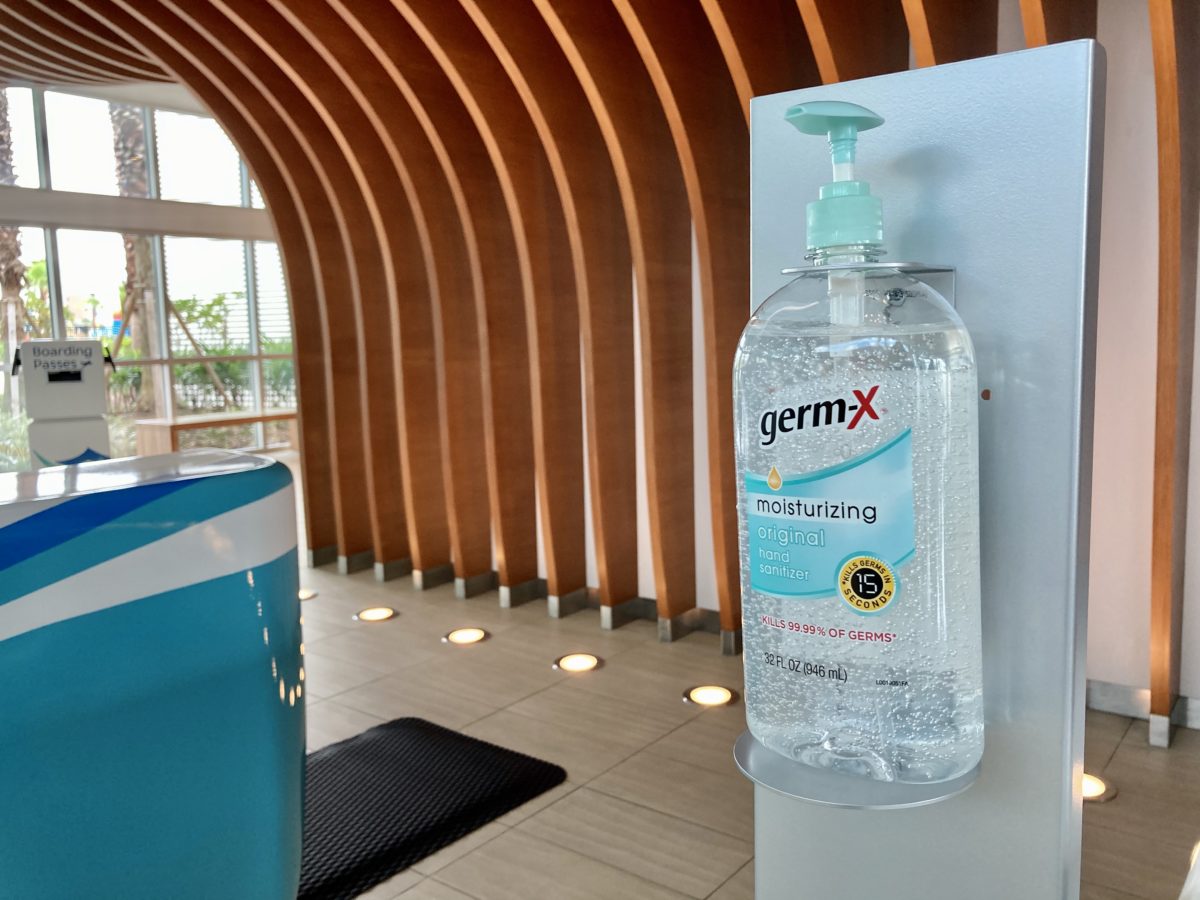 Seemingly everywhere you turned, there were pump containers of Germ-X hand sanitizer. Our only gripe with these is the fact that they require you to touch the pump handle––a touch-free option would be better in these cases, but again, it is the first day back in operation for them.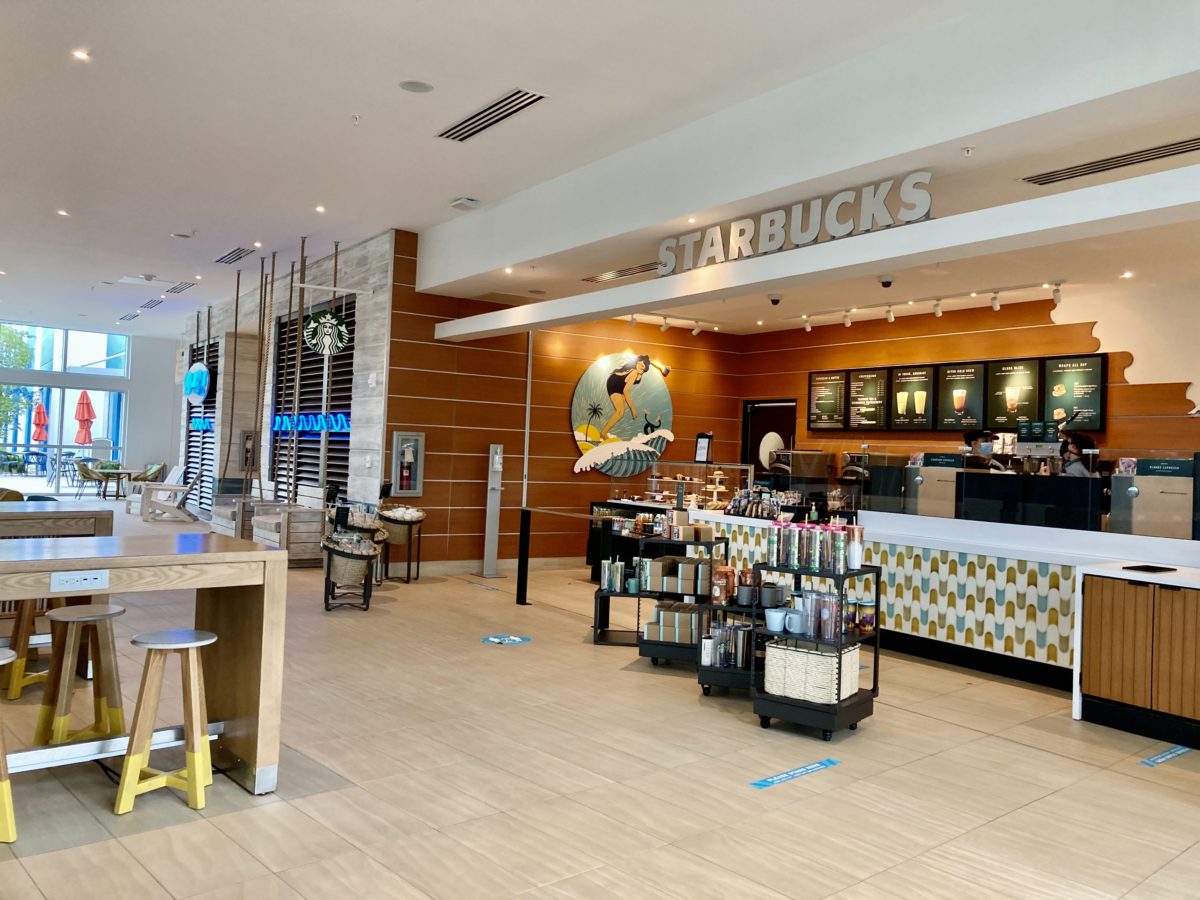 Social distancing markers were scattered along the ordering queue for Starbucks. We expect this queue to stretch out far past the counter as guests line up to be among the first to visit Universal Orlando theme parks in the coming days of the reopening.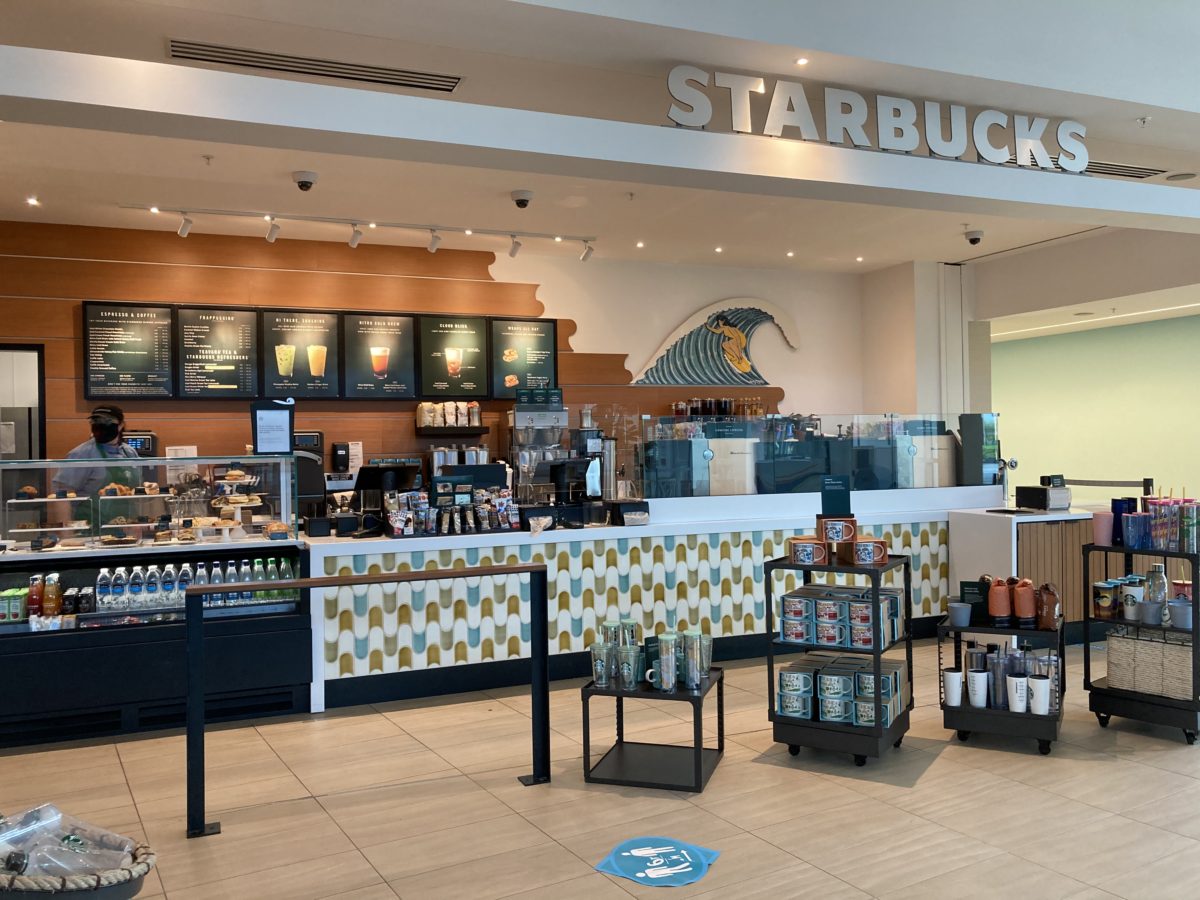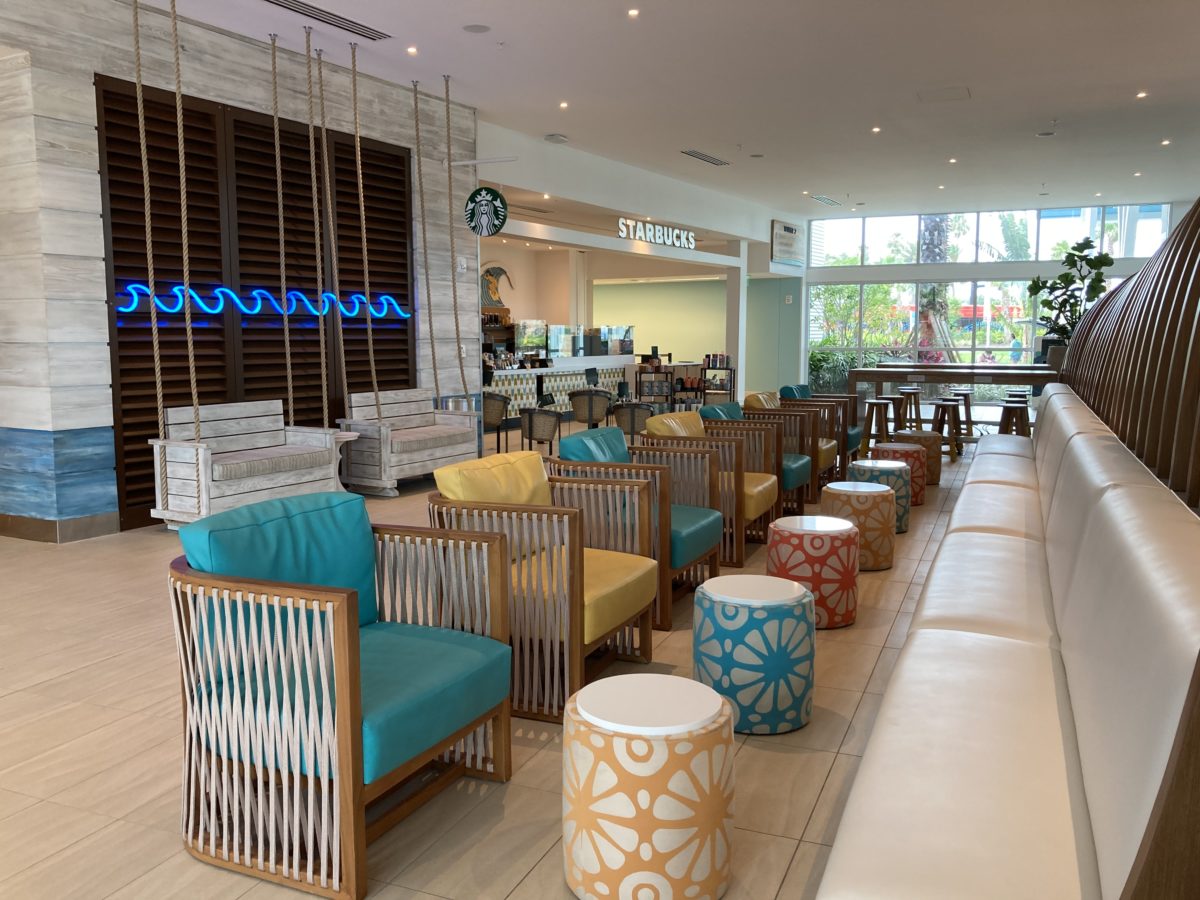 The one place we didn't see many markers was across lobby seating. However, this didn't really seem to be an issue as there was hardly any crowding across these areas.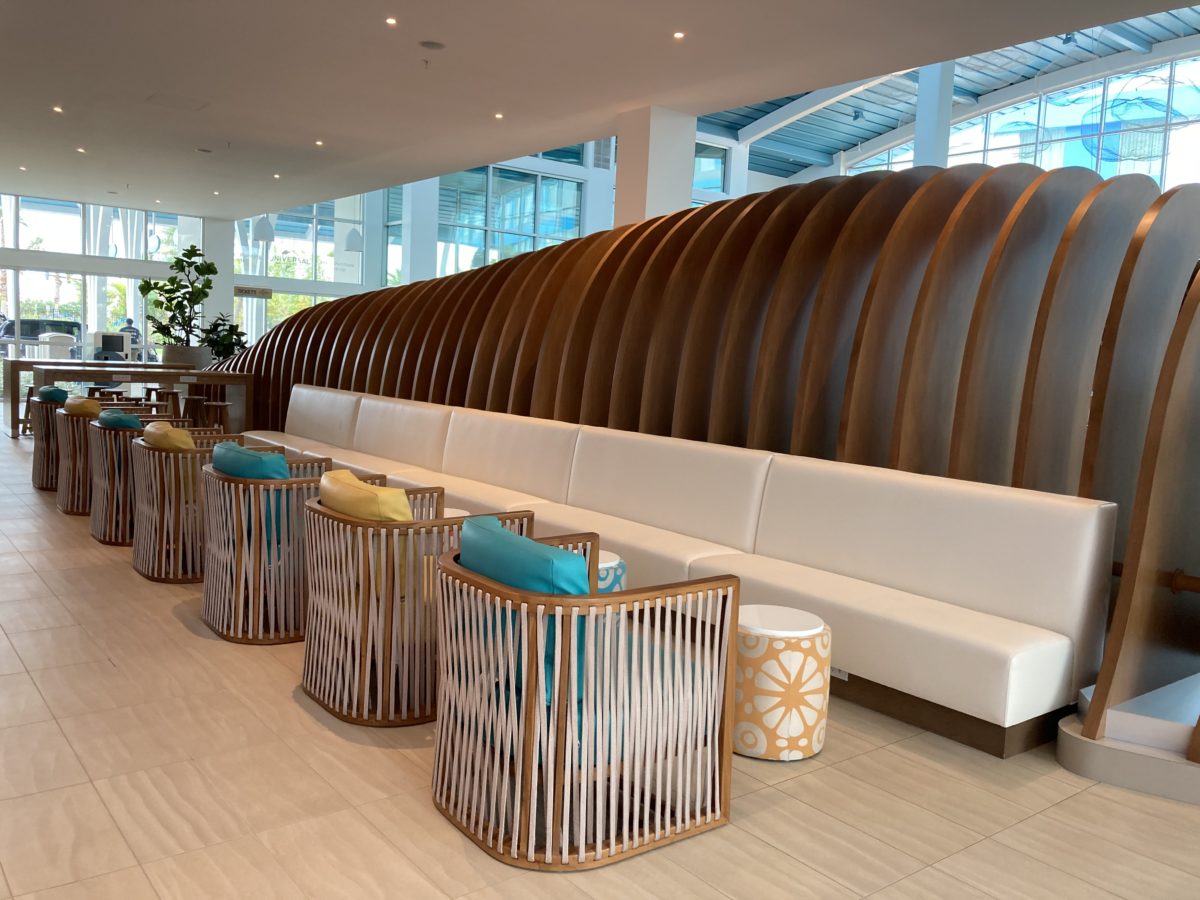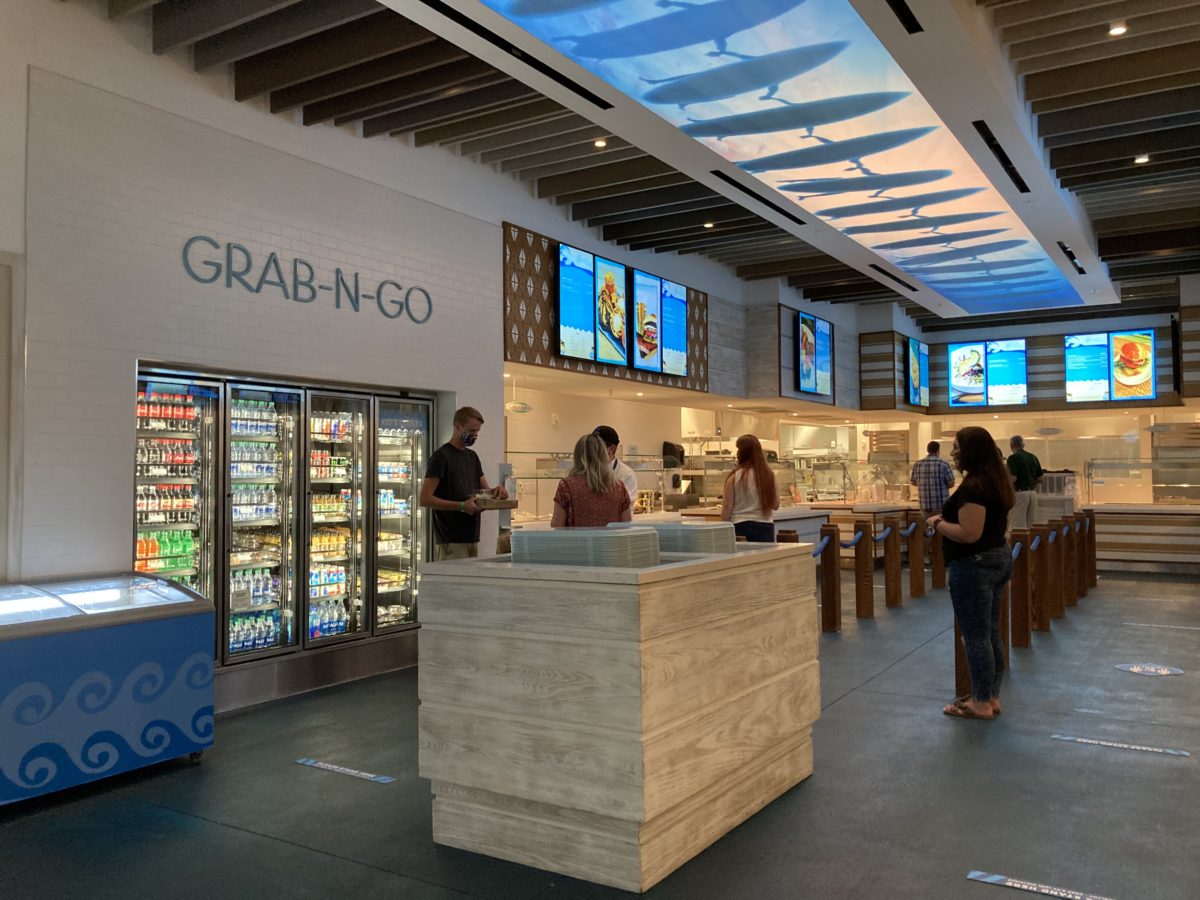 At the resort's quick service restaurant and Grab-N-Go section, markers were laid out across the ordering bays, forming a bit of a queue. The restaurant was offering a very limited menu of mainly burgers, pizza, chicken tenders, and some entrees.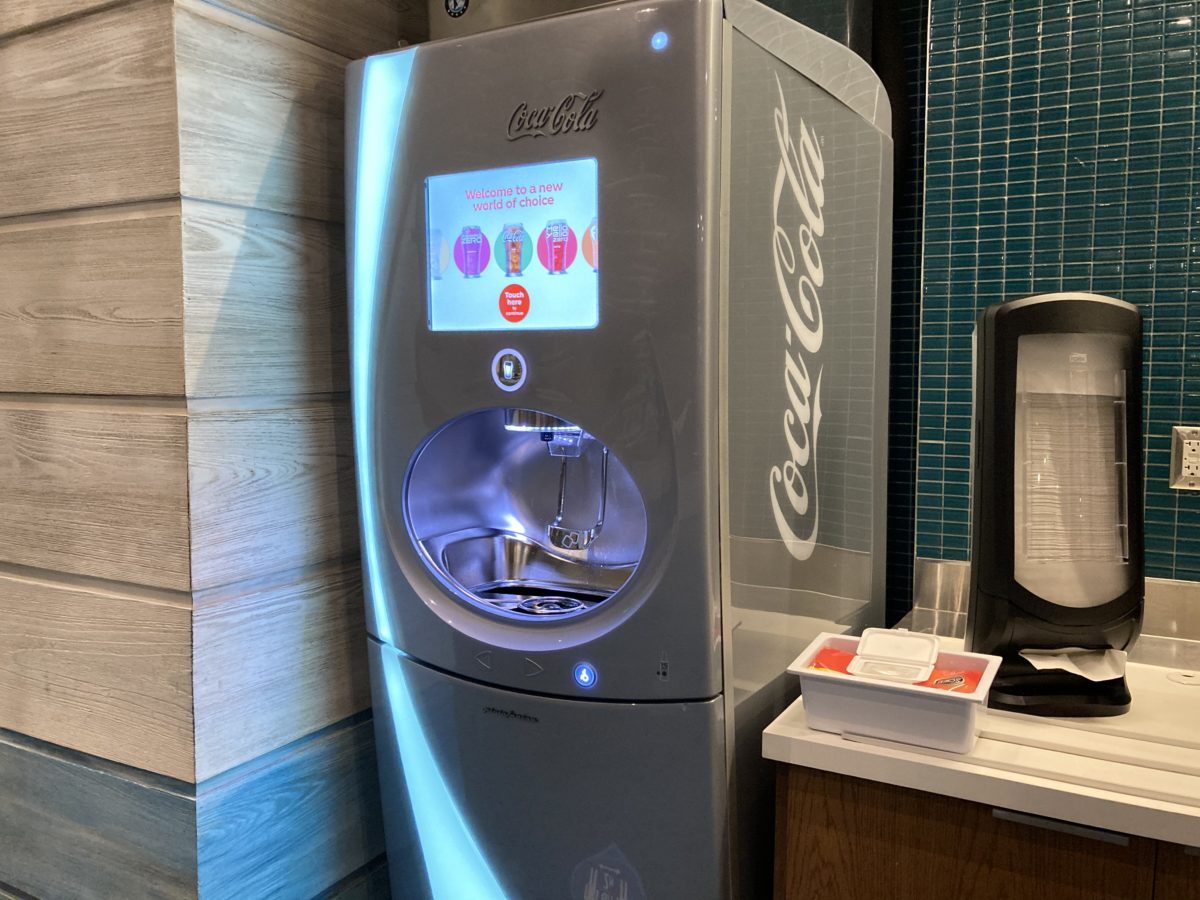 Coca-Cola Freestyle machines were available, but not for use with the popular refillable mugs. Instead, guests had the option of purchasing "refills" by way of unlimited single-use paper cups.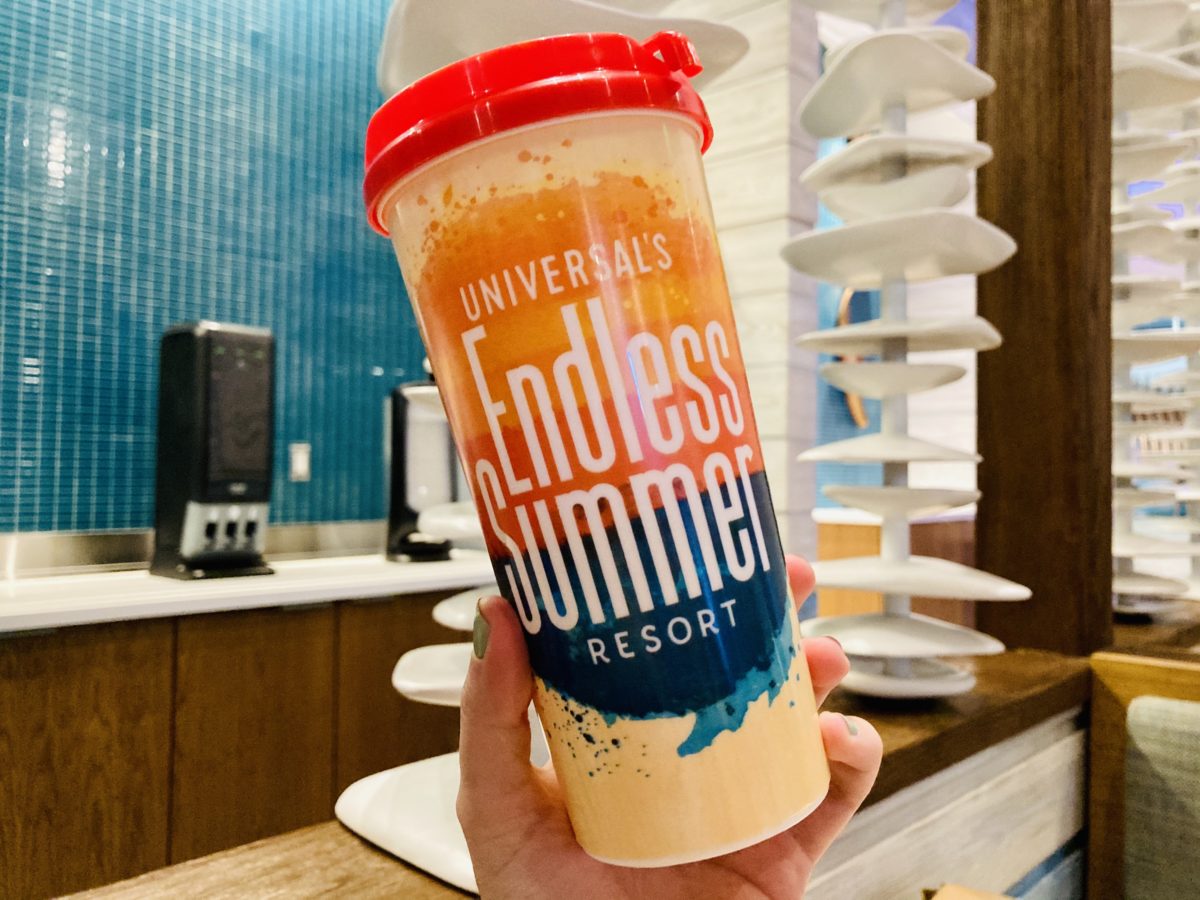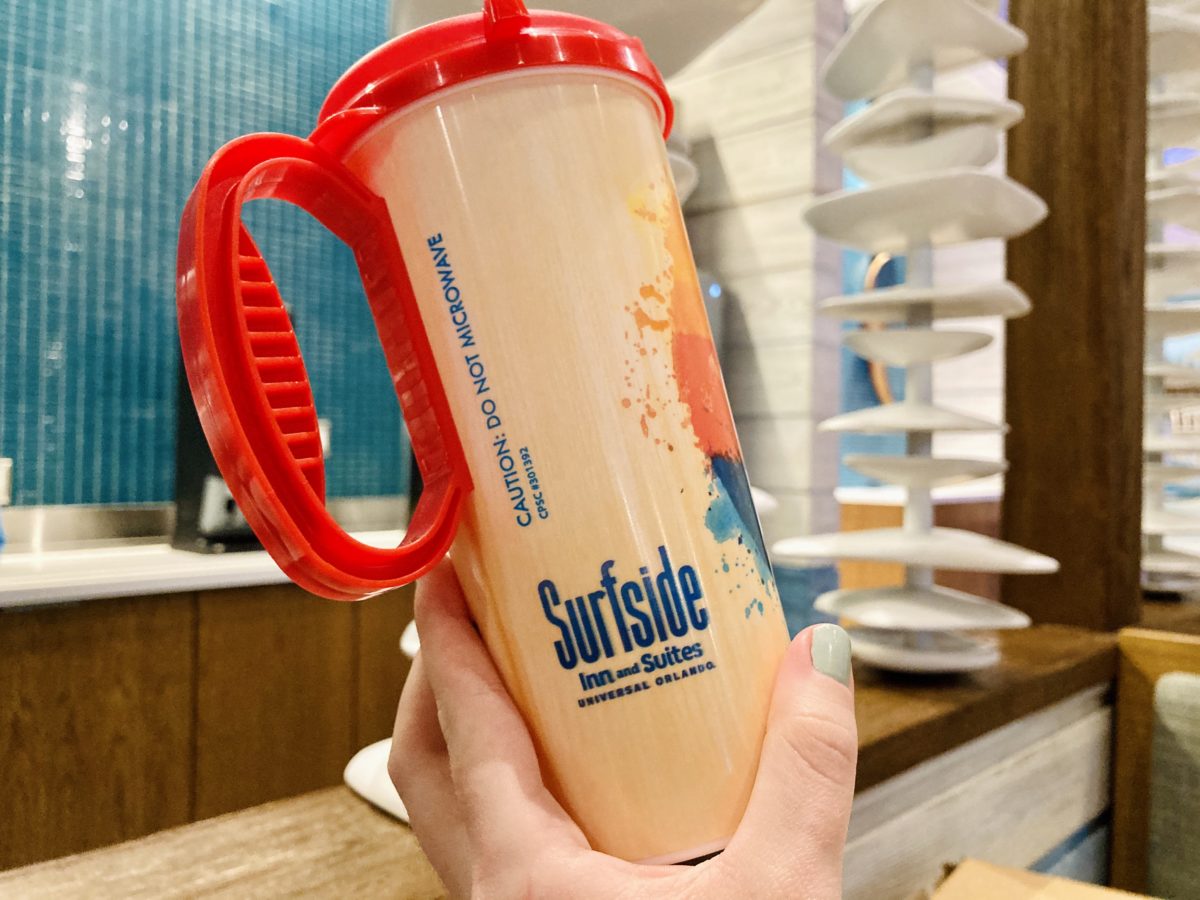 The silver lining in all this is that branded Surfside Inn and Suites resort mugs cost only $7, with a discount extended to guests for the inconvenience.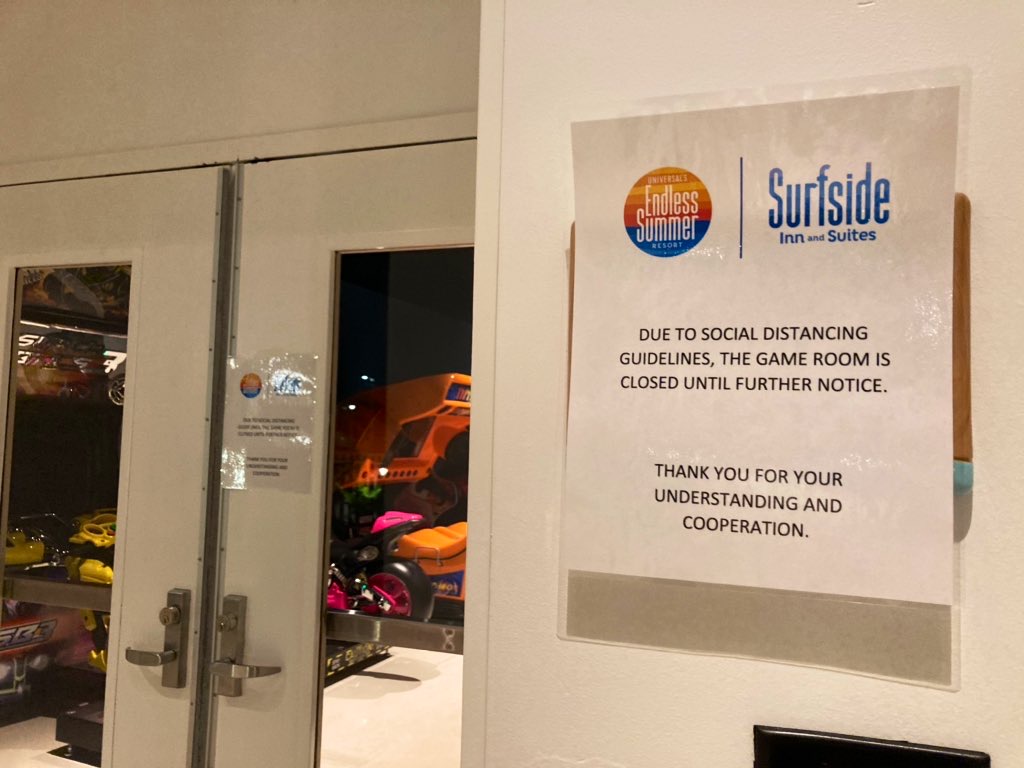 Adjacent to the resort's quick-service restaurant is the Game Room, which is currently closed until further notice due to social distancing protocols.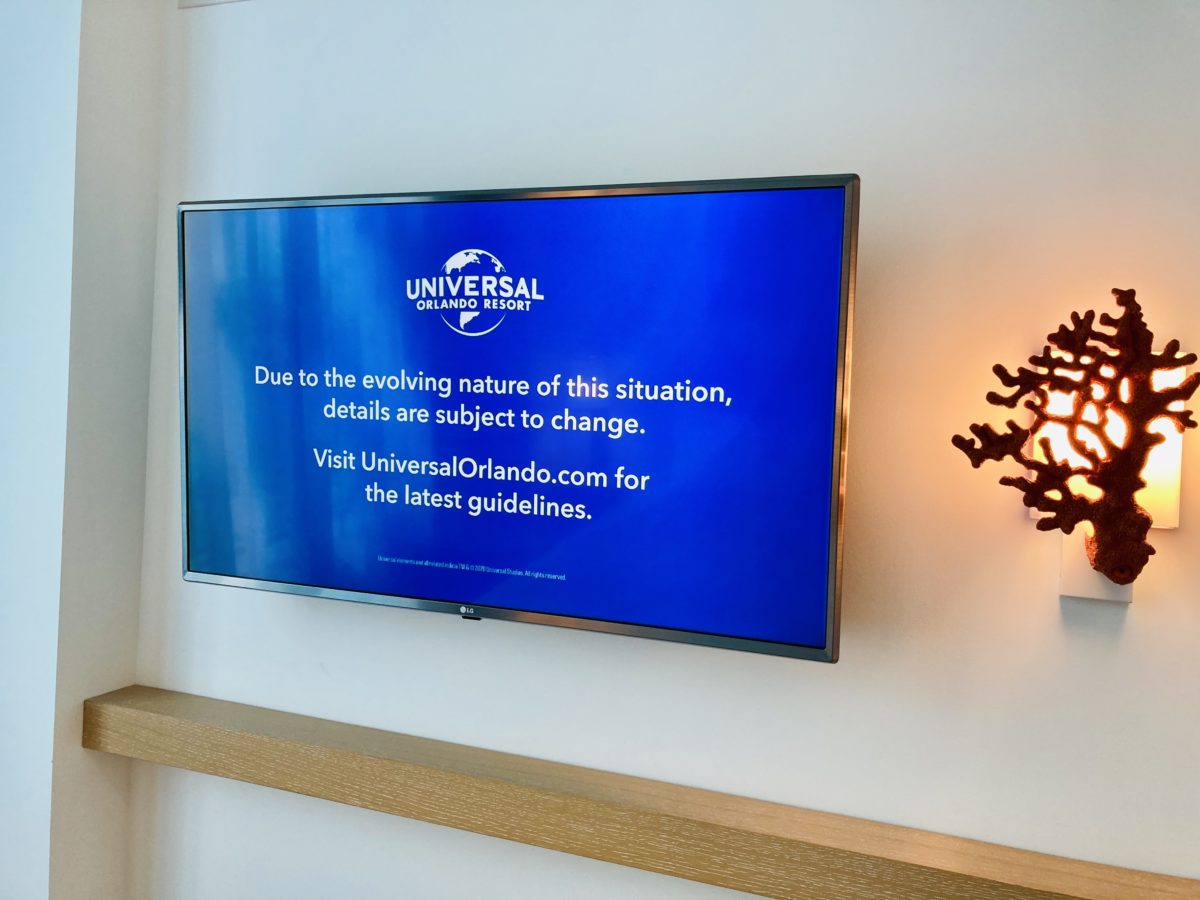 Inside guest rooms, all TVs are set to play Universal Orlando's new "training" video for guests on all of the new health and safety guidelines. It's cute, yet inadvertently dystopian, and a perfect reflection of how things are at this time. Speaking as seasoned theme park travel enthusiasts, there's a marked change in things that's hard to overlook, but so far, Universal Orlando has done an excellent job in making guests feel safe and welcome given the current circumstances. Stay tuned for more coverage of Universal's Endless Summer Resort, plus other resorts, and the full reopening of the Universal Orlando theme parks.
You can keep up with all of our Universal Orlando content as it happens on our newly-launched website at UniversalParksNewsToday.com, on our YouTube channel, or through social media on Twitter, Instagram, and Facebook.