As you may be aware, earlier this week, we ditched our Mickey ear hats for neon Universal Studios 30th Anniversary bucket hats for the reopening of Universal Orlando, which is currently taking place a full month before the start of Walt Disney World's phased reopening. That being said, we're delving into all of the new operational changes taking place across the resort and its theme parks to better prepare ourselves for what we may expect to see at Disney in the upcoming months. If you're considering a Universal Orlando trip (given all the new hurdles for the reopening of WDW, we don't blame you), make sure you check out our newest sister site, Universal Parks News Today.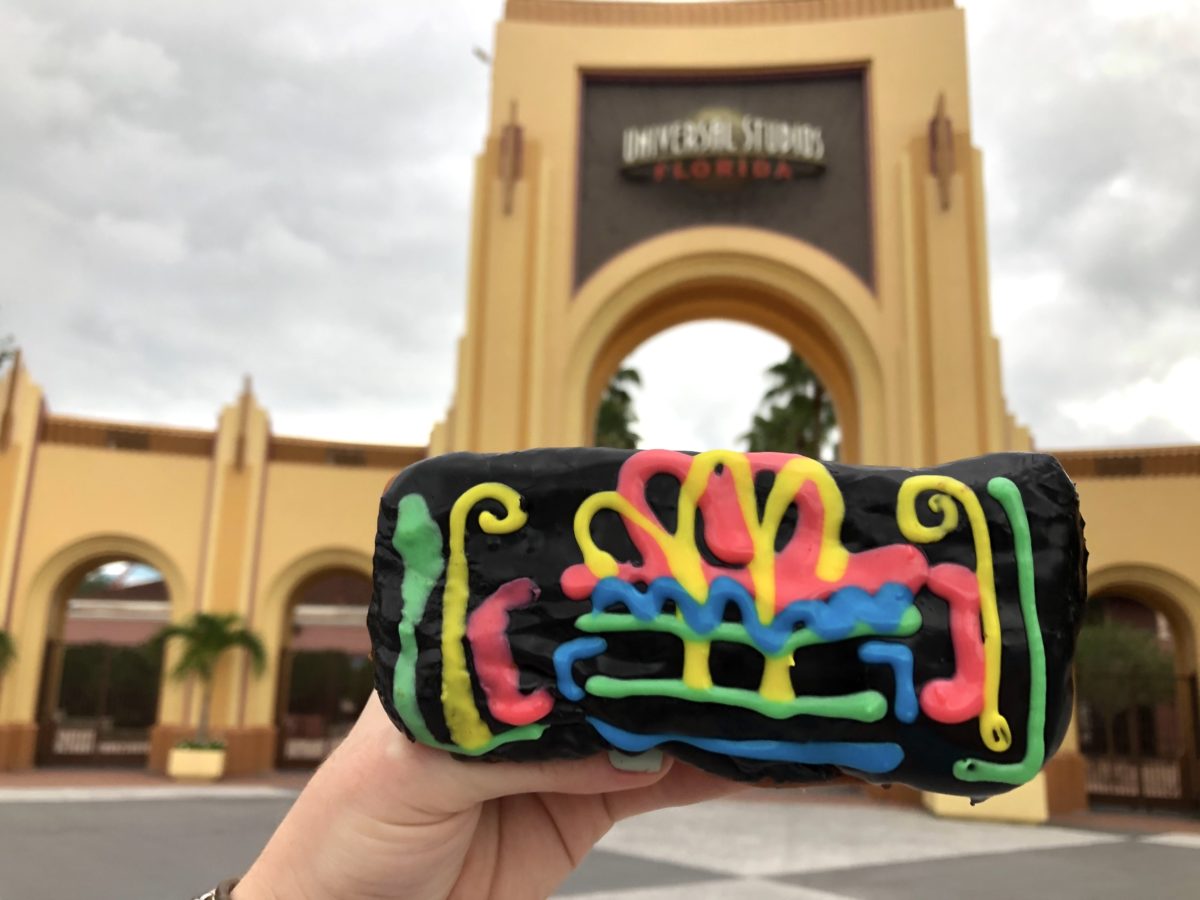 Today, we're exploring the Mobile Food Ordering process that's currently in place across Universal Studios Florida and Islands of Adventure. As the reopening has progressed from Annual Passholder previews to the full reopening to the public, we've seen the procedure morph slightly as Team Members adjusted things for a better experience. So far, we've done Mobile Ordering at Thunder Falls Terrace and Burger Digs in Jurassic Park at IoA, and at the Leaky Cauldron in Diagon Alley at USF. Here's a full list of all the current Mobile Order participating restaurants:
Universal Studios Florida
Fast Food Boulevard
Leaky Cauldron
Louie's Italian Restaurant
Mel's Dine-In
Richter's Burger Co.
The Fountain of Fair Fortune
The Hopping Pot
Today Cafe
Universal's Islands of Adventure
Blondie's
Cafe 4
Cinnabon
Circus McGurkus Cafe Stoo-pendous
Fire Eater's Grill
The Burger Digs
Three Broomsticks
Thunder Falls Terrace
Universal CityWalk
Cinnabon
Hot Dog Hall of Fame
Red Oven Pizza Bakery
Voodoo Doughnut
Universal's Volcano Bay
Kohola Reef Restaurant & Social Club
Whakawaiwai Eats
Thunder Falls Terrace – Islands of Adventure (Jurassic Park)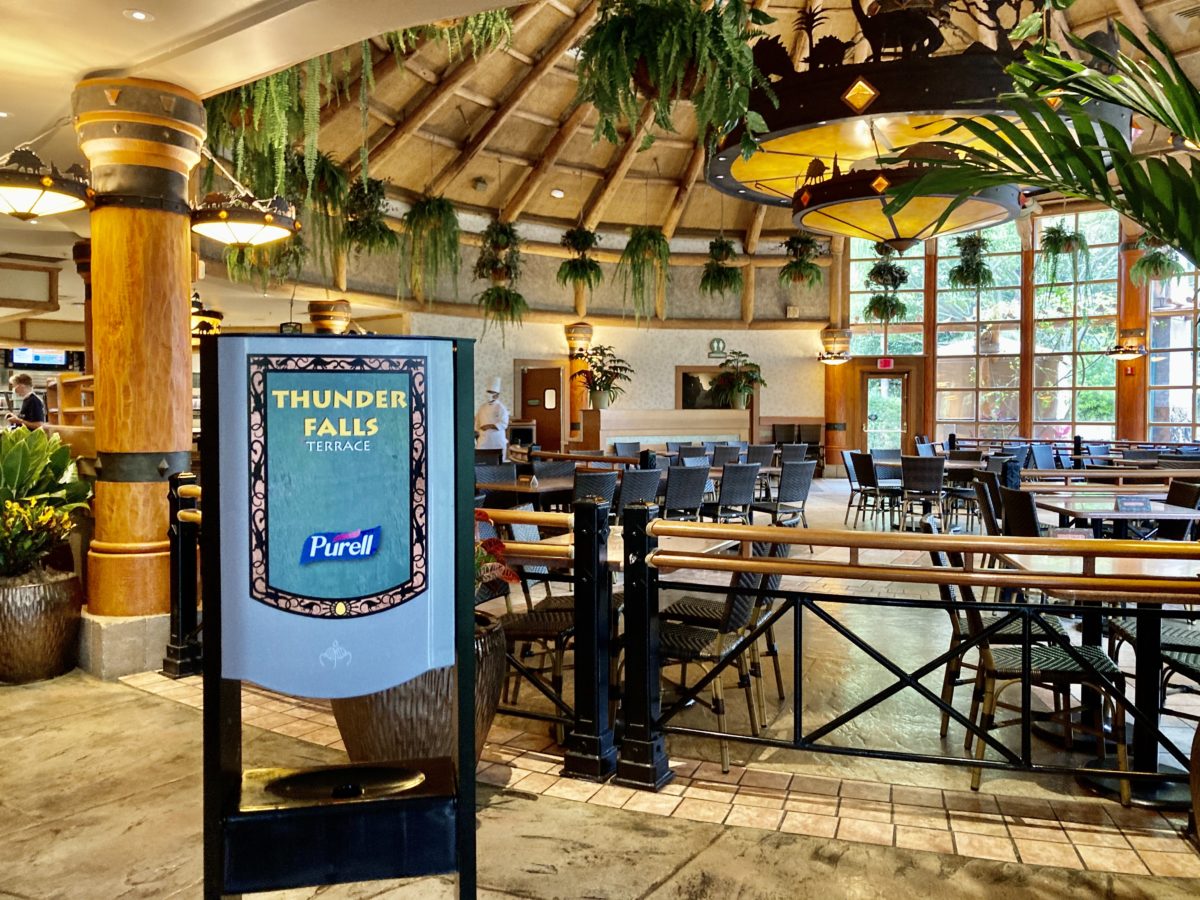 Our first experience with this slightly adapted Mobile Ordering system was at Thunder Falls Terrace, where we were surprised to walk into a quick-service restaurant only to be promptly seated by a friendly Team Member. For years, this underrated eatery has mesmerized us with its gorgeous interior, so it's only right it gets the proper table-service treatment it deserves!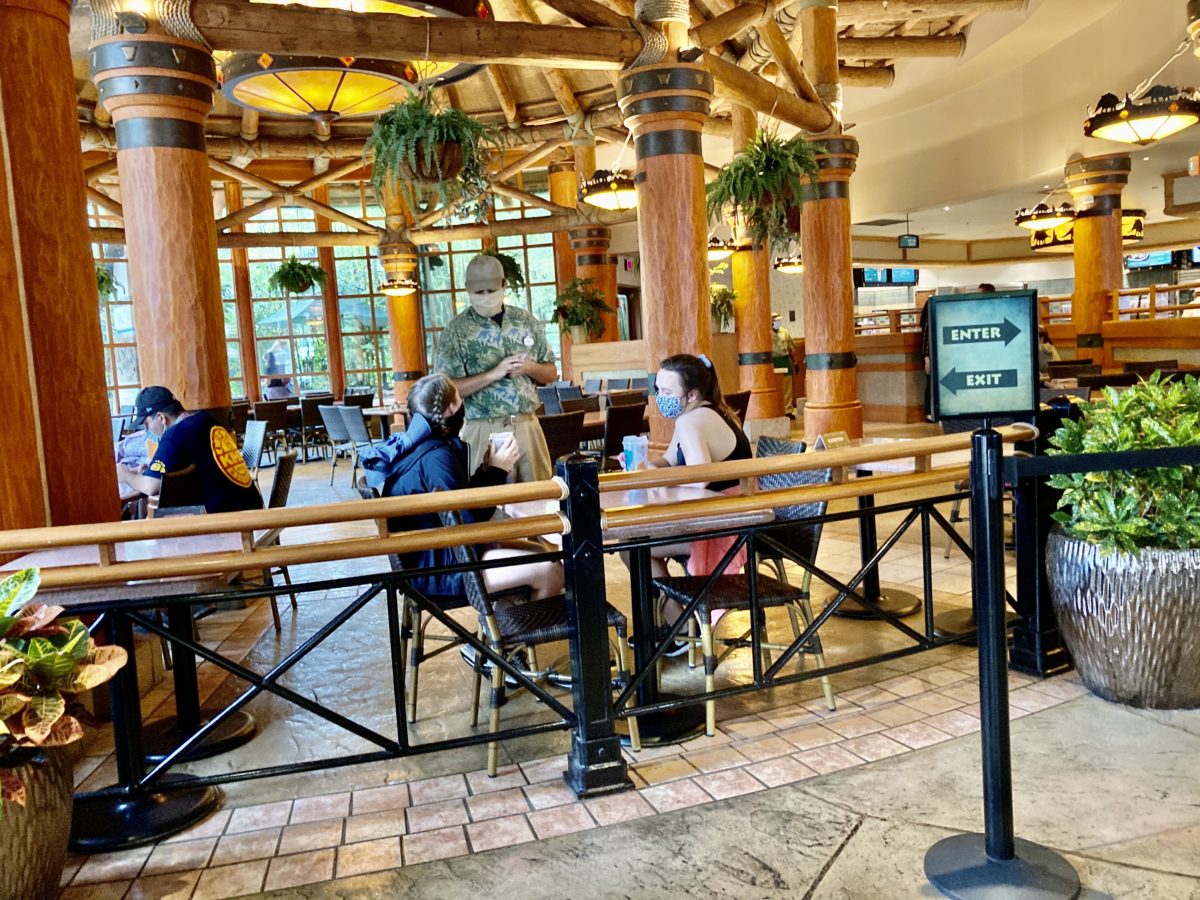 Since we got here right when the location opened for lunch at 11:00 AM, Mobile Ordering hadn't been fully activated on the app yet, so Team Members were manually taking orders on notepads at each table.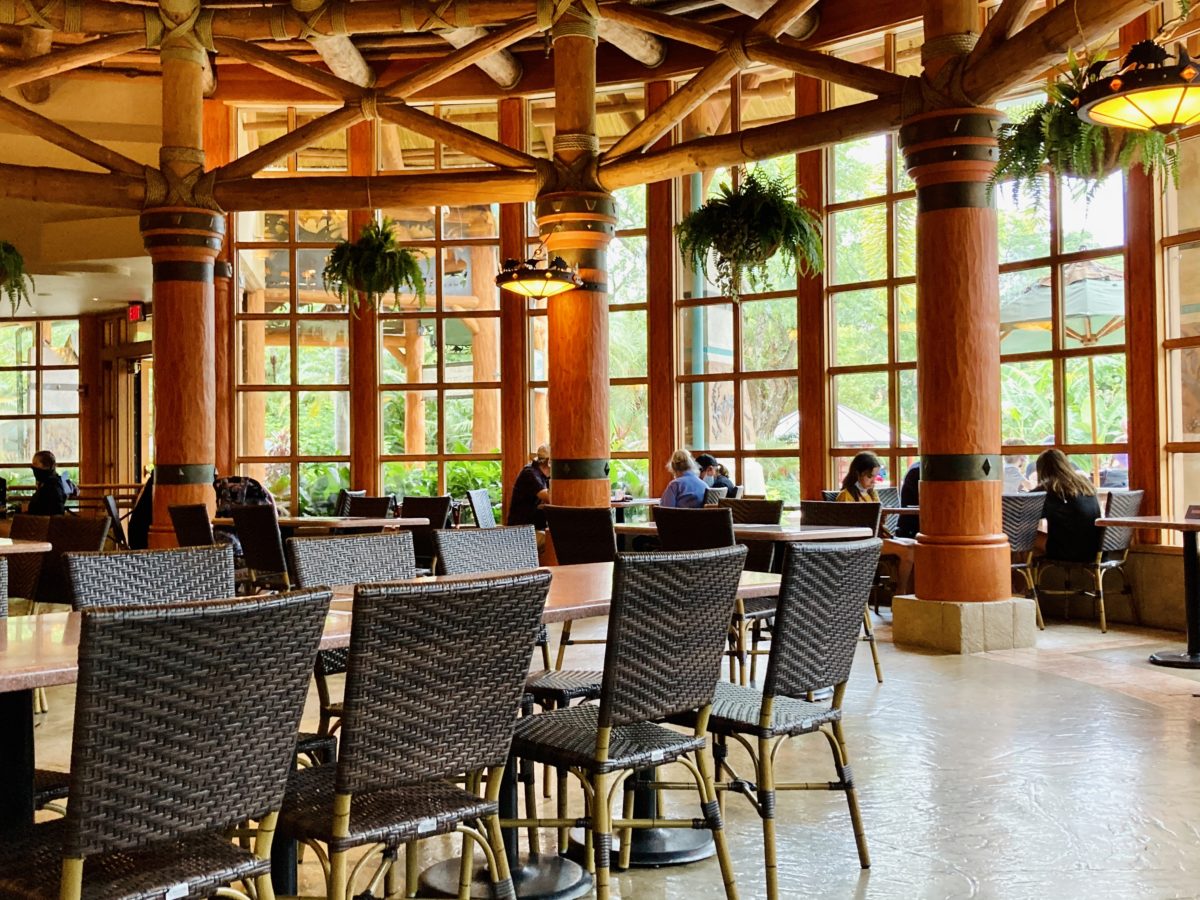 Seeking shelter from the summer monsoons, we were glad to be seated instead of trying to scout out a table amidst the crowds. If there's one silver lining with all of these new guidelines, it's that there's a strange sense of order now, which feels very odd, albeit soothing if you're expecting a hectic theme park experience.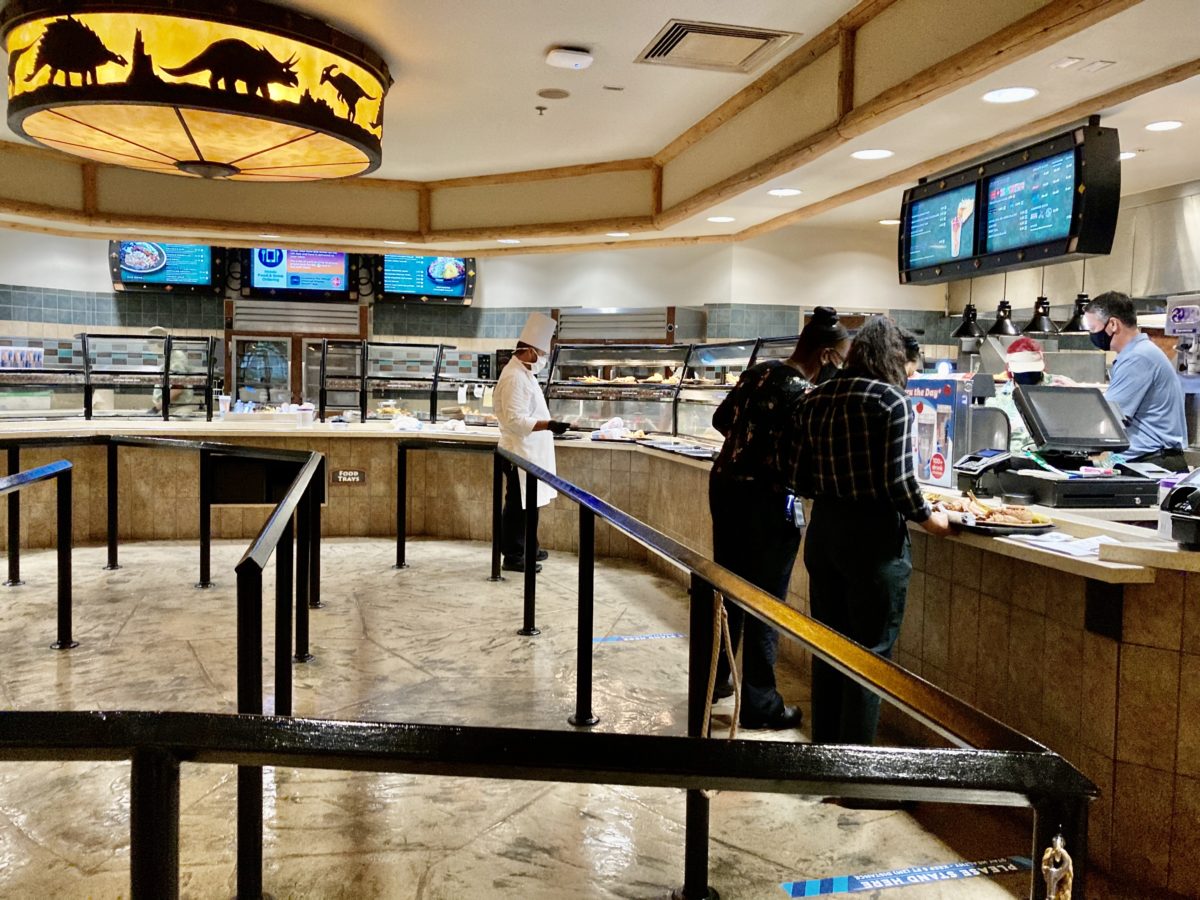 What used to be the ordering bays and queues are now simply manned by chefs, Team Leaders, and Team Members as they cook, assemble, and dispatch orders to each table.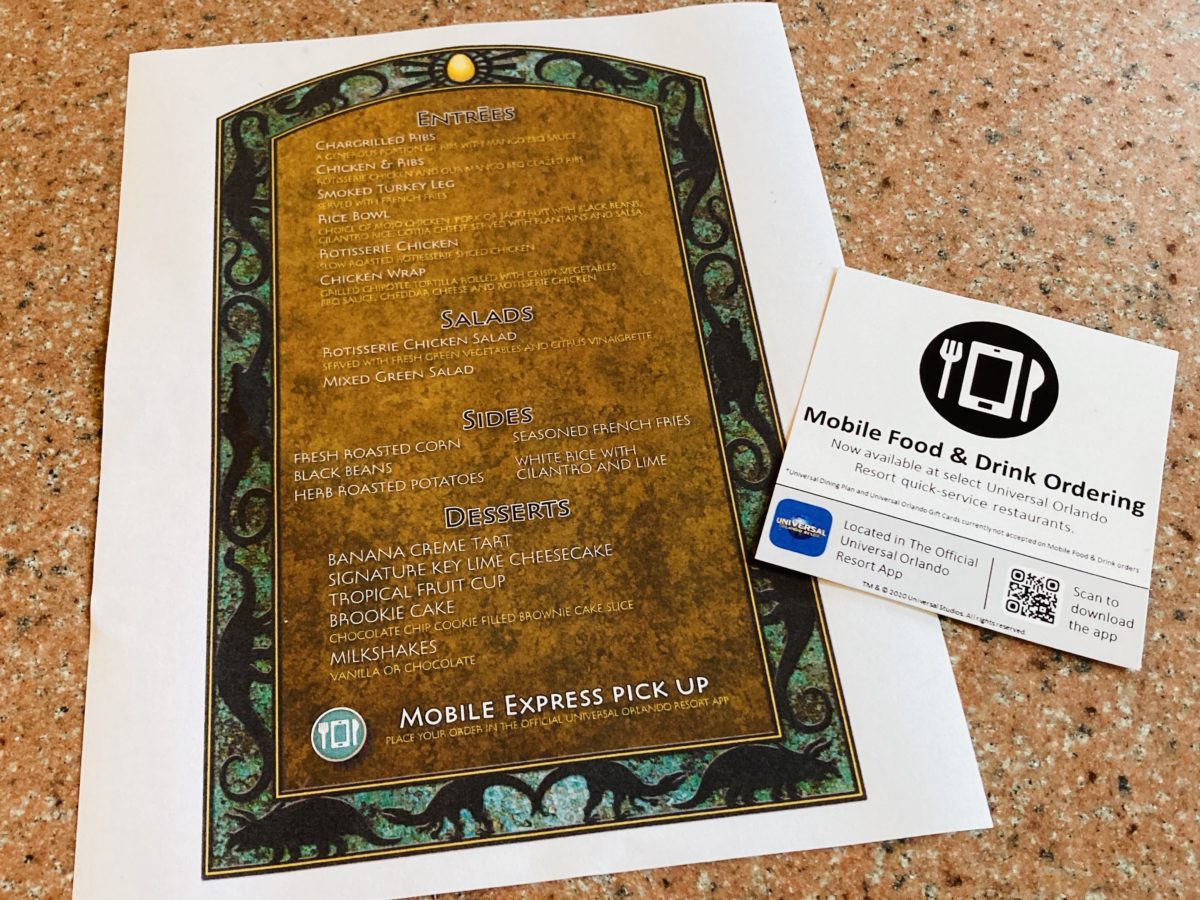 At each table, you'll find a paper printed menu for visual reference, and a handy Mobile Food & Drink Ordering card with a QR code you can use to scan and open up the app.
On the Universal Orlando app, you can open up the main side bar menu, and scroll down to the "Shop" section. Then, click "Order Food and Drinks". That'll open up a full list of all the available restaurants. You then click on the restaurant you're at (or planning on visiting), before proceeding to select and customize your order. Upon completing checkout, you'll receive this confirmation page informing you that your order is being prepared: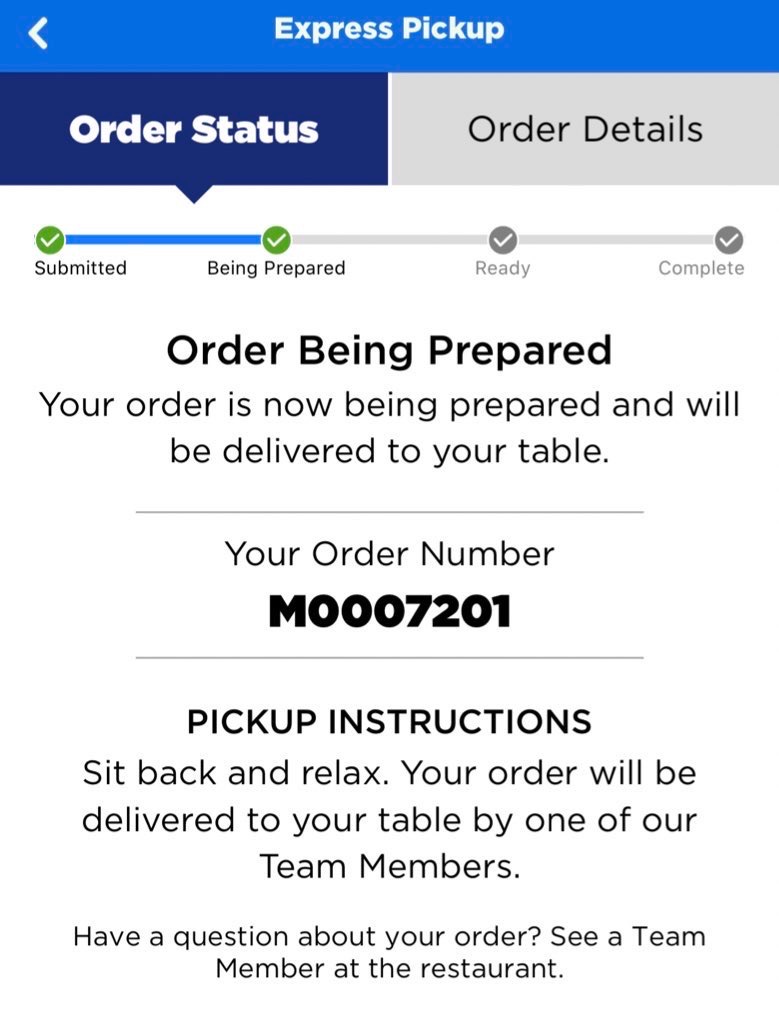 The Team Member assisting you will pass by and check for your Order Number. Your order should then shortly arrive at your table. Do note that depending on the time and location where you dine, service may be somewhat confusing. At Thunder Falls Terrace, we were among the first to be seated, but got lost in the influx of guests. Despite arriving at 11:00 AM, we didn't get around to placing an order until 11:40 AM, which isn't great if you're trying to maximize your time in the age of limited park hours, but nevertheless understandable given the unprecedented circumstances. Just something to keep in mind if you're trip planning: keep the schedule somewhat open and flexible.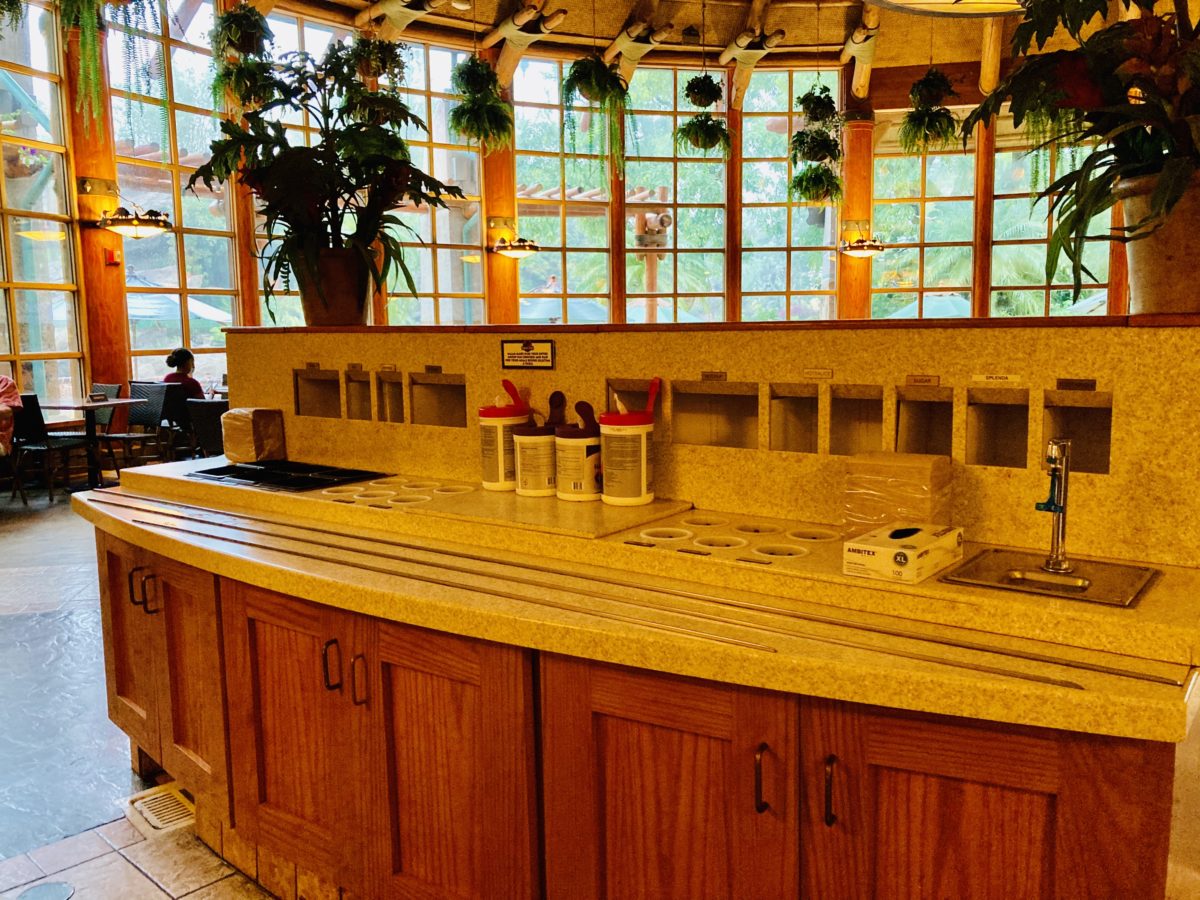 As an added note, all condiment islands and/or utensil stations are currently closed, and any additional condiments, utentils, or straws you might need will have to be requested.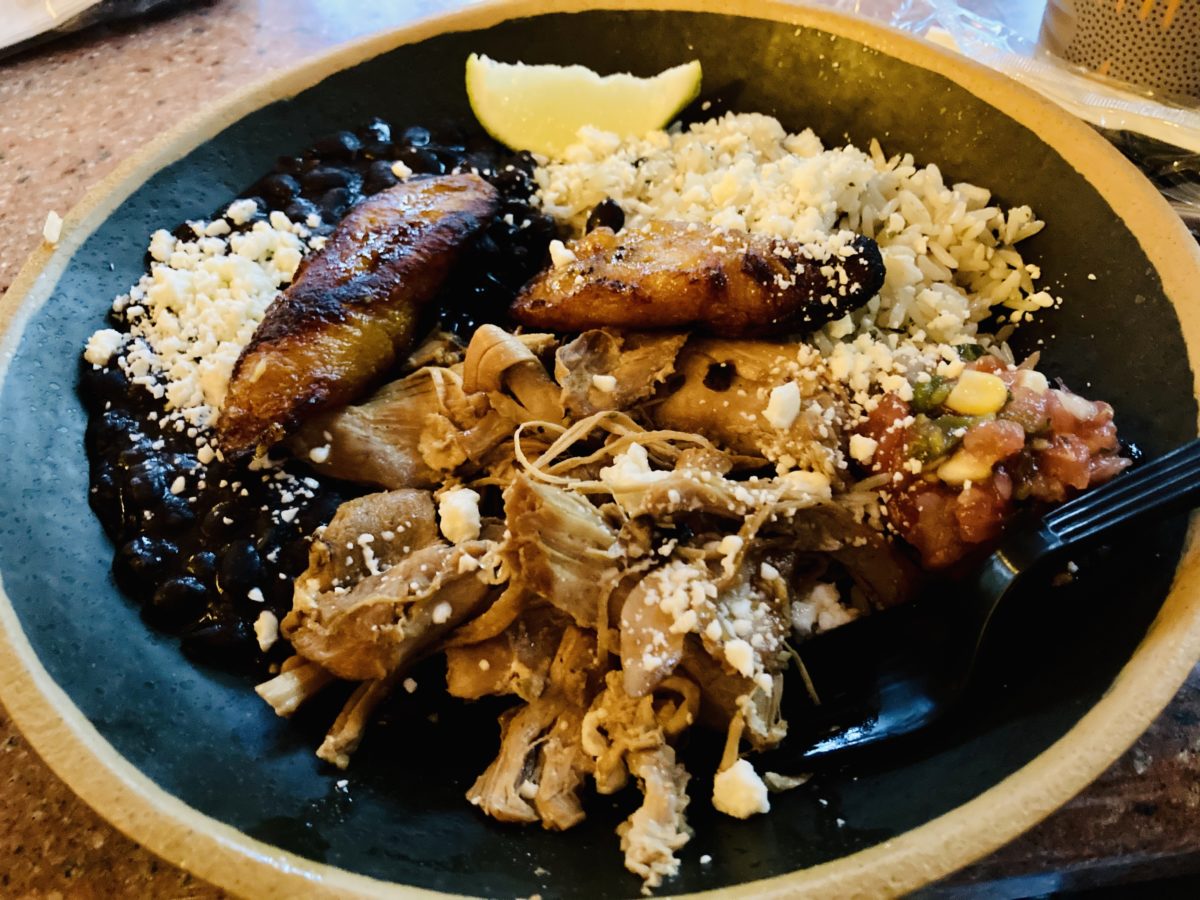 After mobile ordering and confirming, your food should arrive within the next 15-20 minutes or so. You can expect a full review of our meal at Thunder Falls Terrace in the coming days, including this delicious Mojo Chicken Rice Bowl.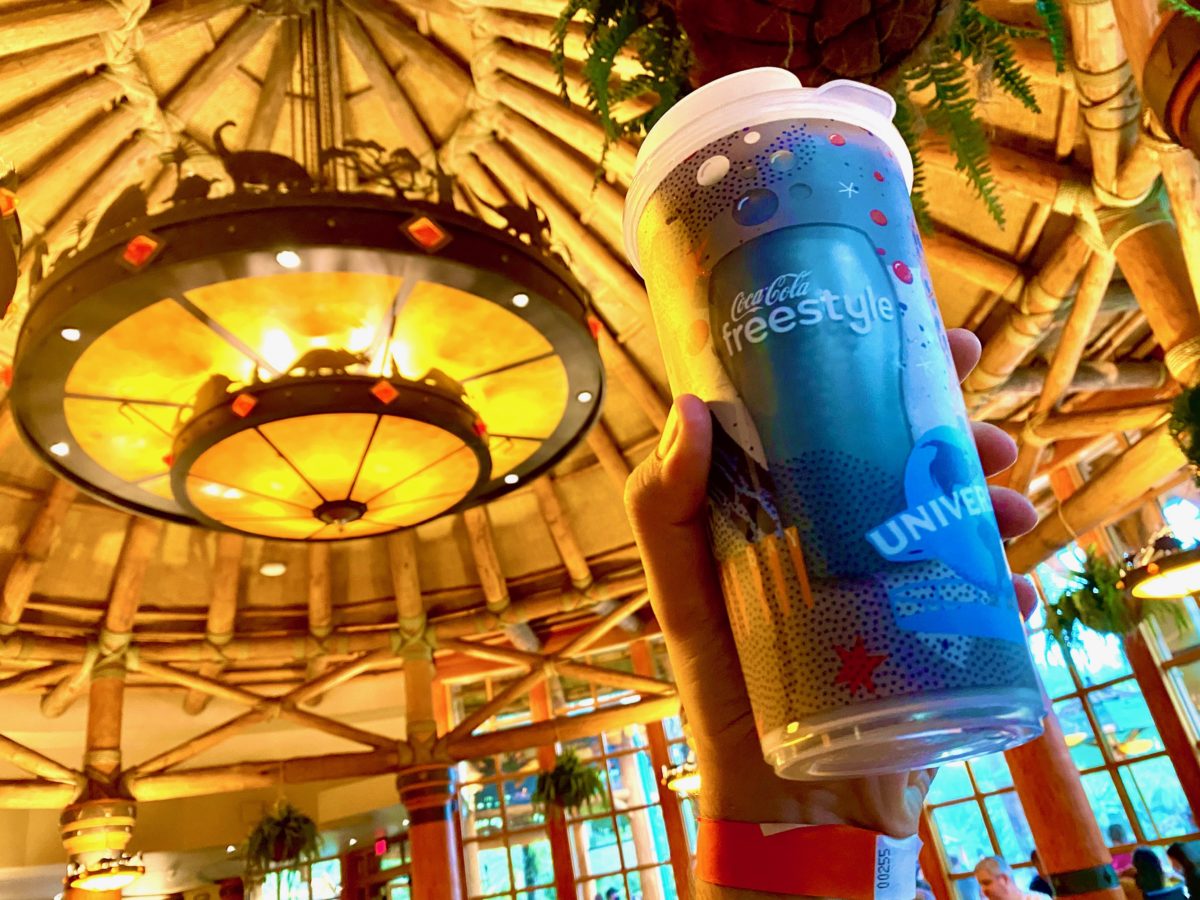 If you're an Annual Passholder, there's a limited-time bonus available June 8 – July 5, 2020.
Passholders who purchase an entrée with Mobile Food Order in the Universal Orlando app get a free regular Coca-Cola Freestyle souvenir cup and one Coca-Cola Freestyle refill activation for the date of purchase. You can check out all of the Passholder perks going on now through the remainder of summer here. Do note that at the time we dined here, no Freestyle machines were available. Team Members gave us the option of the full range of base soft drinks, however, including Coke Zero and Hi-C.
The Burger Digs – Islands of Adventure (Jurassic Park)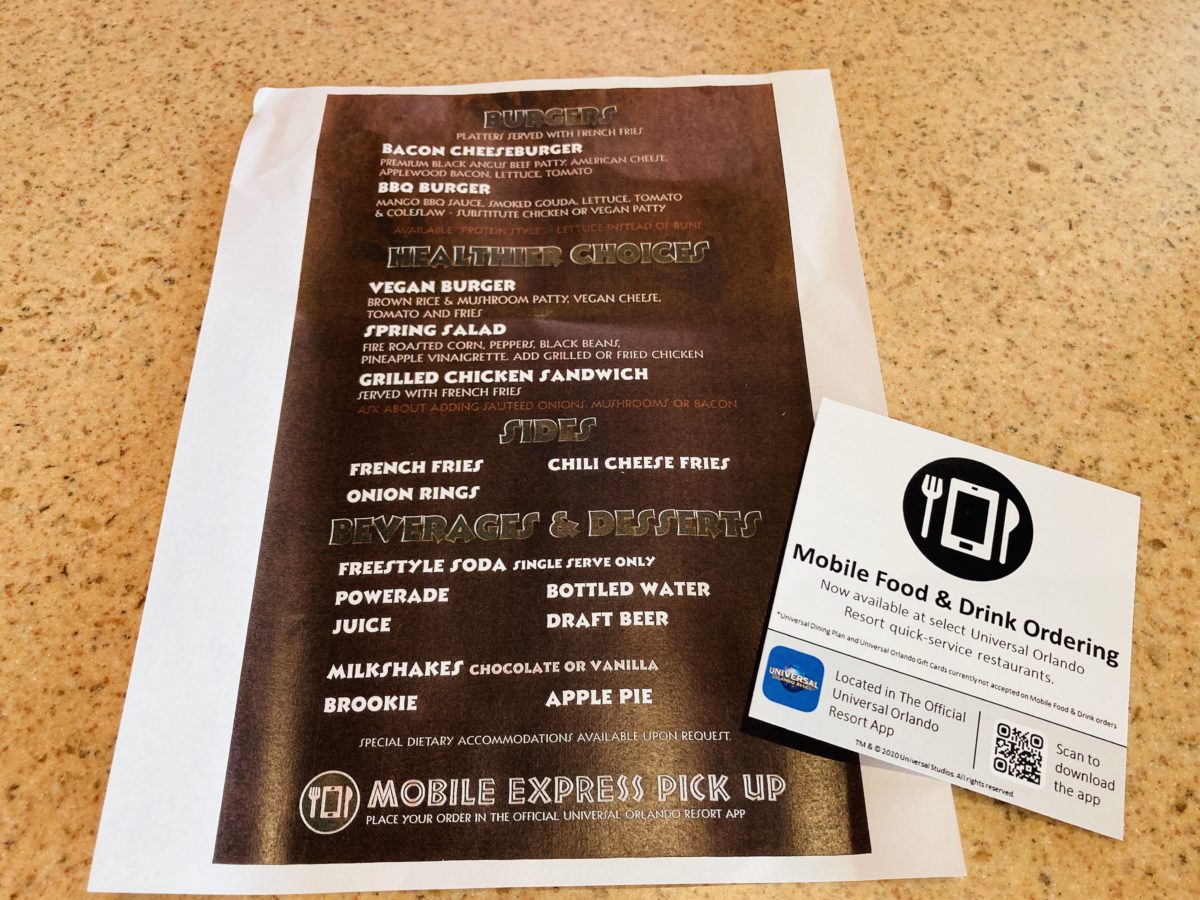 Over at The Burger Digs, a similar system was in place: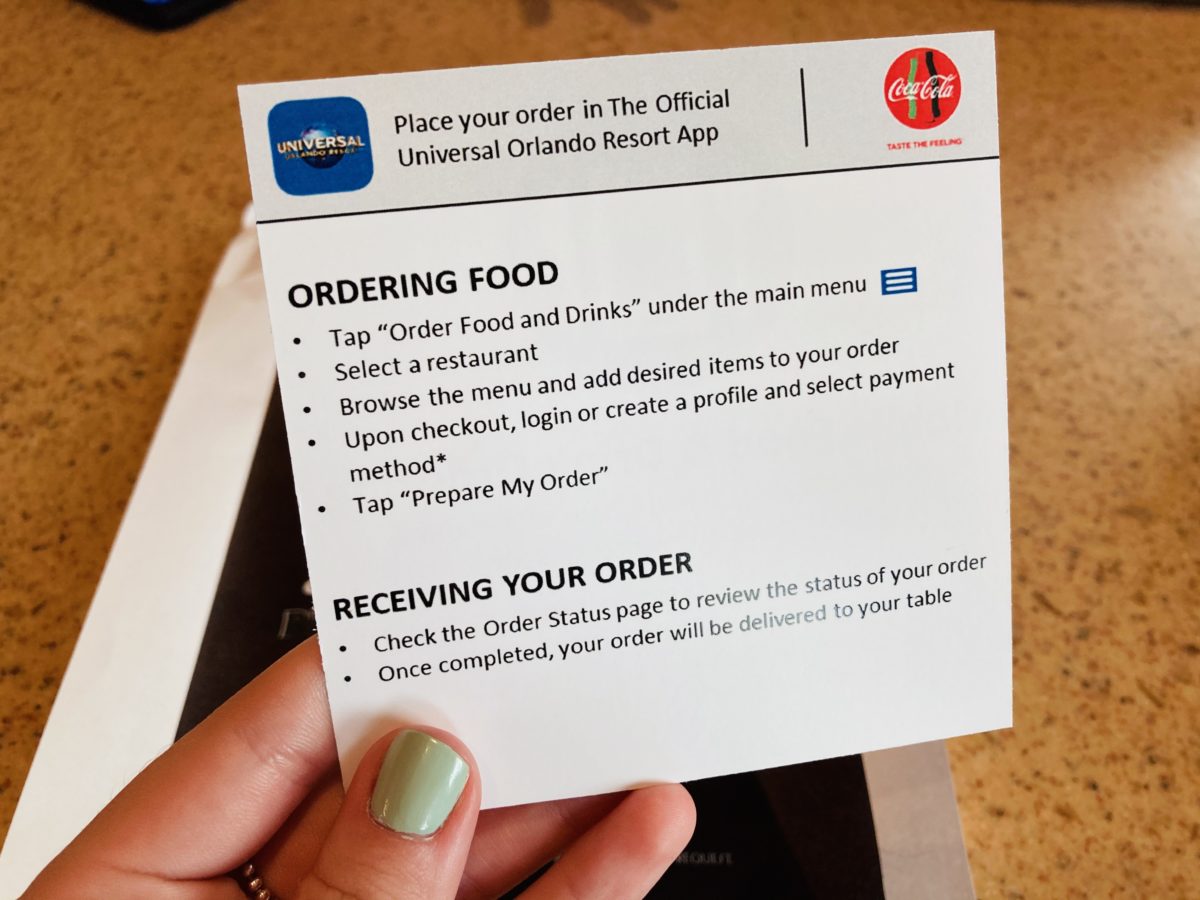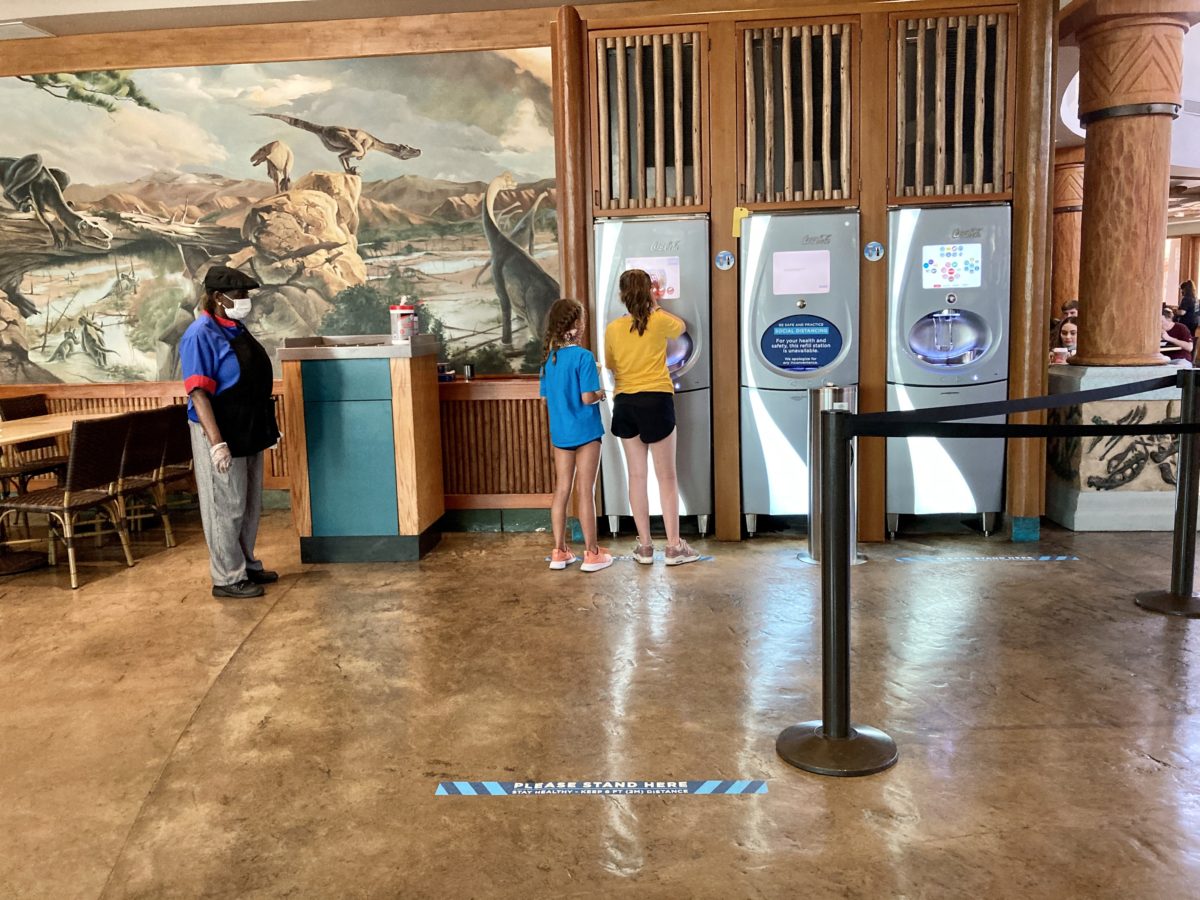 The main difference here was the availability of Freestyle machines. Guests can refill Freestyle cups here, however paper cups are only designated for single-serve use.
Leaky Cauldron – Universal Studios Florida (The Wizarding World of Harry Potter – Diagon Alley)
At the Leaky Cauldron in Diagon Alley at Universal Studios Florida, the same system was in place, however we got to see a fascinating workaround in place to ensure that Annual Passholders get their discounts:
Currently, the Universal Orlando app does not support Annual Passholder discounts through Mobile Ordering. However, after you place your order, a Team Member will ask you if you have any discounts, and proceed to take and scan your card. The Team Member will then return with the total amount of your discount in cash. While most places are supporting cashless transactions, the cash is undeniably useful in case you're staying at a hotel or resort and want to tip for housekeeping, need change to launder your grimy face masks, or simply want to get a pressed penny.
What do you think of the new Mobile Ordering setup across Universal Orlando? Are there any other details you'd like us to look into or research in the coming weeks? Let us know in the comments!