"Hogwarts will always be there to welcome you home…" Well, you've got to stop at Diagon Alley first, before you can head back to Hogwarts! Diagon Alley at Universal Studios Florida reopened yesterday with new social distancing measures in place and we were there to check it out!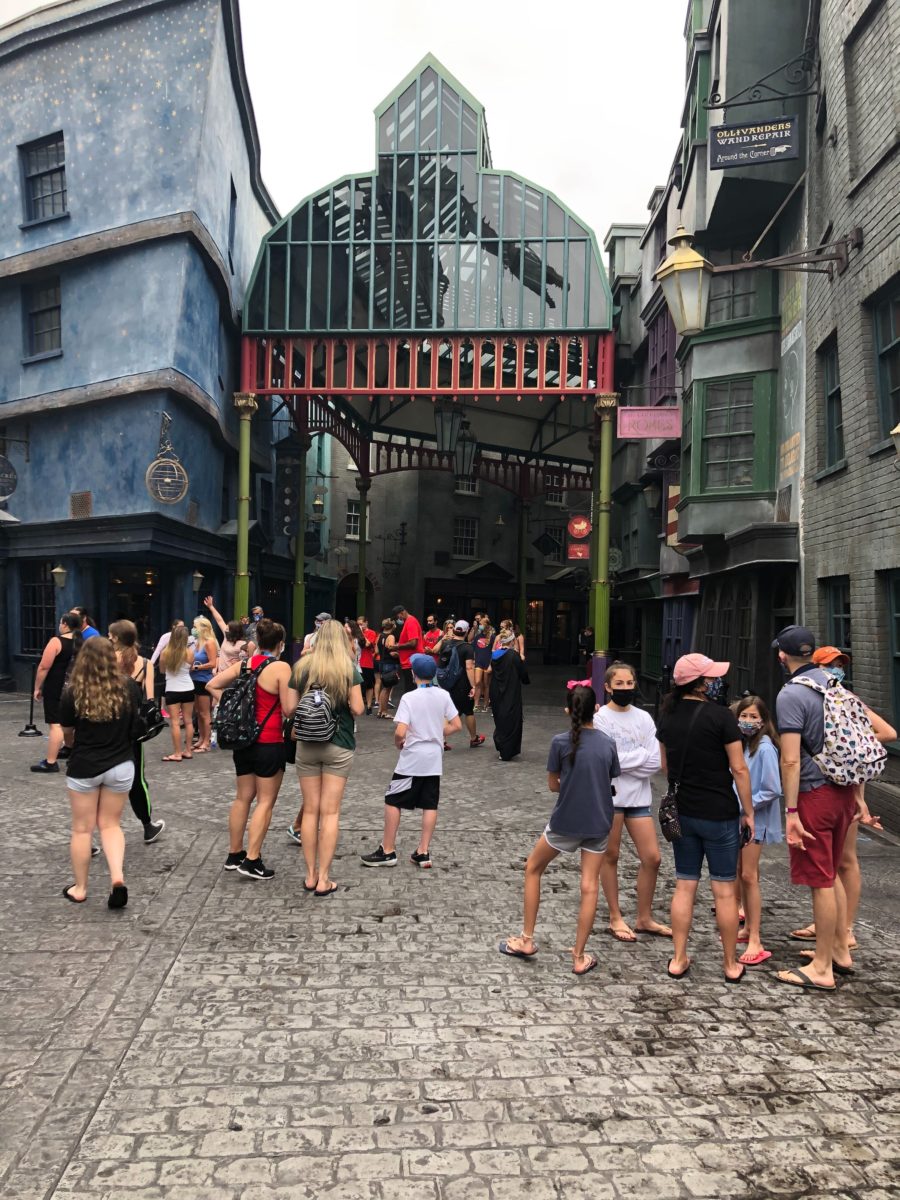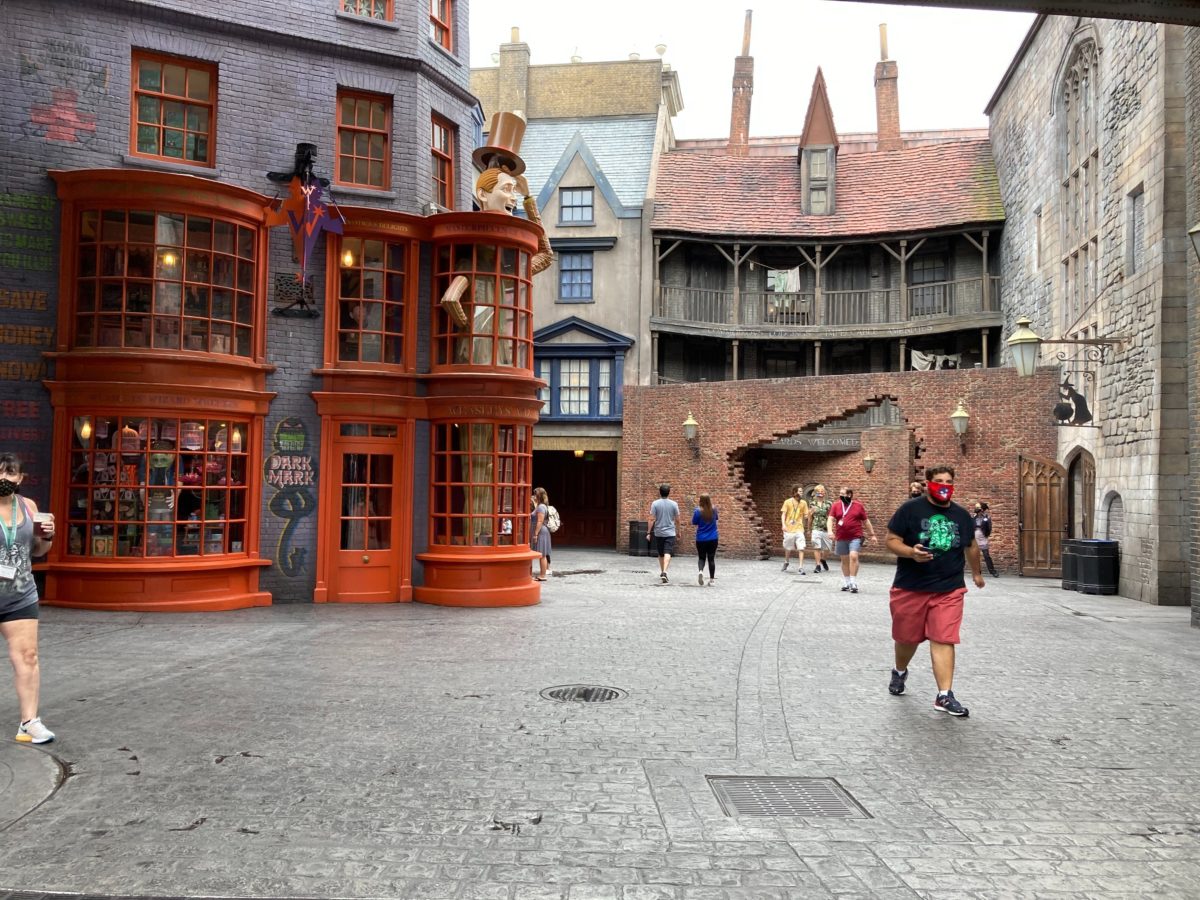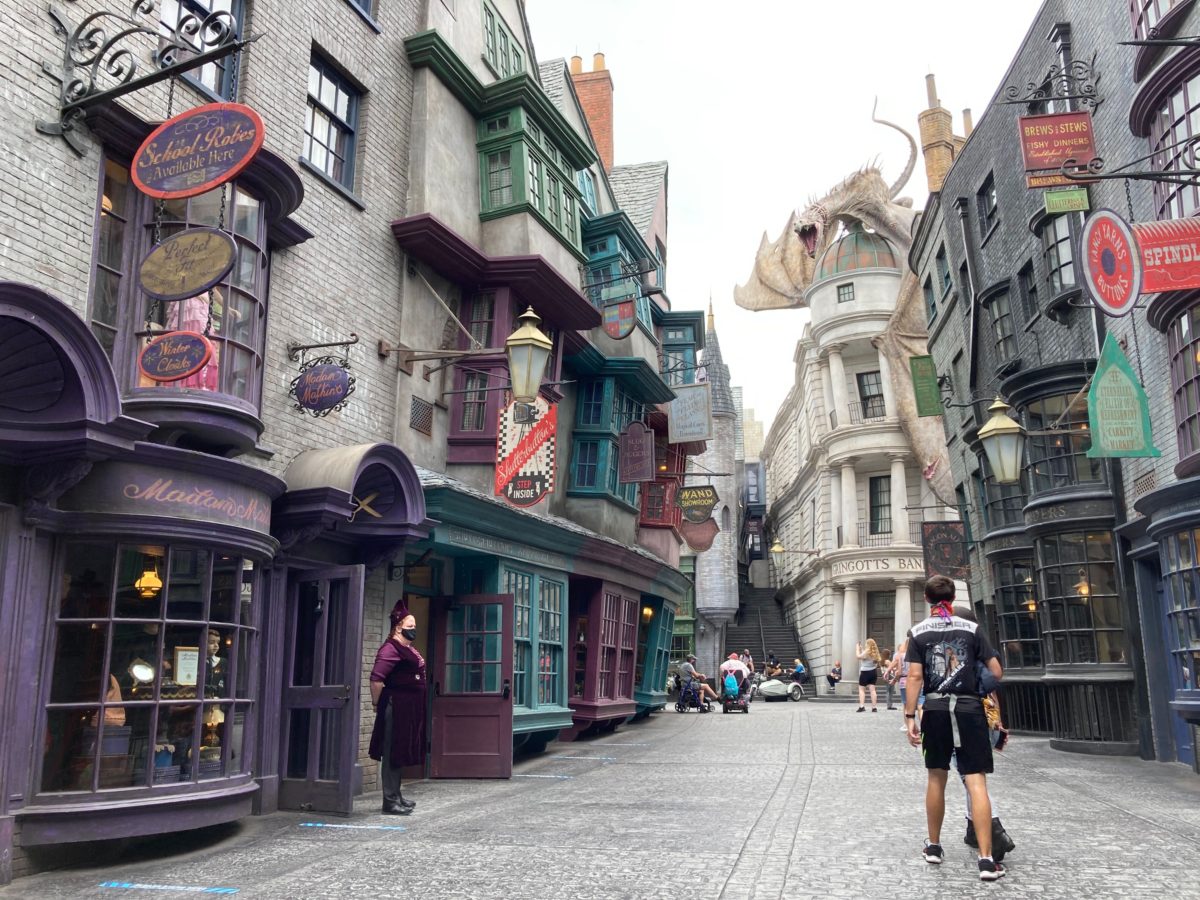 Guests can walk around freely in the large open areas of Diagon Alley, taking in all the magical sights.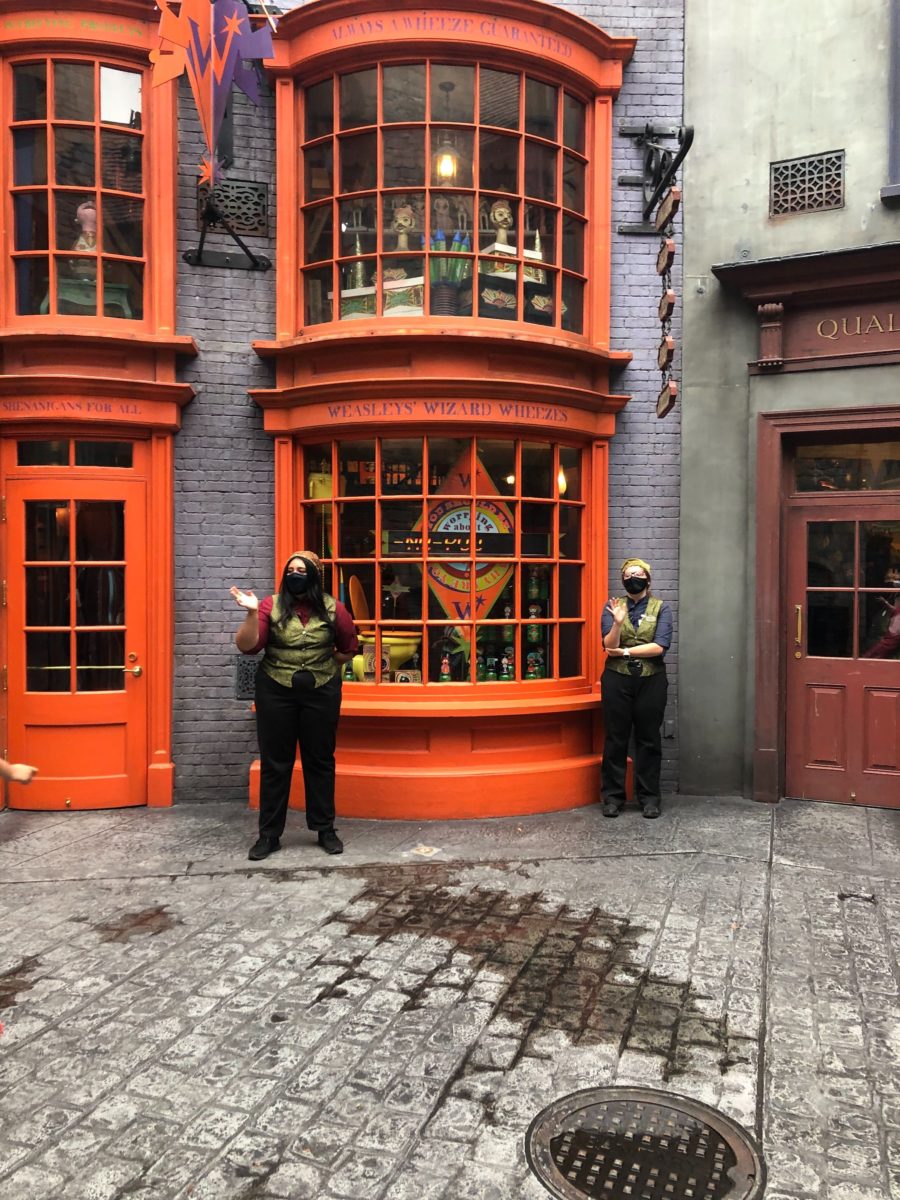 Team Members are waiting outside of stores to track capacity and to answer guests' questions.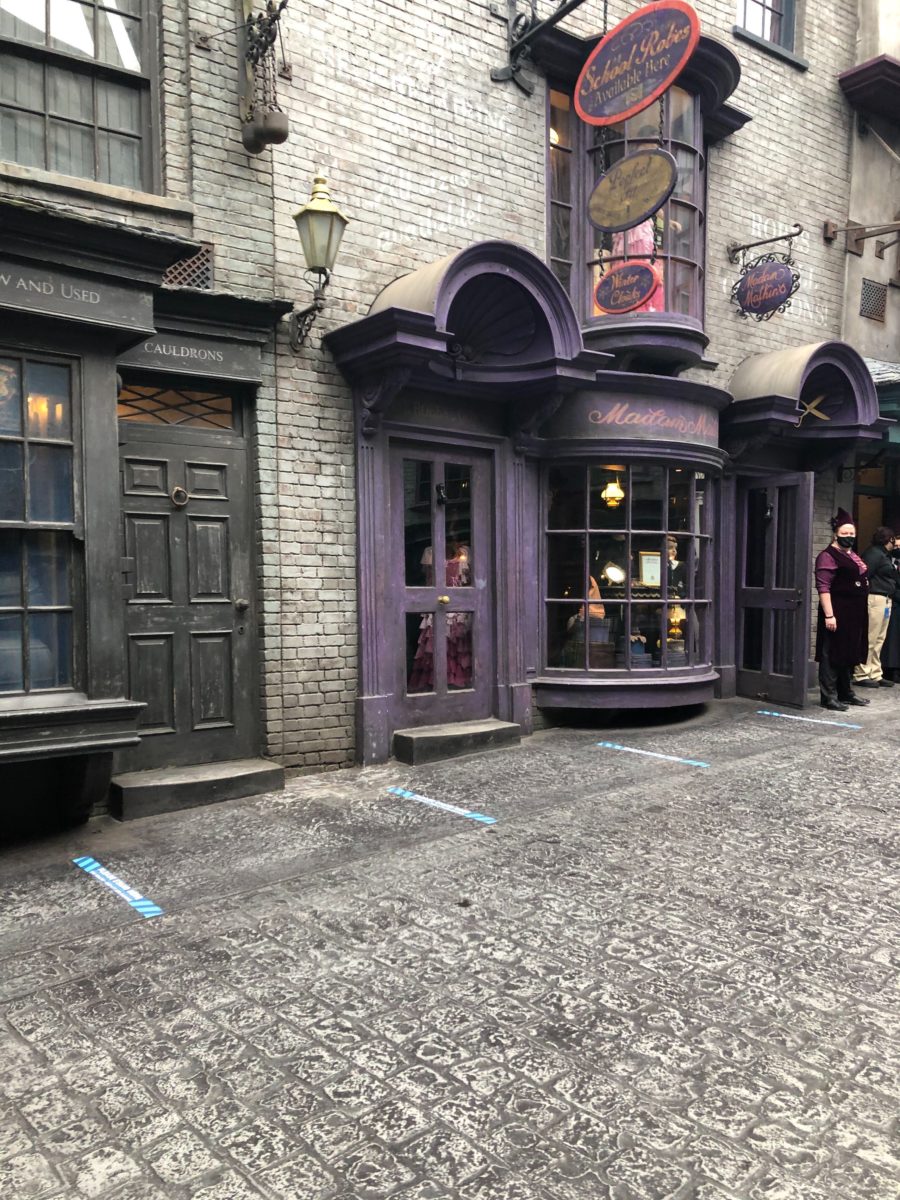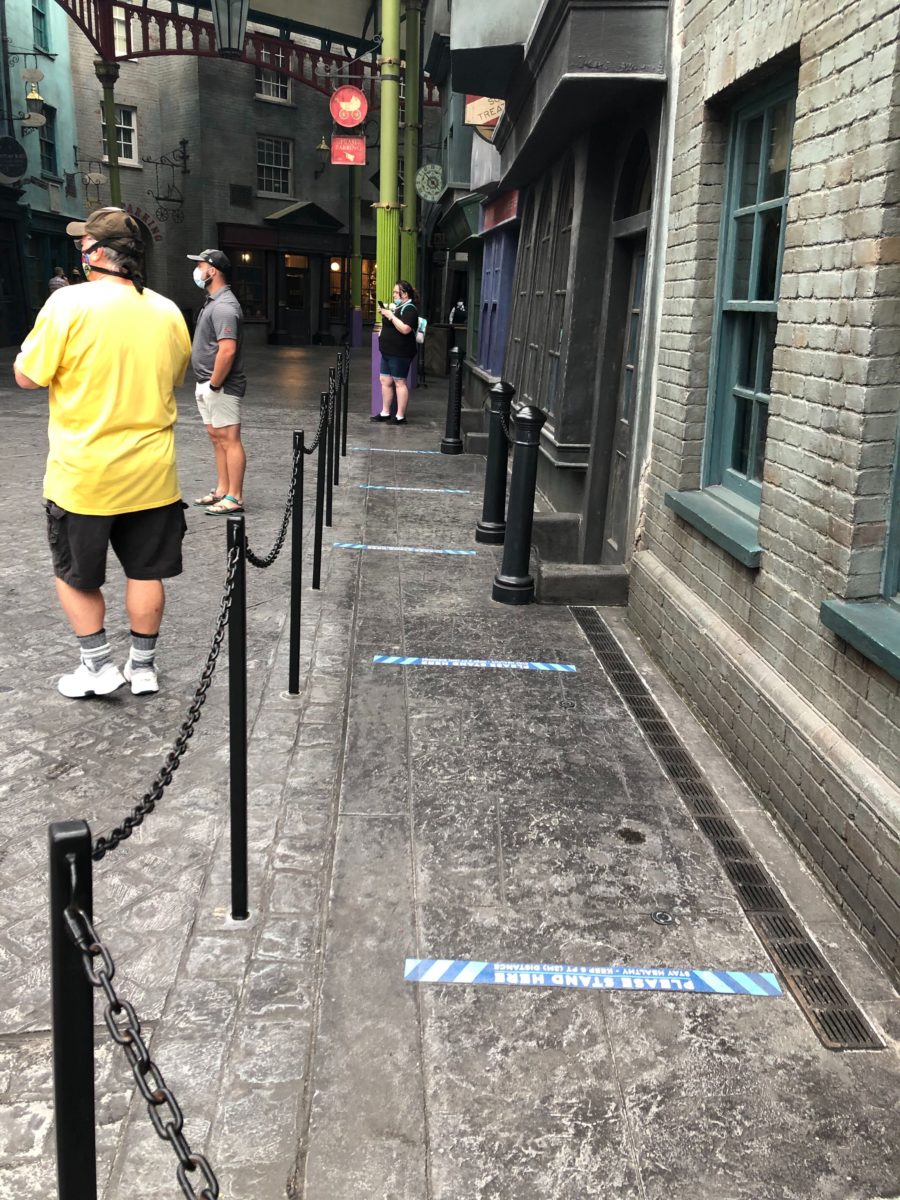 Social distancing markers are set in place for guests to remain six feet apart while queuing up for gift shops or magical experiences.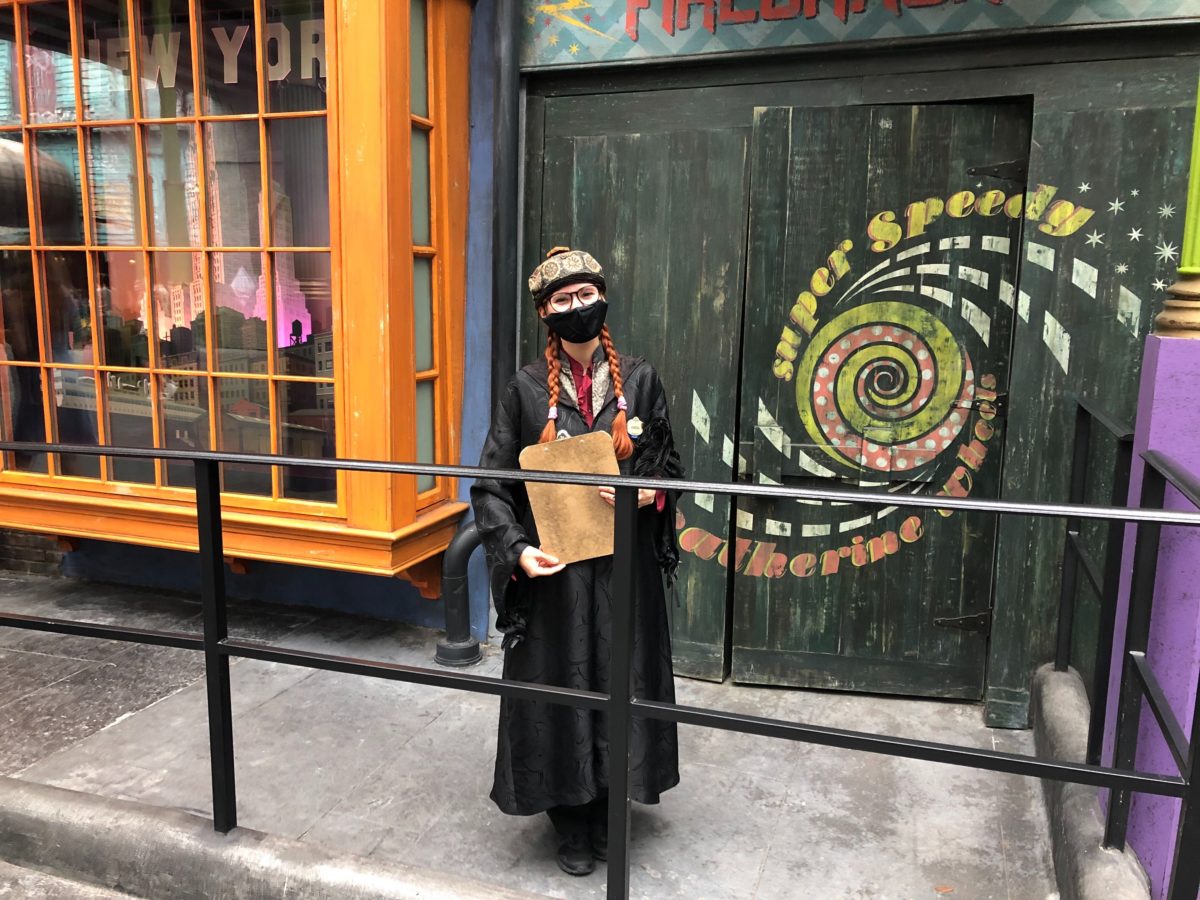 There's a Team Member waiting outside of Ollivander's Wand Shop to sign up guests for the experience. You give your name, the number of people in your party, and who you want to be the "chosen one" for the wand experience. It's things like these that make the new social distancing guidelines an unexpected benefit––there's no crowding around inside the wand shop, and you don't have to hope to get picked… making for a perfect photo opportunity: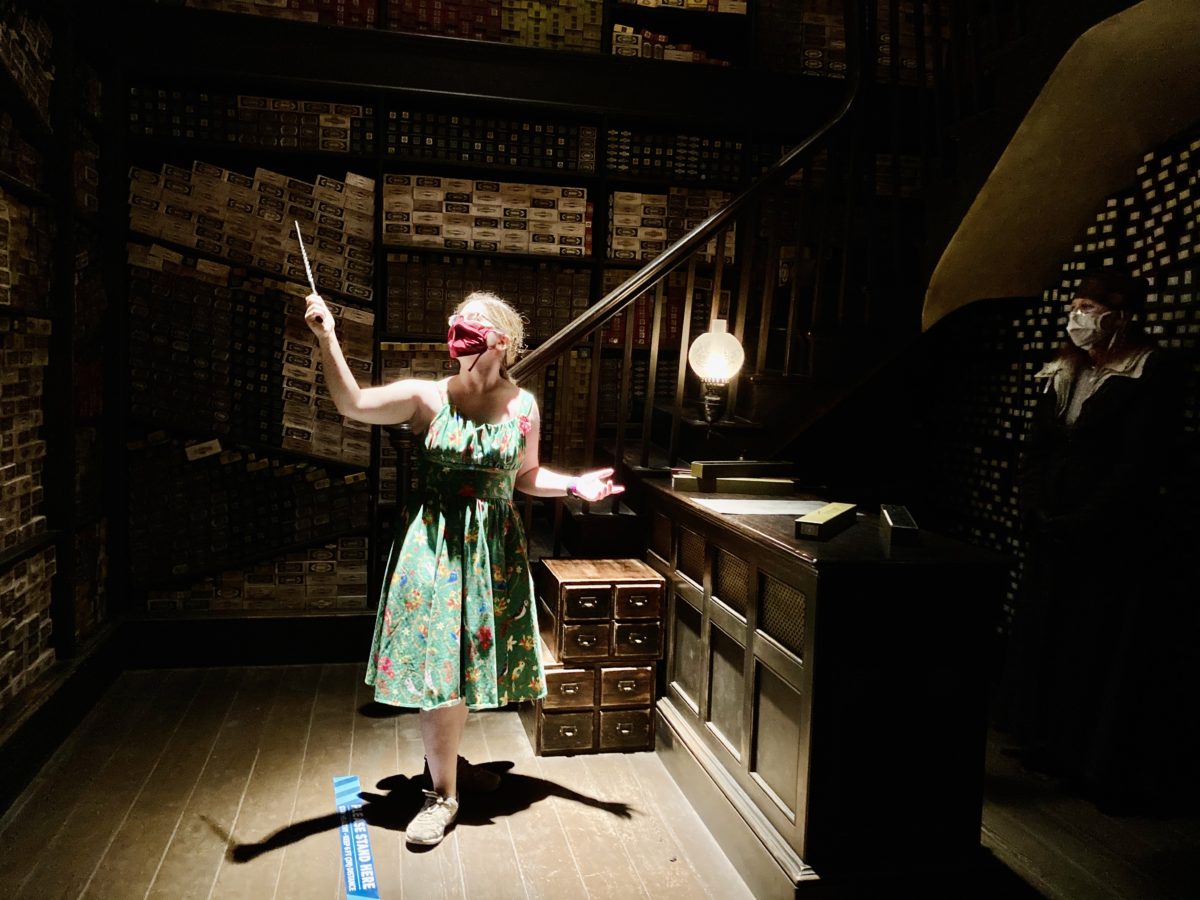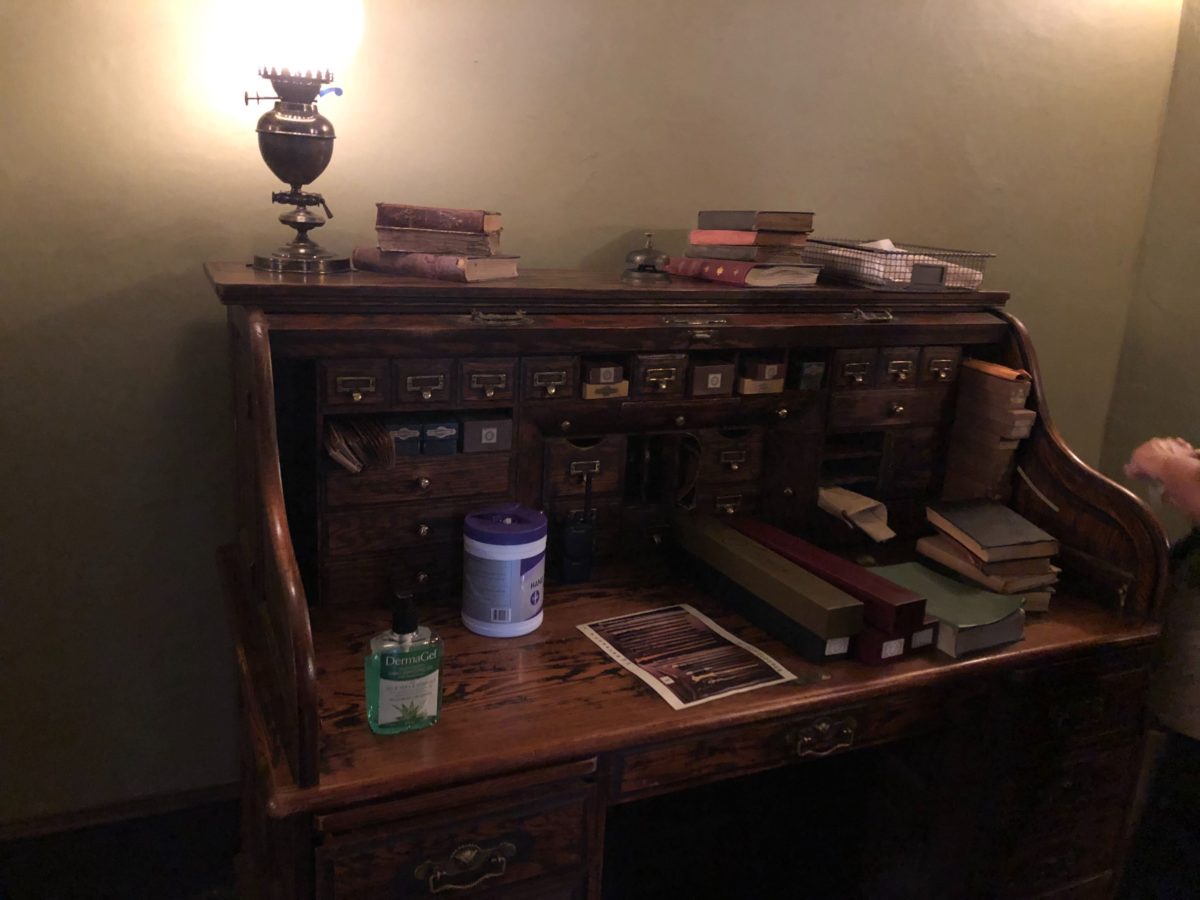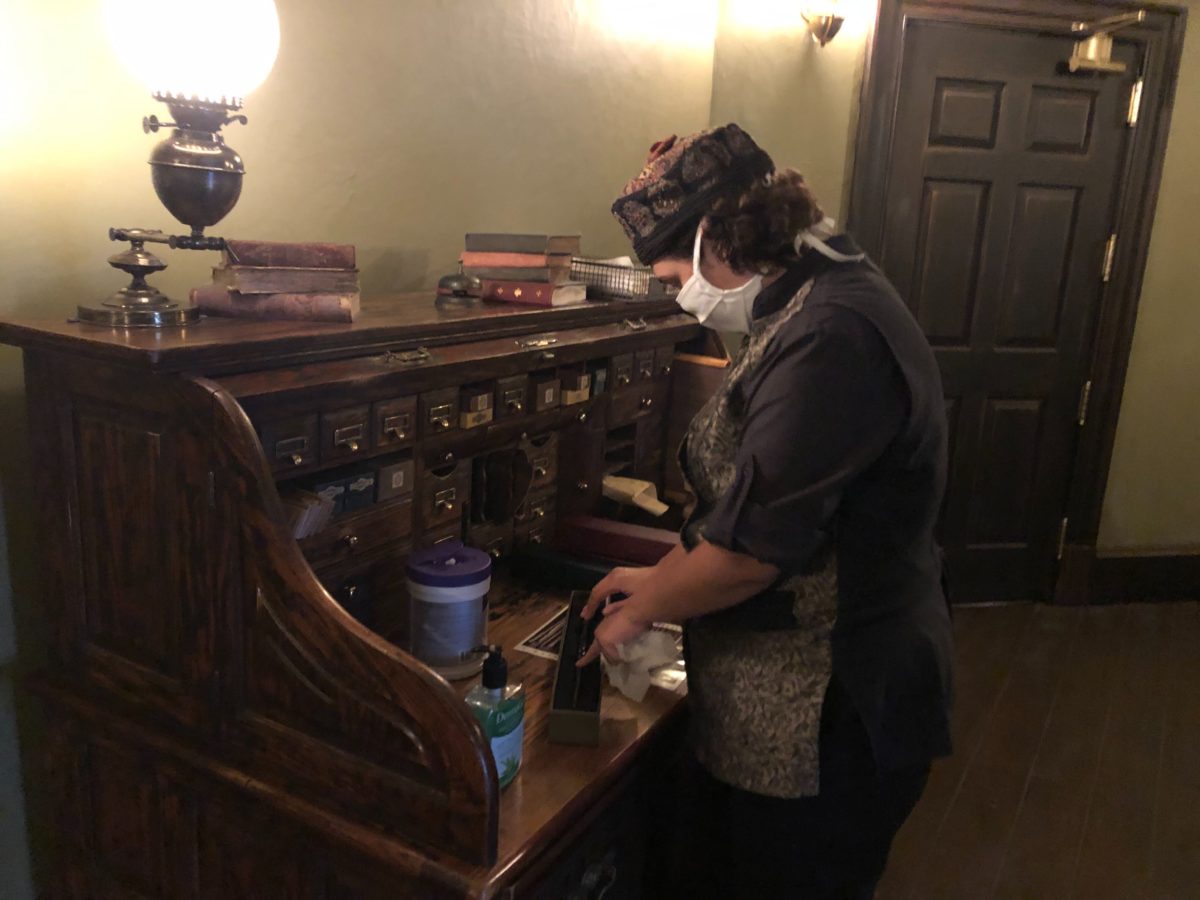 After guests experience Ollivander's, the wands that did not choose their witch or wizard are kept away and sanitized by a Team Member before they return back to the dusty shelves for the right person.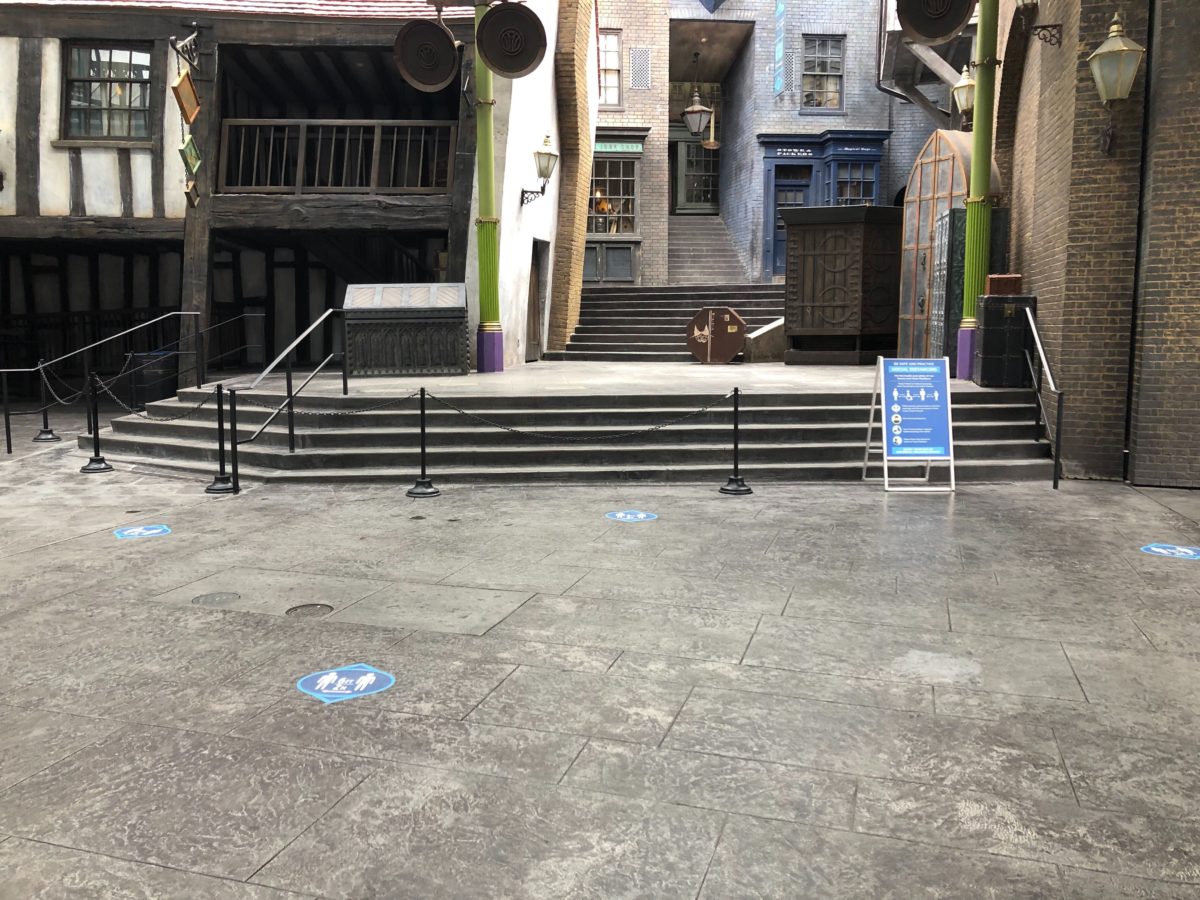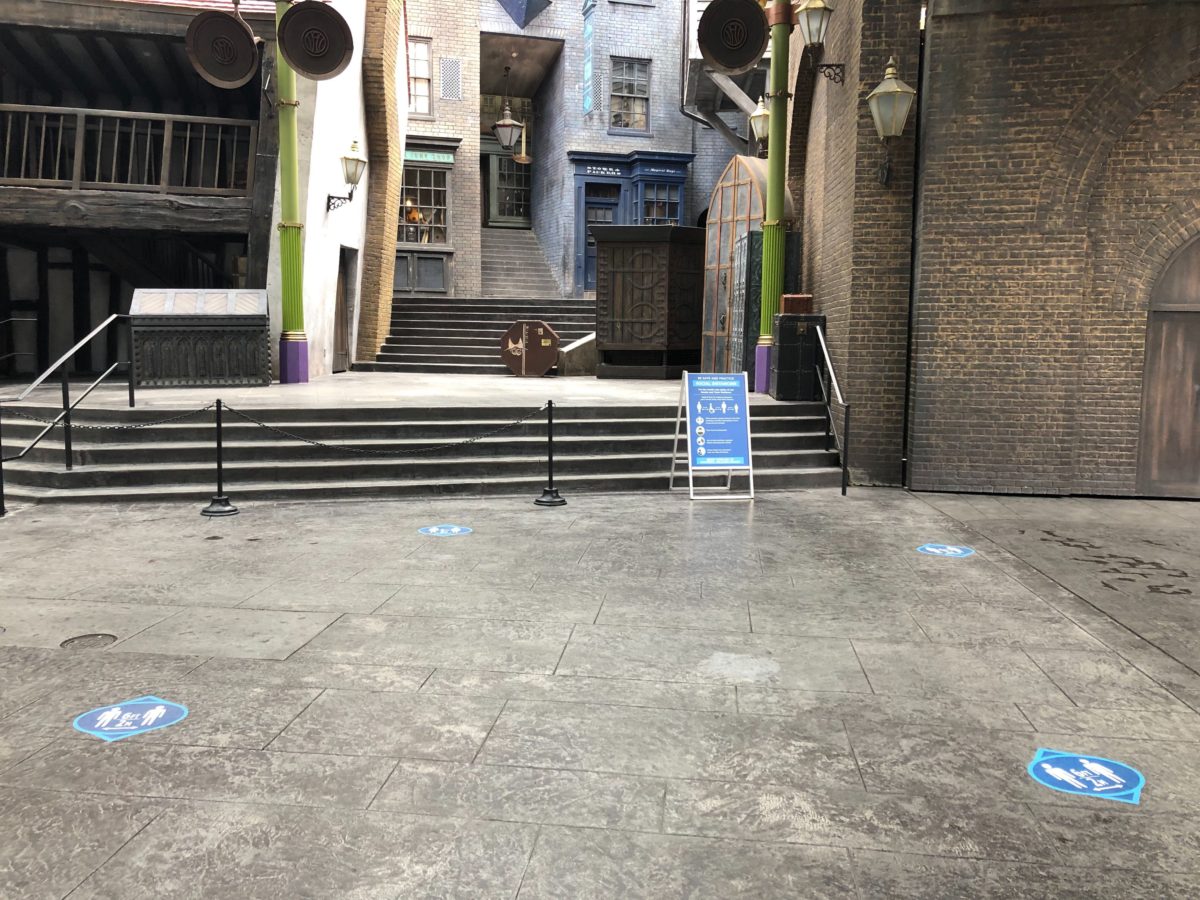 The viewing area for live entertainment in Diagon Alley, like Celestina Warbeck and the Banshees and the telling of the Deathly Hallows, has social distancing markers set up for parties to gather together.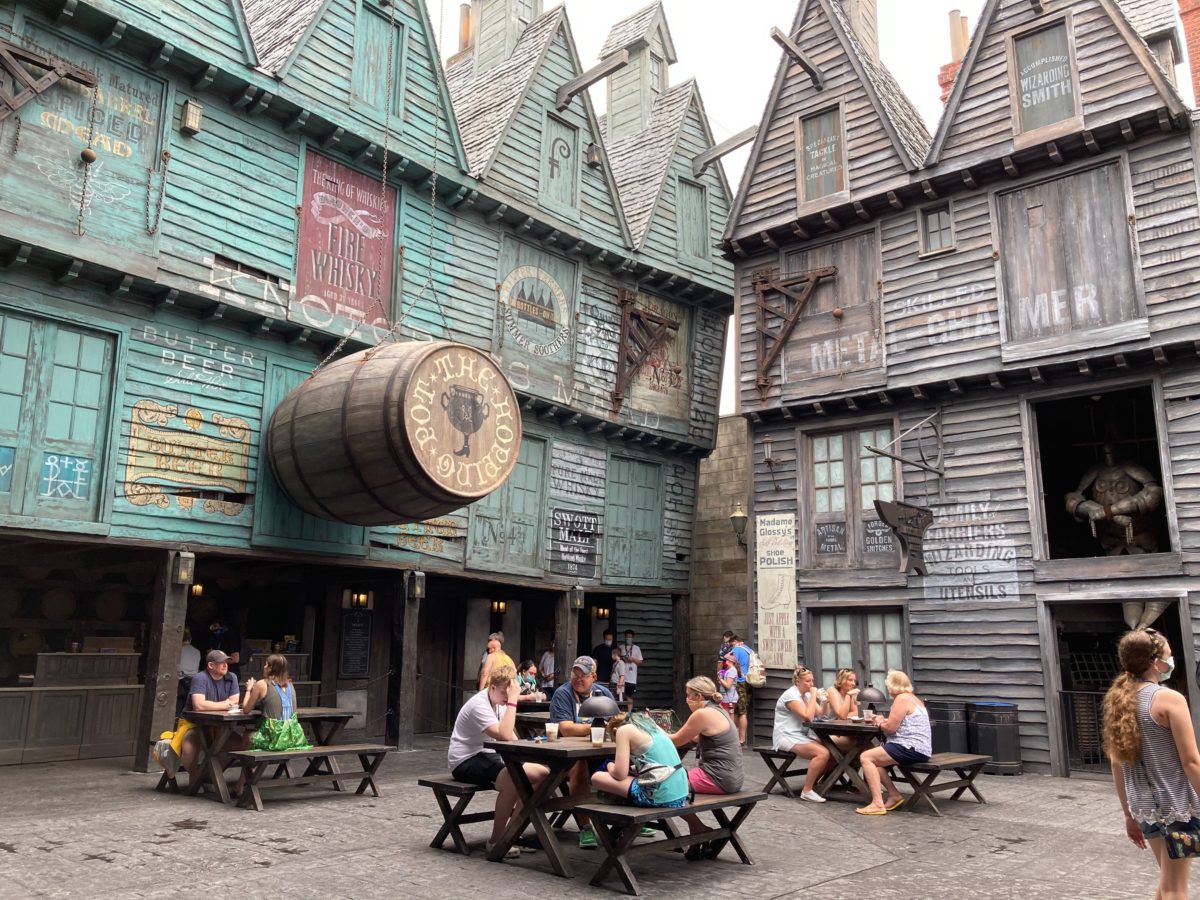 Tables are spread out in front of The Hopping Pot, so guests can take a break and enjoy their Butterbeer.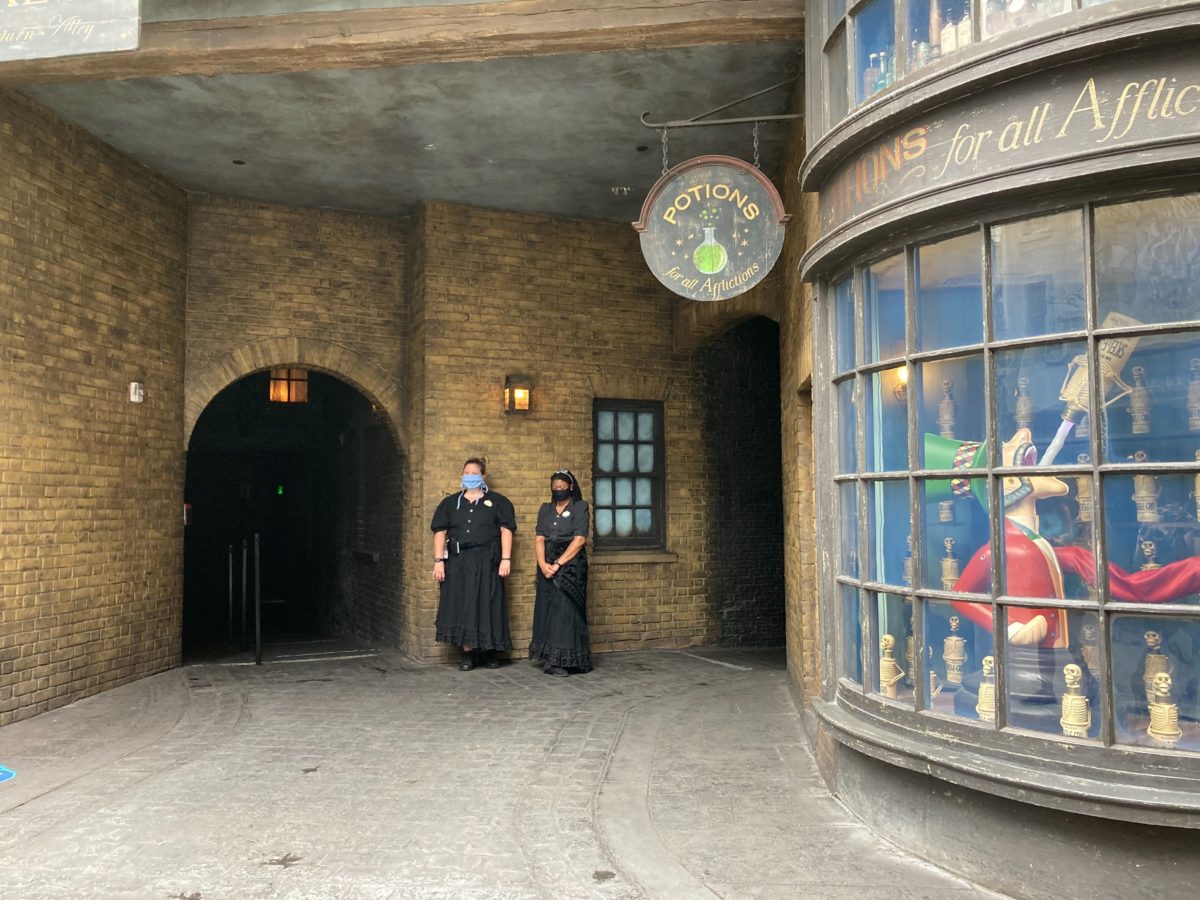 Team Members await outside of the entrance to Borgin and Burke's and Knockturn Alley.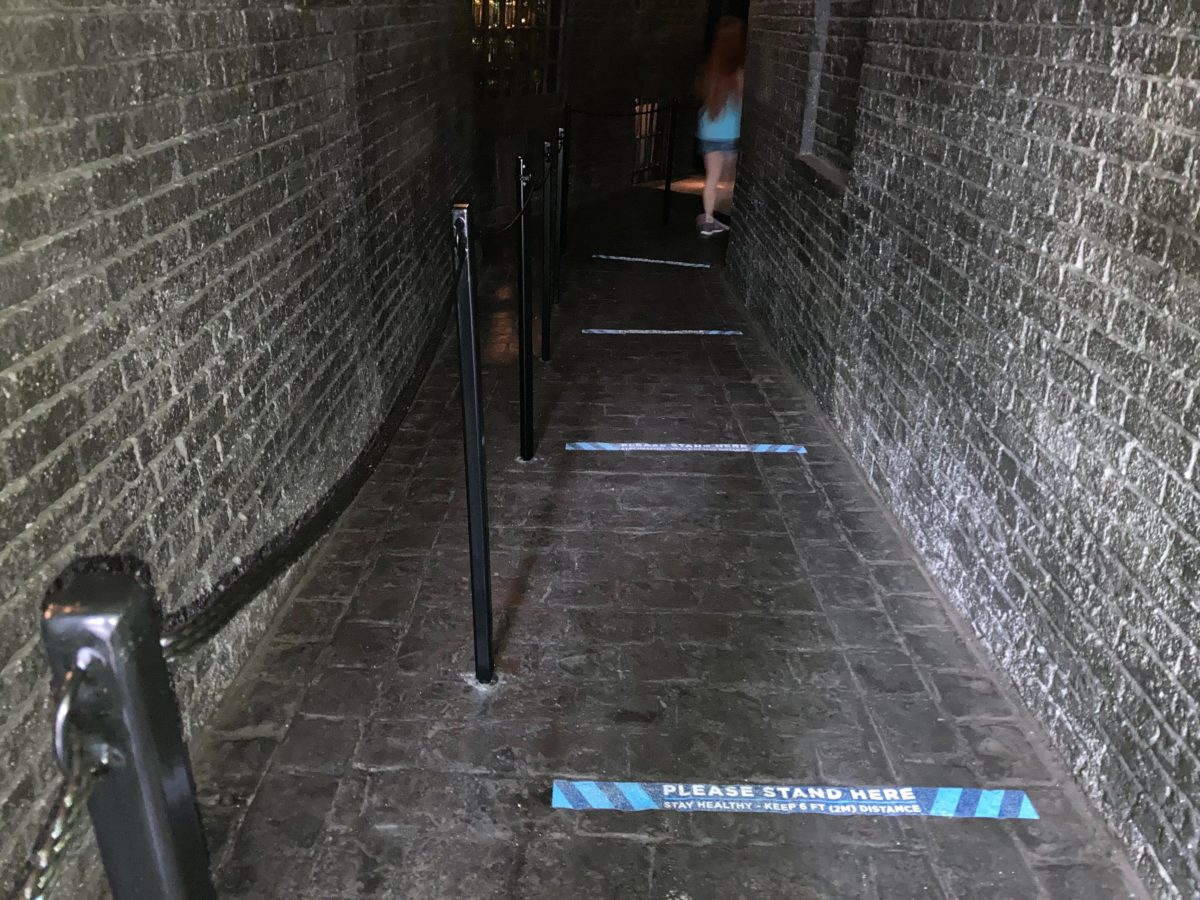 As guests make the winding descent to Knockturn Alley, there are social distancing markers in place for when crowds increase.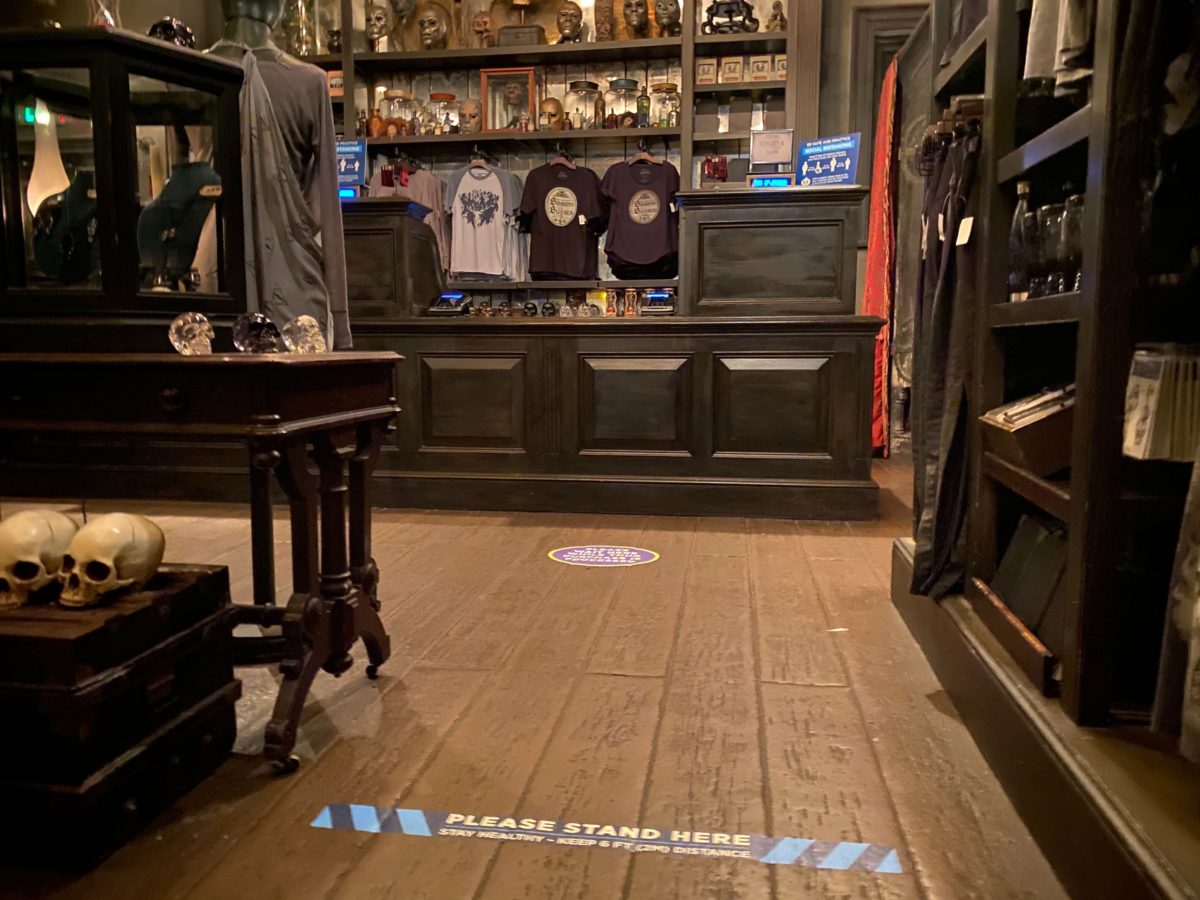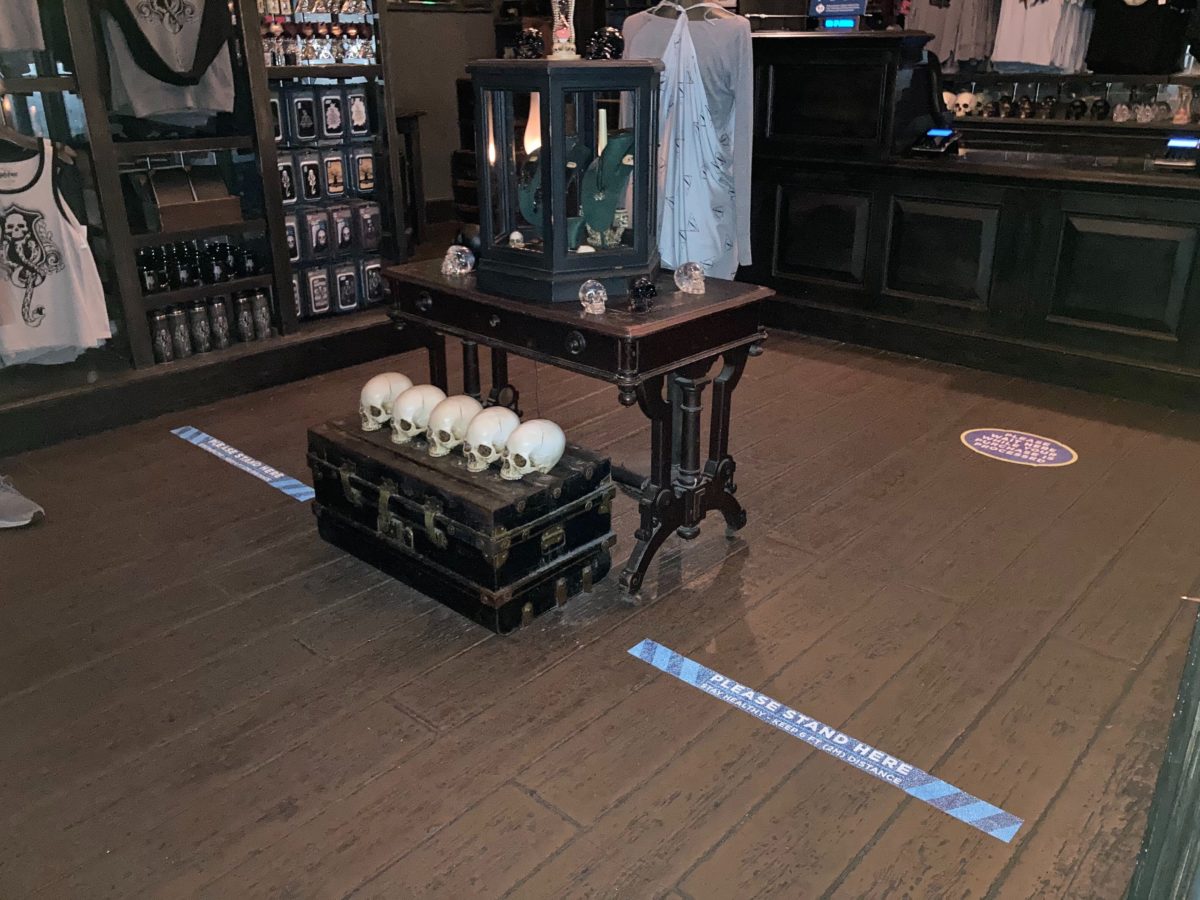 Borgin and Burke's has social distancing markers set up in front of the register for guests queuing up.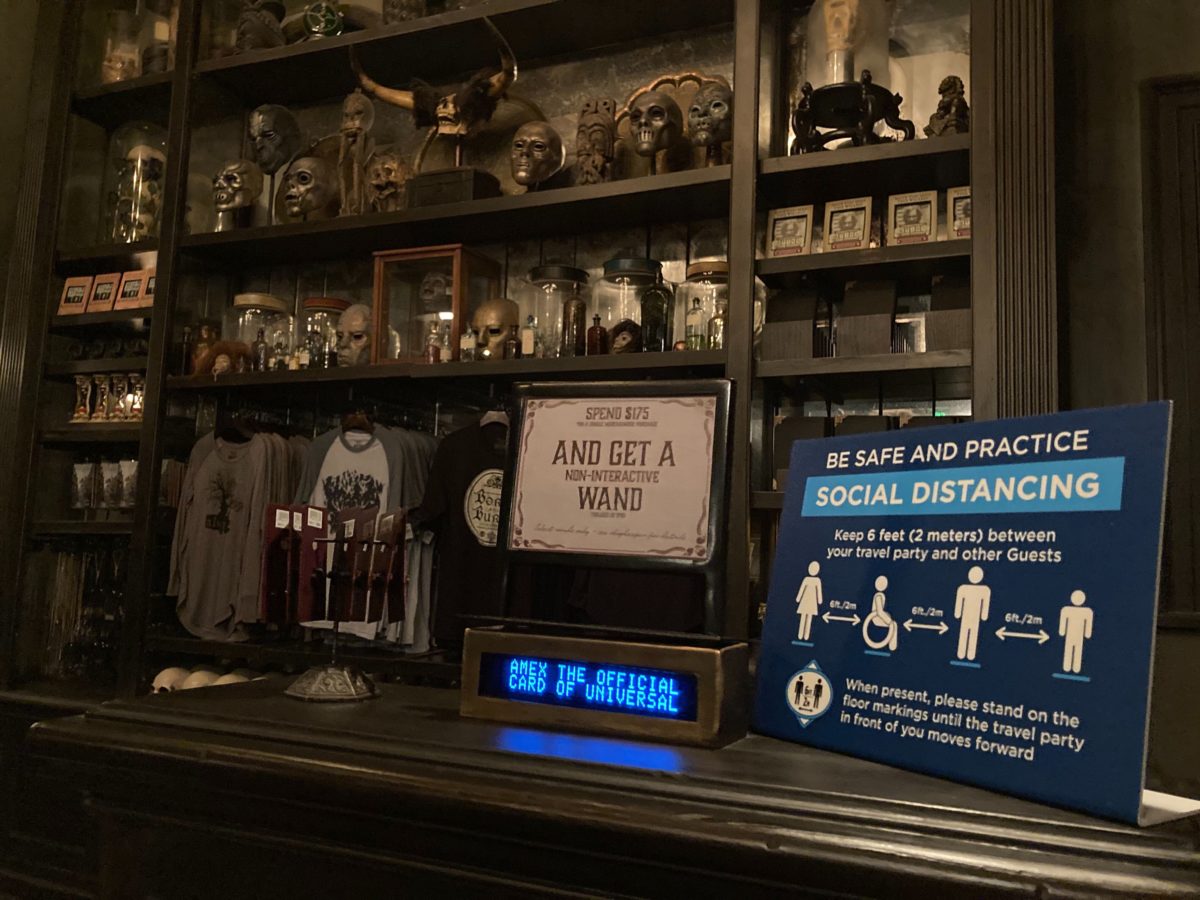 Signs are displayed on the registers to promote social distancing. There's also a deal going on right now where if you spend $175, you can get a non-interactive wand for free.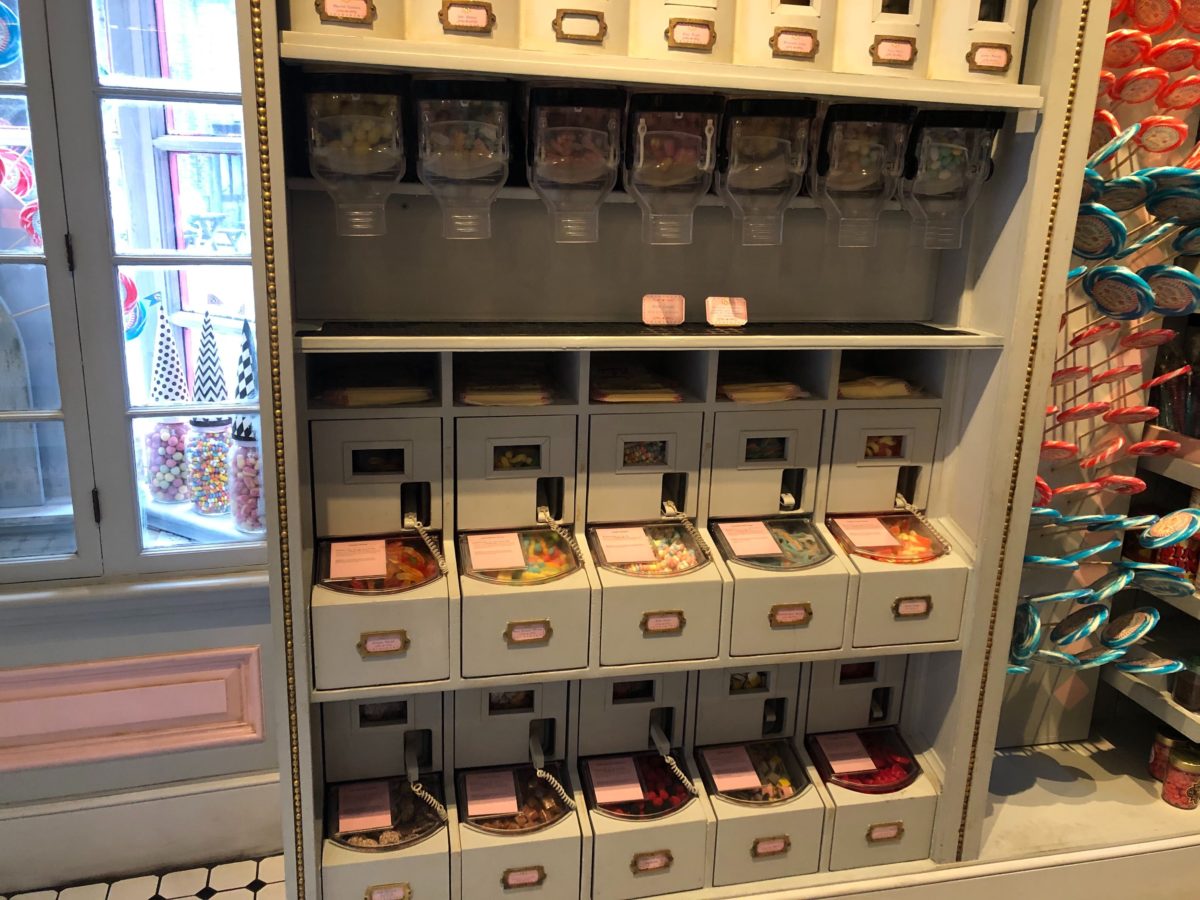 The self-serve candy stations in Sugarplum's Sweet Shop are closed off.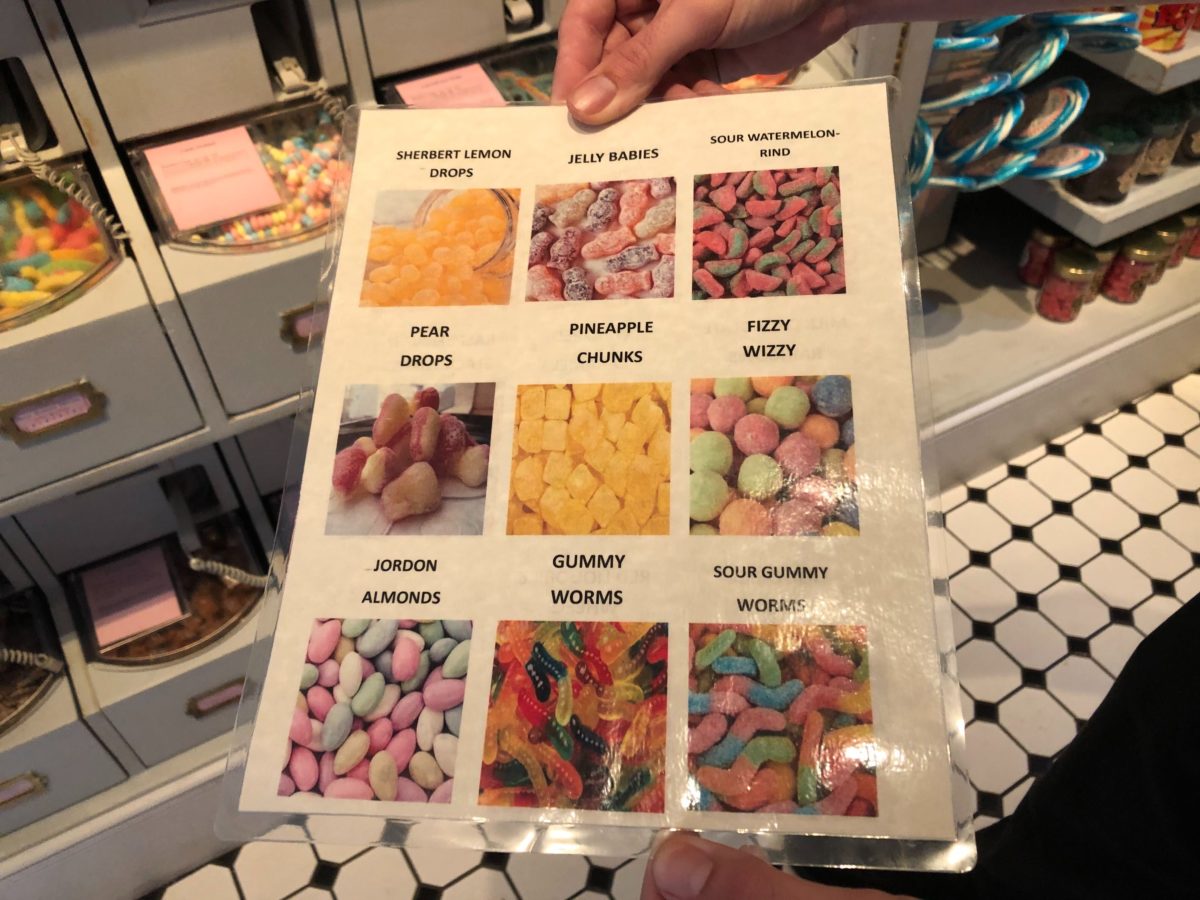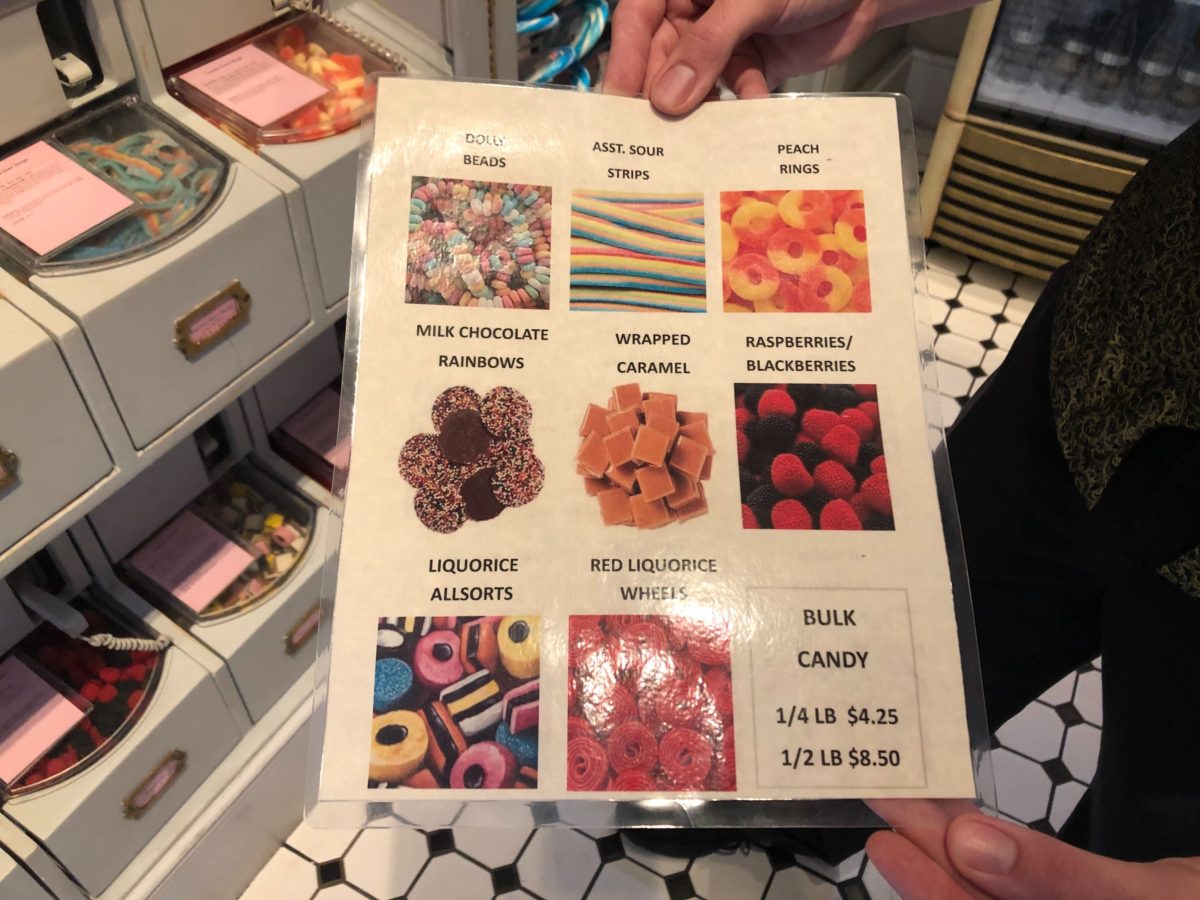 A Team Member will be more than willing to help you fill a bag of sweets for you after you tell them what you would like from the list.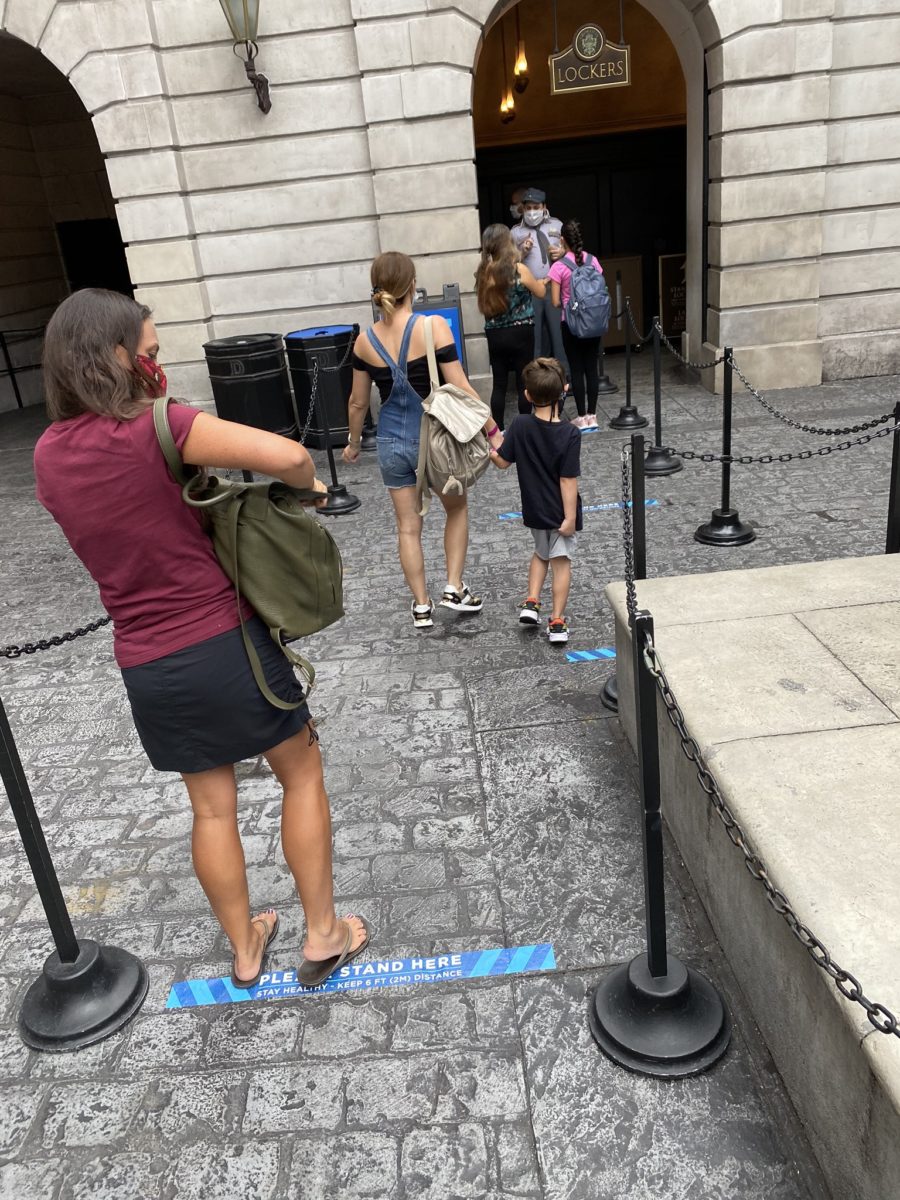 There's a queue set up for guests to enter the locker section before riding Harry Potter and the Escape from Gringotts. A Team Member stands ahead to let guests into the area by party.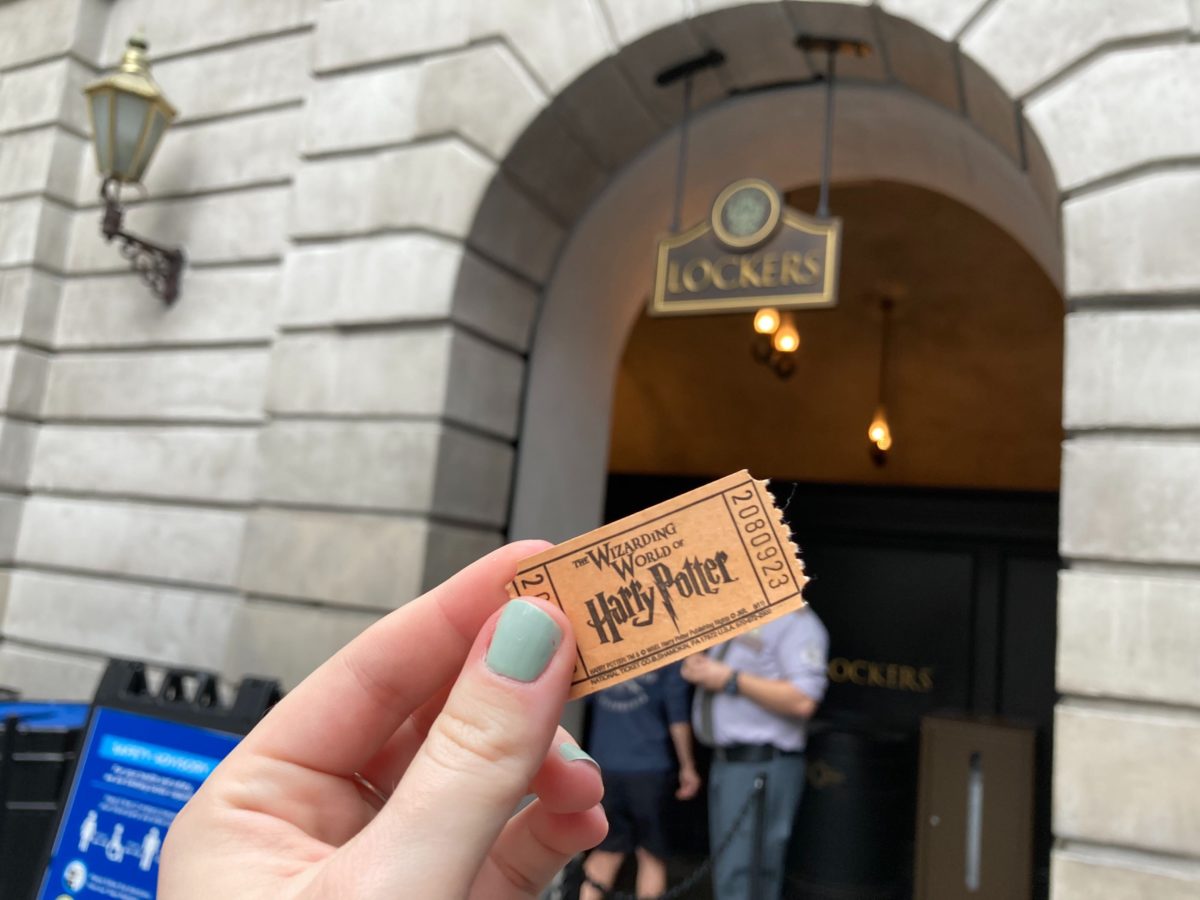 Guests receive a paper ticket with the locker kiosk number on the back, so they're directed to go to a kiosk that's been freed up, to avoid crowding.
After the ride, guests are allowed in similarly one by one to retrieve their belongings.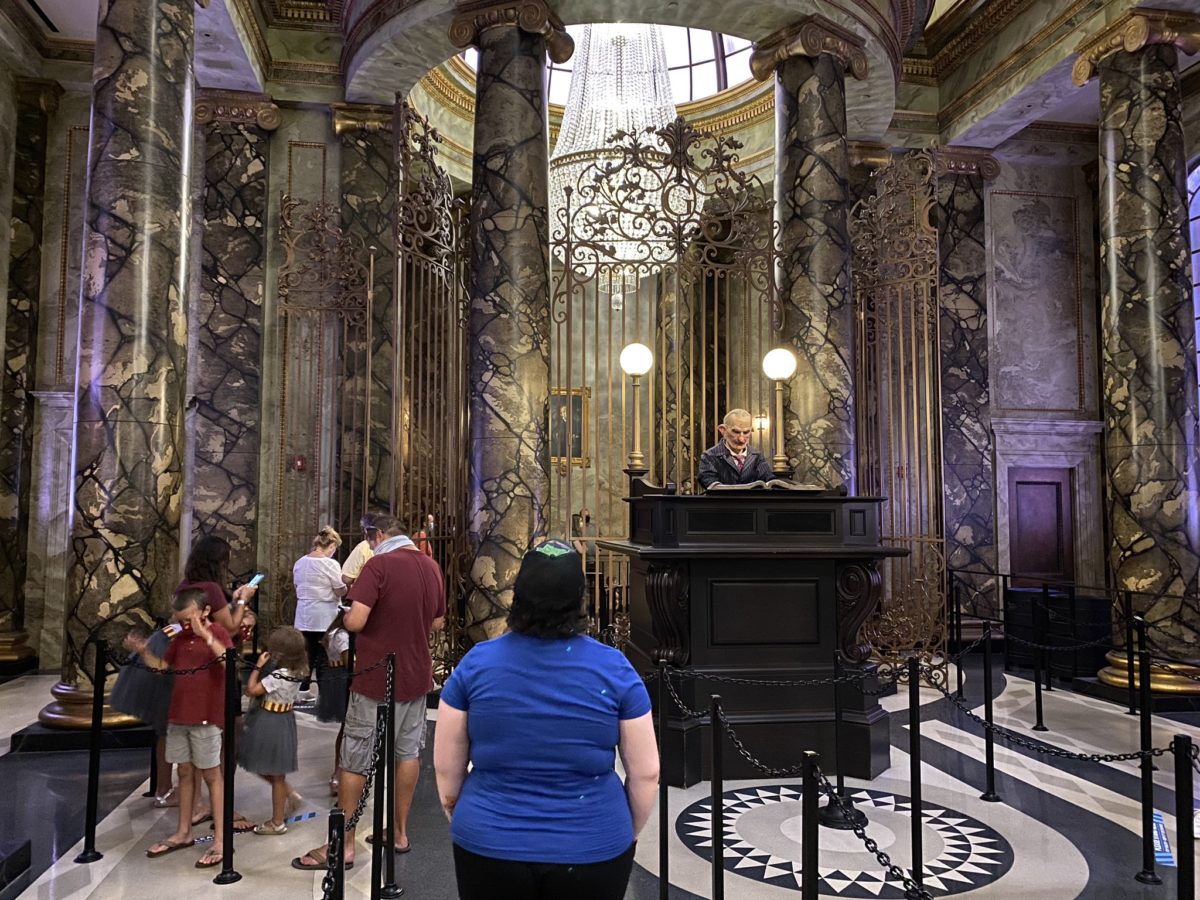 Once inside the queue line, social distancing markers are in place to keep parties separated. No masks are required for the goblins that manage the bank.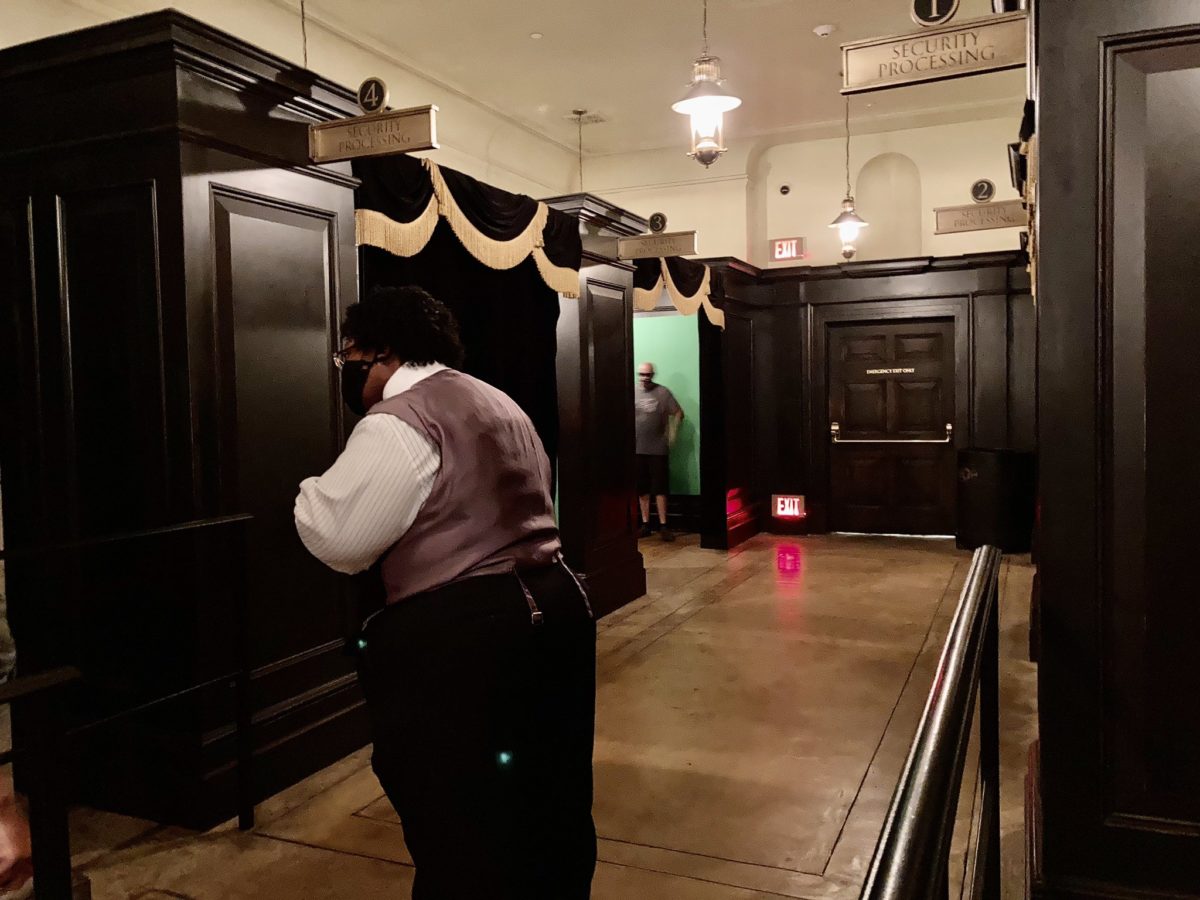 The "Security Processing" section, also known as the photo part of the pre-show, is still functioning. Team Members are encouraging guests to "smile with their eyes".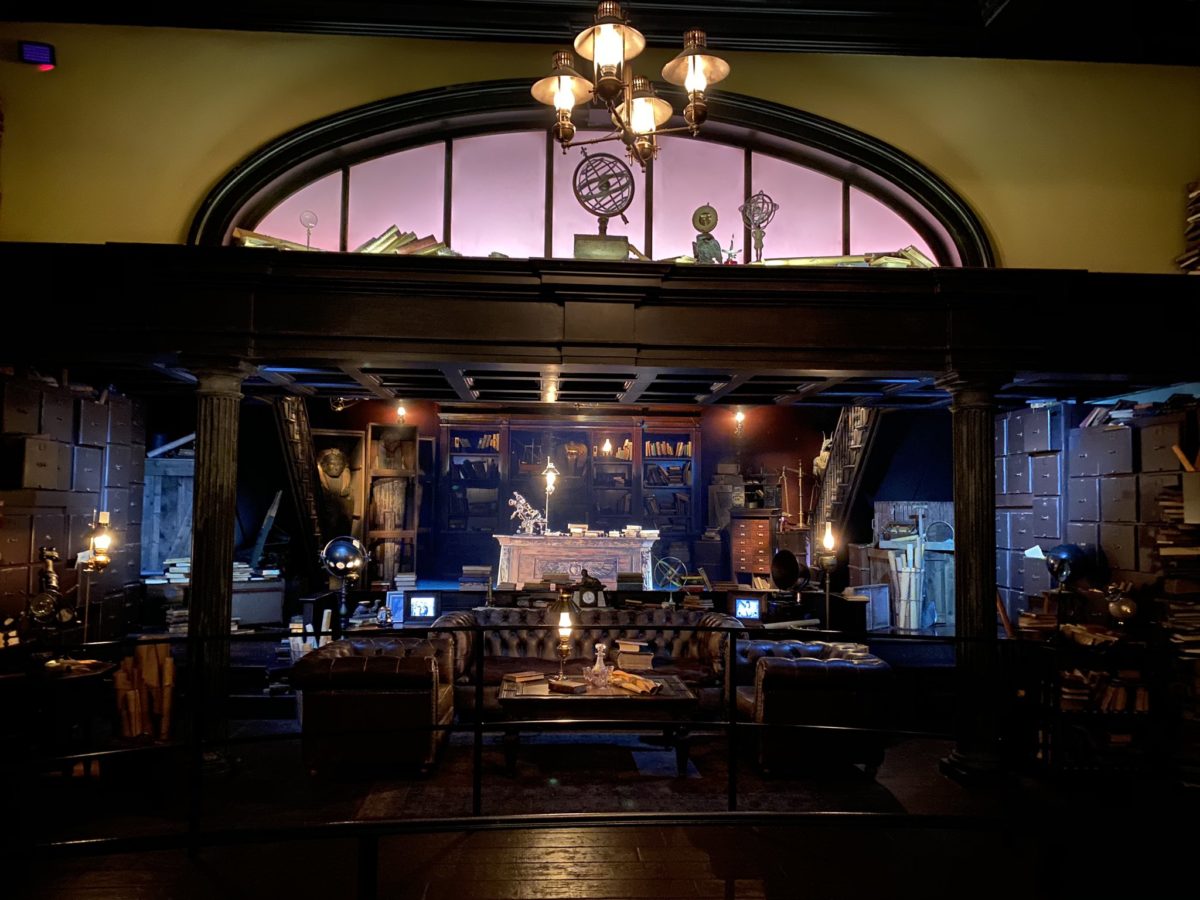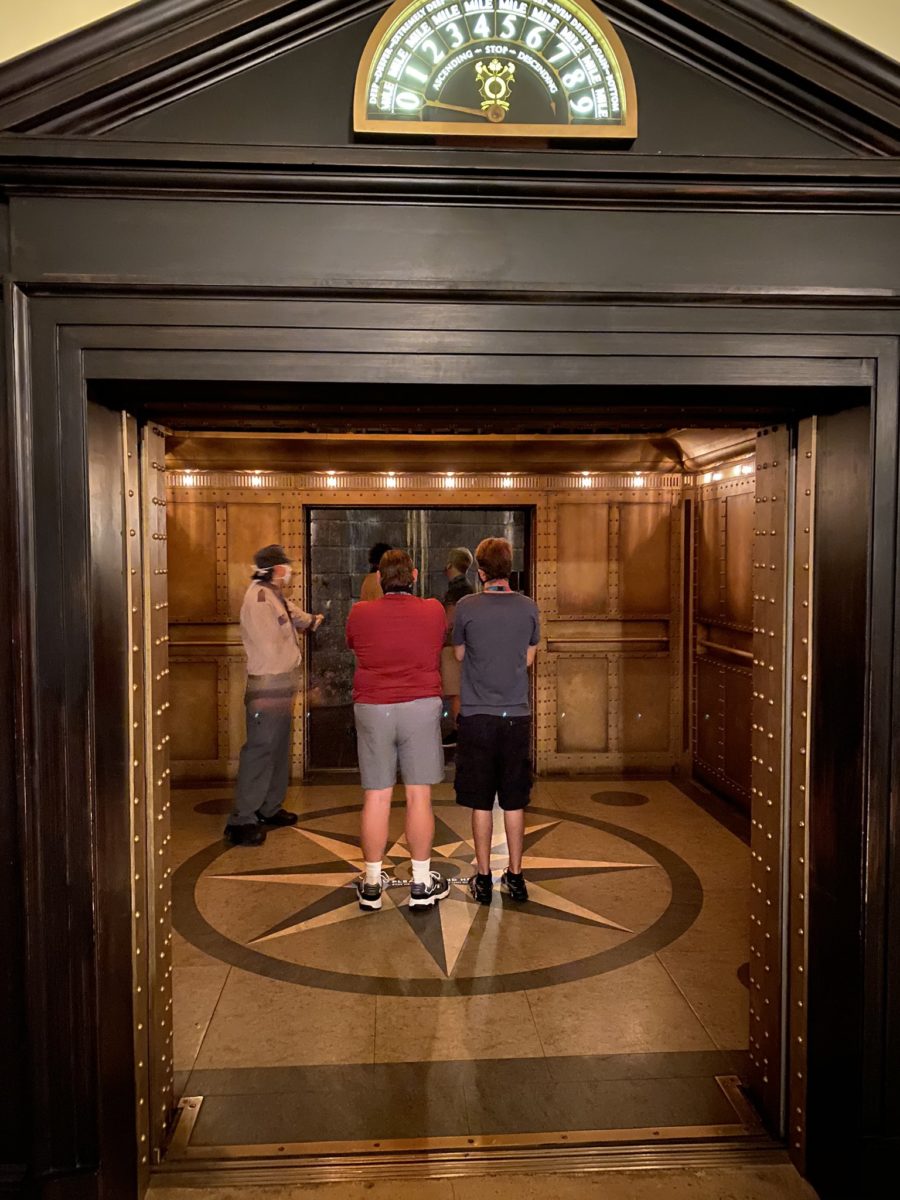 Both pre-show sections are not operational at this time. Your introduction from Bill Weasley and the magical elevator that brings you down to the lower levels of Gringotts are now walk-throughs, cutting out some of the magic of the experience.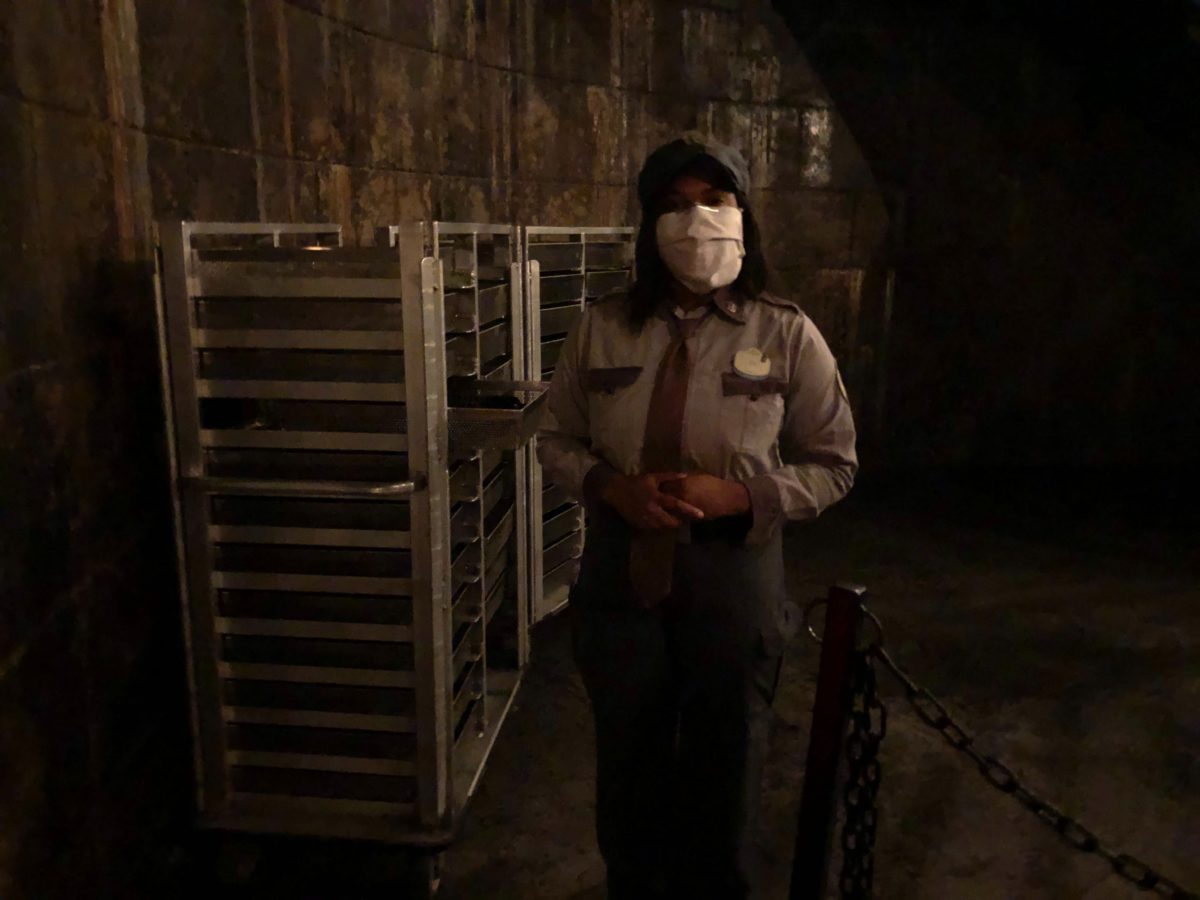 A Gringotts Team Member will hand you your cart goggles before you board.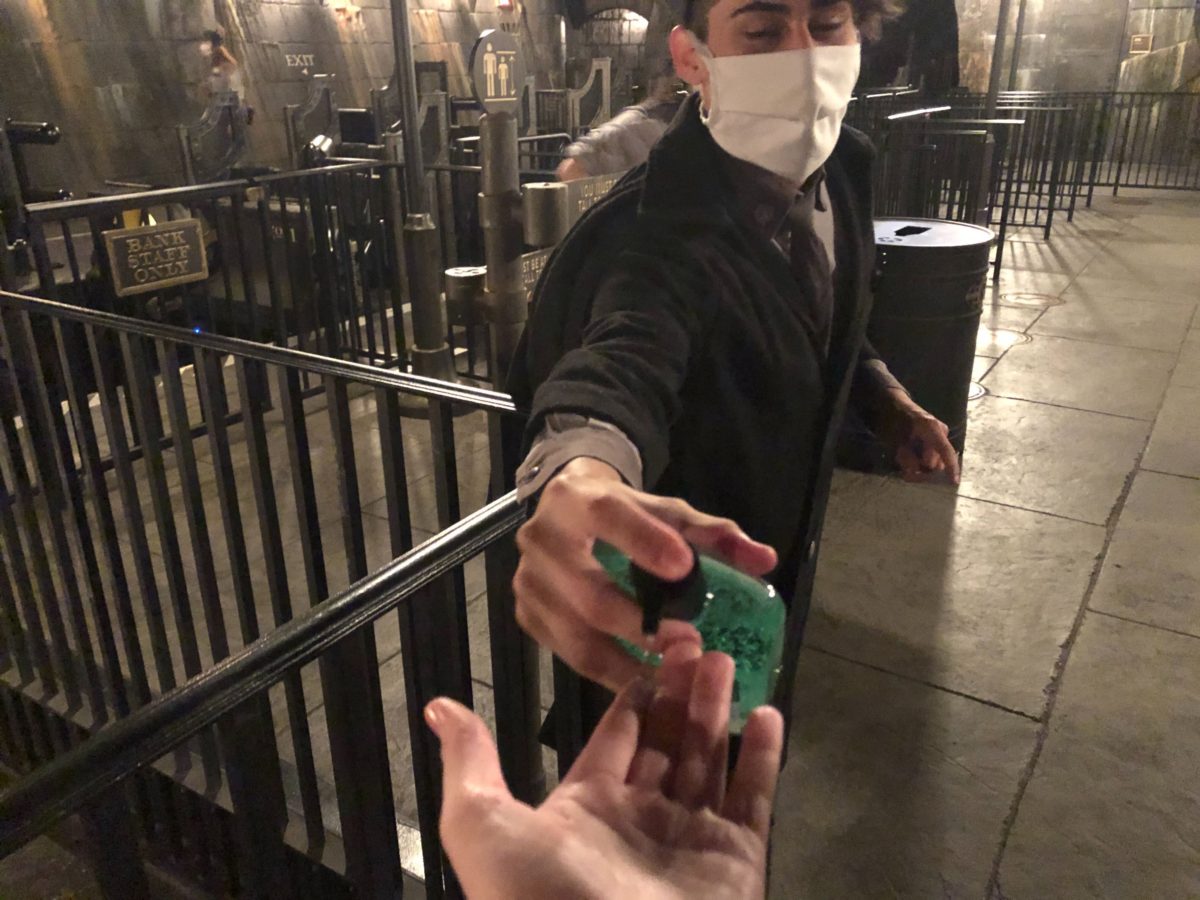 A Team Member gives the guests a pump of hand sanitizer before boarding the cart.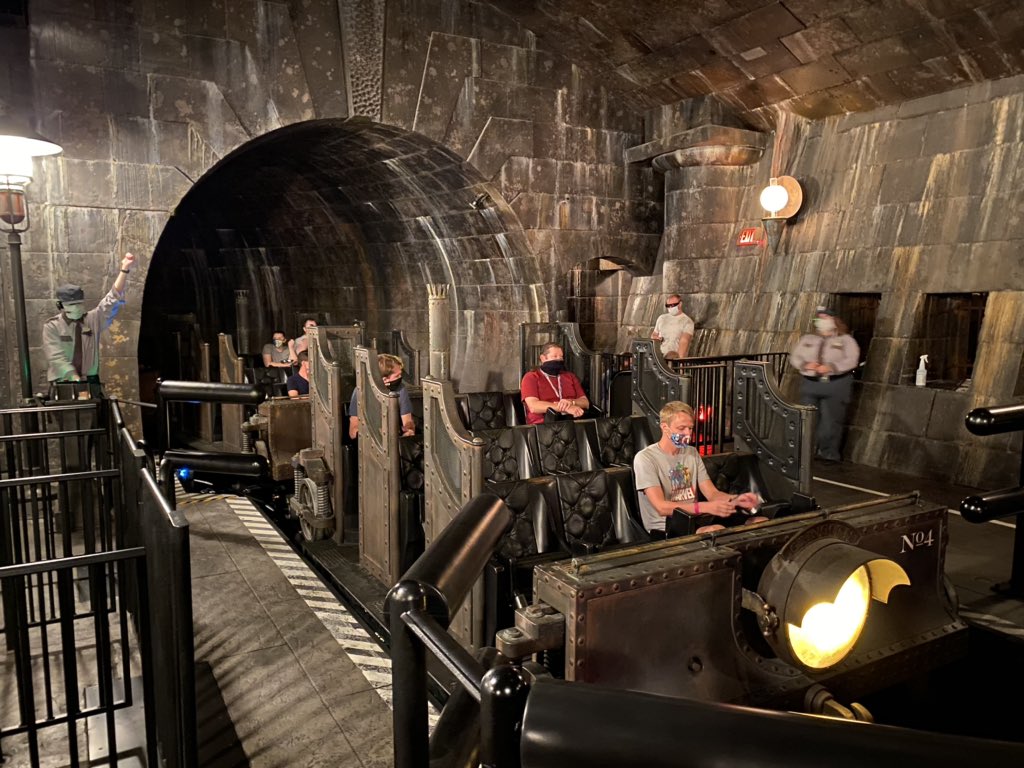 Parties are kept separated on the ride vehicle to ensure proper social distancing procedures. In fact, it isn't uncommon for ride vehicles to hold just one set of guests or a pair of single riders at a time, given the new guidelines.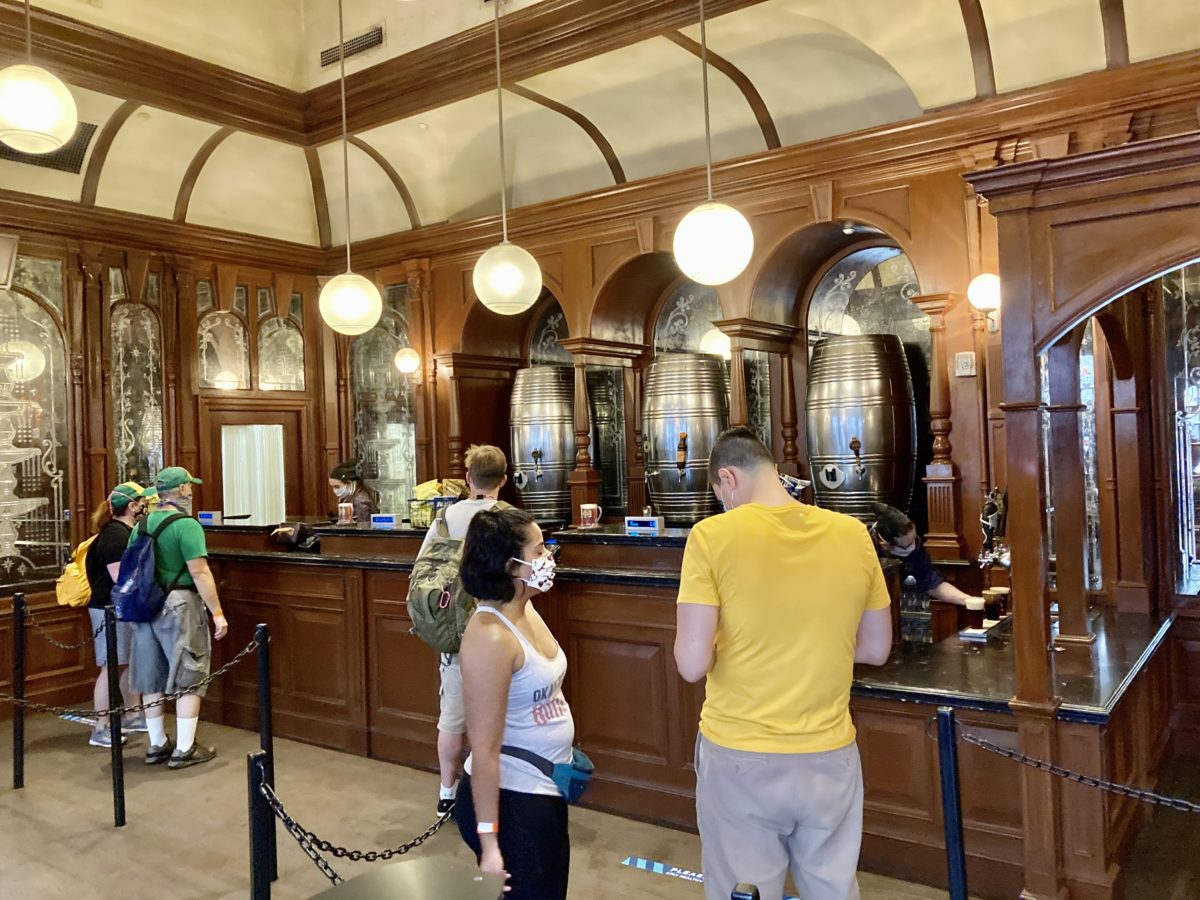 And now for the most important part: Butterbeer. Inside The Fountain of Fair Fortune, social distancing markers are set up along the shortened queue, with only the two bookending registers being used to keep guests apart.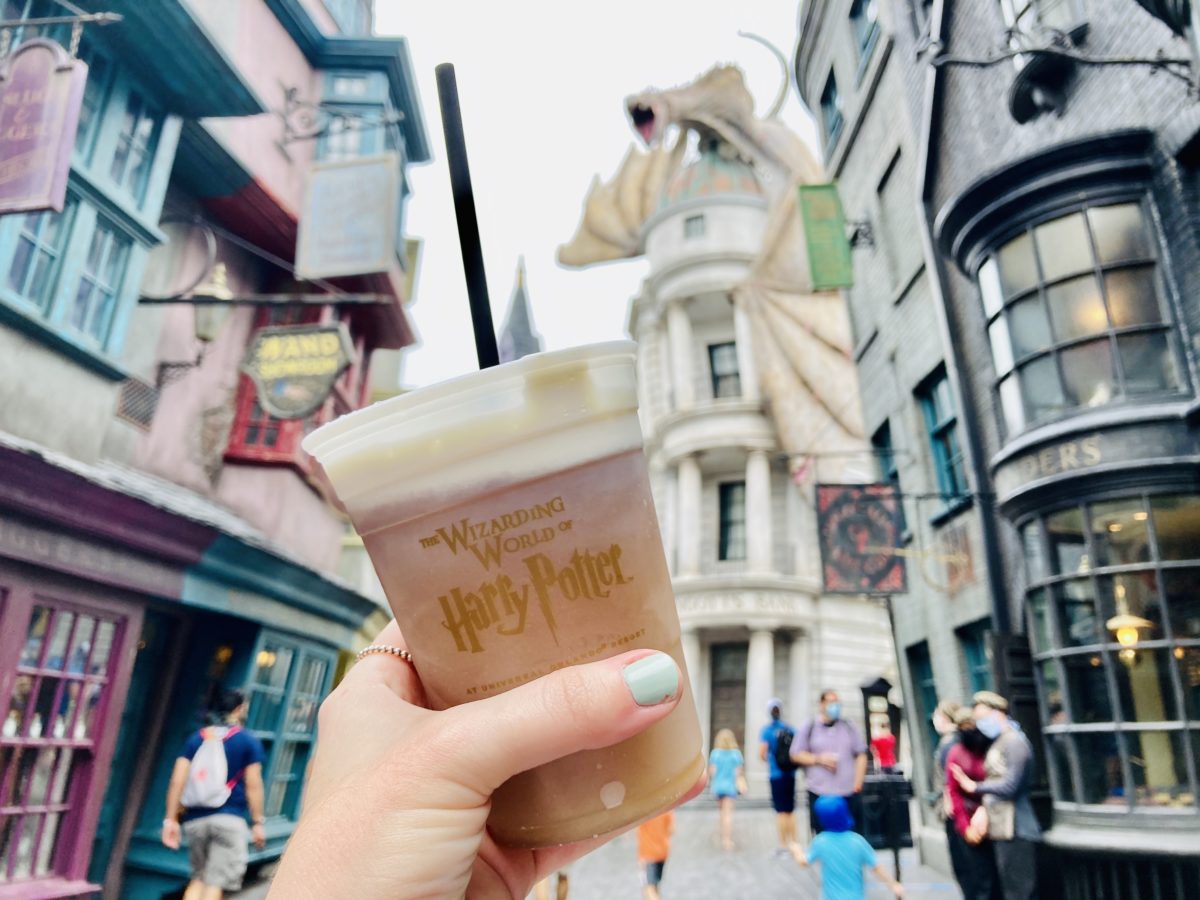 Thankfully, the Butterbeer is still just as good as ever.
And that's how the Wizarding World of Harry Potter is handling social distancing procedures! Continue to follow us at WDWNT or at our new website, Universal Parks News Today, for more updates regarding the Universal Parks! And follow us on social via our YouTube channel, or through social media on Twitter, Instagram, and Facebook.